MrBeast Chris Tyson's Transition
This submission is currently being researched & evaluated!
You can help confirm this entry by contributing facts, media, and other evidence of notability and mutation.
Overview
MrBeast Chris Tyson's Transition refers to MrBeast collaborator Chris Tyson, also known as Chris The Meme God, revealing that he is undergoing hormone replacement theory (HRT) and transitioning. Tyson shared the news in early April 2023 after a Twitter user made a critical post writing "bro wtf happened" in reference to two photos of Tyson, one showing him pre-HRT and one showing him post-HRT. The news inspired support from many, including the LGBTQ+ community and creators like MrBeast and Karl Jacobs. It also inspired criticism from others, including Sneako, who called his transition a "delusion" in a rant on Rumble. Tyson claims to use "any pronouns" on his Twitter bio.
Background
2021 Transphobic Tweets Controversy
On April 6th, 2021, a now-deleted Twitter thread began going viral sharing numerous old tweets from Chris Tyson in which he makes problematic statements, including transphobic comments.[11][12] Tyson apologized for the tweets and deleted them later that month, writing via Twitlonger:[13]
I wanted to address some things that have been brought to light from my past, and apologize. I will not make any excuses because I am completely responsible for my actions and words. I want to start off by saying that the person I was when I was making these edgy jokes and tweets years ago is not the person I am today. During that time in my life, I had a lot of hate for myself that I let flow out through my humor and opinions. As I've matured I've realized that edgy jokes can do so much hurt to people. Growing up in the south I picked up on many views and opinions that I now strongly disagree with and have since re-educated myself on. I have been reading all your responses, dms, and videos and I want you to know I have learned from this and I am going to keep using my platform to try to help people and spread messages of acceptance and love. I will continue to reflect on this and try my best to make a positive impact on the world as much as I can 💜
The Karl Effect
Speculation about Tyson's change in appearance first started to grow in January 2023 in tandem with a theory about "the Karl effect," which is a theory reiterated by some MrBeast fans that MrBeast team member Karl Jacobs has a negative effect on other members of the team. The "effect" is mostly related to Jacobs' perceived effeminate and LQBTQ+-orientated way of presenting himself supposedly rubbing off on other team members.
On January 5th, 2023, the YouTube[16] channel of MrBeast Reacts posted a video titled "I Strapped A GoPro To A Fish!" in which MrBeast and Chris Tyson were reacting to animal GoPro videos. In the video, Tyson was wearing a black-and-white striped sweater, a silver necklace and black-painted nails.
The way Chris Tyson was dressed sparked discourse on TikTok in the days following its upload. For instance, a photo slideshow was uploaded by a currently unknown TikToker sometime after January 5th, 2023, and before January 7th, which said in the caption "bring back old Chris" and scrolled through photos of Tyson at the beginning of his MrBeast career compared to his then-recent look in the "I Strapped A GoPro To A Fish!" video.
April 2023 Chris Tyson Announces Transition
On April 4th, 2023, Twitter[1] user @luhblix posted two side-by-side photos of Chris Tyson, a long-time collaborator of MrBeast, writing, "bro wtf happened." On the left is an older photo of Tyson and on the right is a photo of Tyson from MrBeast's most recent YouTube[2] video at the time, "$1 vs $500,000 Plane Ticket!" The post (shown below) gained over 115,000 likes in three days.

On April 5th, Tyson responded to a separate post by Twitter[3] user @DarrigoMelanie using his alt account @Christhealtgod, discussing how Republicans are trying to "erase the trans community" by moving to ban gender-affirming care, writing, "Informed consent HRT saved my and many others' lives. The hurdles gnc people have to jump through to get life-saving gender-affirming healthcare in a 1st world country is wild to me. Just let people make informed decisions about their own bodies," garnering over 24,000 likes in two days (shown below, left).
This is the first time Tyson claimed to be on HRT. Later that day, Tyson quote-retweeted[4] @luhblix's "bro wtf happened" post, writing, "HRT, and it's only been 2 months 😱," garnering over 158,000 likes in two days while ratioing the post (shown below, right).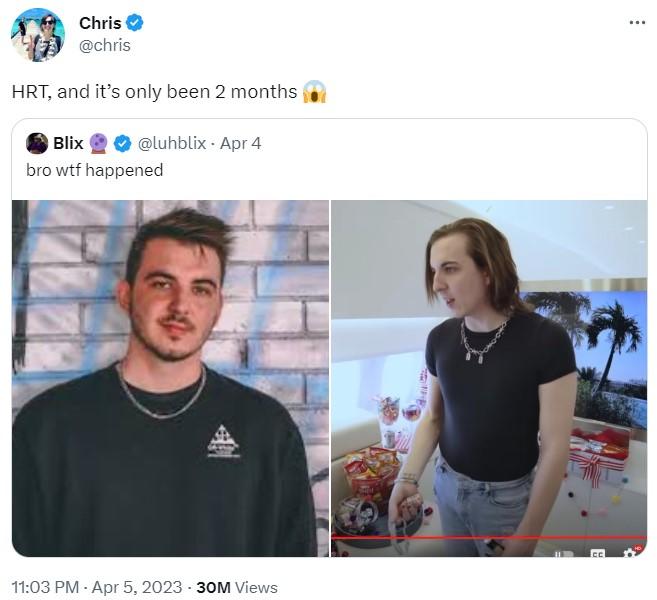 Online Reactions
Chris Tyson's news was widely reported on by the media, including Dexerto[6] on April 6th, 2023. The tweets gained support from many online, including other creators and members of the LGBTQ+ community. That day, Tyson retweeted[7] Dexerto's post sharing the article, writing, "I'm genuinely so glad so many people are learning what HRT is and how it CAN and HAS helped so many people because of my tweet. I was super nervous to be public about this bc I've always been so private when it comes to this, but seeing conversations started bc of me is amazing," garnering over 41,000 likes in a day.
Later that day, Tyson then retweeted[8] a user who wrote, "There goes a father figure the kid won't ever be able to look up to" in response to the news, calling it "dogwhistling," garnering over 60,000 likes in a day (shown below).

Numerous YouTubers[14][15] began reacting to the news as well, some in support of and some denouncing the transition. For example, on April 6th, YouTubers Jalyn and Online CEO posted videos about the news, garnering over 20,000 and 5,000 views, respectively, in a day (shown below, left and right).
Sneako's Reaction
On April 7th, 2023, Sneako posted a clip from his Rumble stream to Twitter[5] (@sneako) of himself responding to the news, garnering over 20,000 likes in under a day. In the clip, Sneako claims that Tyson used to be different when they worked together on MrBeast's channel (Sneako was briefly a cameraman for MrBeast). He implies that Tyson used to be a "truck driving, AK-47 shooting, Call of Duty playing, dip chewing" guy (shown below).
In the clip, he compares transitioning to anorexia, calls it a mental illness and suggests people shouldn't support Tyson's "delusions" (shown below).
Chris from MrBeast is now a trans woman.

We need to approach this delusion with empathy.#lovespeech pic.twitter.com/UfESemG80H

— SNEAKO (@sneako) April 7, 2023
Continued Reactions
On April 7th, 2023, LGBTQ+ news site Pink News[9] published an article about Tyson's transition. On the same day, Tyson posted a photo of himself on a boat to Twitter,[10] writing, "It's never too late, to start being yourself 💜💜💜," garnering over 50,000 likes in under a day (shown below).

SunnyV2's "Why Chris Will Soon Be A Nightmare For MrBeast" Video
On April 13th, 2023, YouTuber[17] SunnyV2 posted a video essay titled, "Why Chris Will Soon Be A Nightmare For MrBeast," garnering over 5.2 million views in four days (shown below). The video discusses Tyson's transition and hypothesizes how it could negatively impact MrBeast and his channel.
The video was largely criticized online. That day, Twitter[18] user @Relolyn posted, "This new sunnyv2 video feels really invasive for all the wrong reasons. Like why did u make this? U delved into the mans marriage and shit, its just really offputting and unnecessary," garnering over 62,000 likes in four days. That day, MrBeast commented on the tweet,[19] writing, "Yeah, this is getting absurd. Chris isn't my 'nightmare' he's my fucken friend and things are fine. All this transphobia is starting to piss me off," garnering over 370,000 likes in the same span of time (shown below).

Search Interest
External References