PROTIP: Press 'i' to view the image gallery, 'v' to view the video gallery, or 'r' to view a random entry.
About
Nigel Thornberry Remixes refer to mashup songs that combine popular music with incoherent ramblings of Nigel Thornberry, a cartoon character from Nickelodeon's animated series The Wild Thornberrys.
Origin
Nickelodeon's animated TV series The Wild Thornberrys[8] premiered in September 1998 and reran on various regional broadcasts in 2000s. In the show, Sir. Nigel Archibald Thornberry (voiced by English actor Tim Curry) is portrayed as a quirky, adventurous wildlife documentarian who often rambles in indiscernible English accent. Prior to the introduction of Nigel audio remixes, the character has been previously subject to video parodies, most notably through the medium of YouTubePoop remixes.
The original Nigel remix featuring Katy Perry's 2010 single "Firework" was uploaded by Sam Antonioli, who goes by the handle BitCrunch[1], and posted on his personal Tumblr blog[2] on June 25th, 2011.
Spread
BitCrunch's original Nigel remix quickly spread through Tumblr, receiving several thousand likes and reblogs within the first few hours of its debut. Soon enough, other viewers began uploading their own pop remixes featuring Nigel's noise via Tumblr audio posts, including Lady Gaga, Adele and N'sync. On the same day, the curative Tumblr "Feat. Nigel"[3] was launched to keep track of the latest remixes. While there are some YouTube instances available, many of them are directly hosted by Tumblr. On June 26th, 2011, the word "Nigel Thornberry" was listed as Twitter's trending topic. As of January 2012, the Facebook page[9] for "Nigel Thornberry" has accumulated over 62,705 likes.
BitCrunch's Response
Notable Examples
On YouTube, there is an extensive collection of mash-up videos featuring Thornberry's signature rambling noise, ranging from pop music and movie remixes to viral videos and animated TV shows.
Disney Animation GIFs
In addition to the collection of video-mashups on YouTube, a cutout image of Nigel Thornberry's face also went on to spawn a faceswap-style photoshop meme on Tumblr. According to DailyDot, the GIF-making phenomenon began on January 21st, 2012, when Chicago-based artist and Tumblr blogger Miryuu Chan[10] posted an animated image file of Belle from Beauty and the Beast with Nigel's face in place.

"Since the re-release of Beauty and the Beast in theaters, many GIFs for the film have appeared on Tumblr--and after seeing that particular scene, it was more or less an epiphany that inspired my groggy mind," Chan said.
Chan's Tumblr post was quickly picked up by others on the microblogging platform, gaining more than 55,000 notes within the first 48 hours and spawning numerous derivatives based on other popular Disney animation films including The Lion King, Aladdin and Little Mermaid among othes. On the same day, a link to Chan's GIF file was reposted via Reddit's /r/gif, where it received over 2,054 up votes.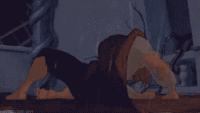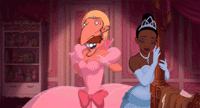 Search Interest
External References
Facebook Comments