PROTIP: Press 'i' to view the image gallery, 'v' to view the video gallery, or 'r' to view a random entry.
This entry has been rejected due to incompleteness or lack of notability.
To dispute this DEADPOOL flagging, please provide suggestions for how this entry can be improved, or request editorship to help maintain this entry.
About
Deadpool is a fictional character and internet fan favorite created by writer Fabian Nicieza and penciller Rob Liefeld for Marvel Comics in 1991 whose alter-ego is Wade Wilson.
Origin
He originally first appeared as a villain in the issue #98 of the series The New Mutants, a mercenary hired to attack the protagonists of the series. Rob Liefeld was inspired by Teen Titan's villain Deathstroke when creating Deadpool, reason why he's called Wade Wilson, similar to Deathstroke's alter-ego Slade Wilson, giving Deadpool a sense of parody rather than copy, but being the only similarities their costumes and names.[1] Deadpool started appearing as a recurrent character in the series X-Force and as his popularity raised he appeared in other Marvel series. He finally got his first mini-series in 1993, called "Deadpool: The Circle Chase". Other mini-series followed it, until he recieved his first ongoing series titled simply "Deadpool" by writer Joe Kelly and debutant artist Ed McGuinness, in which Deadpool's allies and rogues gallery were firmly established. The constant references of pop culture as well as Deadpool's insane personality gave the series, which at some point its writer expected it to be cancelled soon, an increasing amount of popularity, having more than 150 issues of his ongoing series (through 3 different volumes and a co-starred series with mutant super hero Cable) and more than 3 different series in the same time.[1]

Deadpool's origin was subject to change over the years. But it was ultimately revealed as him being a Canadian soldier and mercenary who after diagnosed with cancer, decided to join the mysterious organization Weapon X (the same responsible for the origin of Wolverine), he underwent different experiments which cured his cancer, giving him an extraordinarily fast healing-factor (faster than Wolverine's), but at the cost of losing his sanity and having his entire skin horribly deformed. He was captive of Weapon X for many years, being fond of comic books, until he managed to escape. He decided to return to the mercenary business using his healing powers as an advantage over competetition, creating his own costume similar to those of the superheroes in comic books in order to hide his horrible aspect.[2]

During different periods of his life, he tried to become a hero, generally failing over his brutish nature.
Personality
In his first appearances, Deadpool's character was framed as un-flappable and wise-cracking, always expecting violence, being money one of his main motivations.

Over the years, he has been depicted as insane, with some abrupt changes of personality, with extreme moments of angst, bitterness, and self-loathing, principally because the procedures that gave him superhuman abilities and deformed his face. He has an extremely characteristic voice (which is even represented in speech bubbles of yellow color rather than white), and it is said to be very annoying by many characters, which along his wise-cracking personality makes him a very irritating person to be with.[3]
He developed an absurd humor and an awareness of being a comic book character, ofter talking directly to the reader (although the people near him can't understand what is he doing), or doing some references of real-life events, such as Spider-Man being portrayed by Tobey Maguire in the original Spider-Man trilogy.[4]
Other Media
The comic industry is not the only place where Deadpool makes presence, he has been featured over the years in different games such as "X-Men Legends II: Rise of Apocalypse", "Marvel: Ultimate Alliance" and it sequel, "Super Hero Squad Online", "Spider-Man: Shattered Dimension", "Marvel vs. Capcom 3: Fate of Two Worlds" and "Marvel: Avengers Alliance", in 2013 he starred in his own video game titled "Deadpool" by Activision; he made a guest appearance in the animated movie "Hulk Vs." and in an episode of "X-Men: Anime".
Online Presence
Deadpool's absurd humor, his constant references to pop culture and medium awareness made him a character beloved by the readers, generally being well recieved his presence in any type of media such as TV, games or movies.
Thanks to its wide fandom, Deadpool is constantly referenced in different websites such as Memebase[5][6] and 9gag[7], usually spreading many of Deadpool's funny moments in comics, as well as fan art and some captions. Images of Deadpool are usually present on comments about rejected Know Your Meme entries, because of the category "Deadpool" in which rejected entries are put.

A Facebook page dedicated to him has more than 115.000 fans[8][16], followed by another with 7.000[9][16]. It can be seen an active Tumblr tag[10], Twitter hashtag[11] and an official Twitter account[12] along more than 10 fanbased accounts[13], and more than 51,000 pieces of fan art on deviantArt[14][15][16]. A Facebook fanpage called "Avengers Fangirls Assemble" which has more than 1.800 fans covers Deadpool as well.[16]

A cosplayer nicknamed "D-Piddy" is probably one of Deadpool's most famous cosplayers. His YouTube channel was created October 7, 2012 and has over 180,000 subscribers[16][17]. He is featured in many pictures in events such as Comic-Con and even created the famous Deadpool parody of Gangnam Style with more than 2,300,000 views[18], he even has his own Facebook[19] and Tumblr page[20].
His popularity over the Internet inspired Marvel Comics to create various variants covers of Deadpool mashups with memes for many #1s of their "Marvel NOW!" revamp including Deadpool Call me Maybe for "Uncanny Avengers" #1, Gangnam Stlye Deadpool for "The Avengers" (Vol. 5) #1 and "Deadpool is unimpressed" for "All-New X-Men" #1.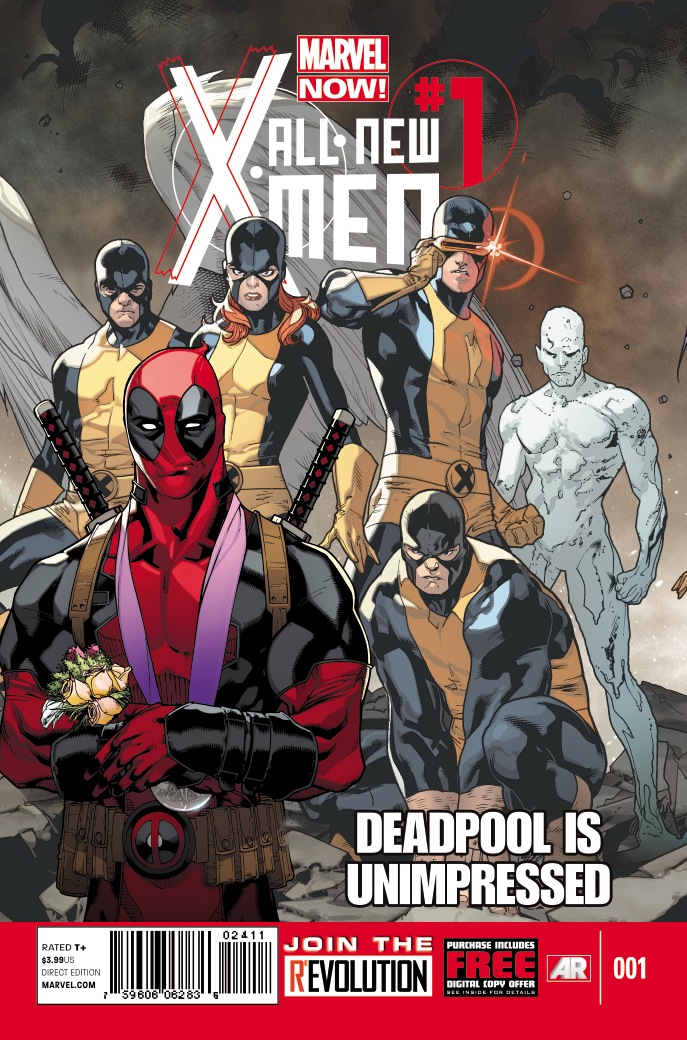 Deadpool the Video Game
Activision, Marvel, and High Noon Studios announced a Deadpool video game[21] live at San Diego Comic-Con 2012 when it was Deadpool himself crashing the party to announce the news.
The Deadpool video game was released on June 25, 2013. It receive mixed reviews, praising the humor, original story, and keeping true to the comics, but criticizing the repetitive gameplay, controls and combat.
Notable Examples
Search Interest
External References
Facebook Comments