PROTIP: Press 'i' to view the image gallery, 'v' to view the video gallery, or 'r' to view a random entry.
This submission is currently being researched & evaluated!
You can help confirm this entry by contributing facts, media, and other evidence of notability and mutation.
About
Jennifer Lawrence is an award-winning American actress best known for her starring role as Katniss Everdeen in the 2012 sci-fi action film adaptation of The Hunger Games. Online, her awkward interviews and seemingly down-to-earth personality have earned her a large fanbase on the social networking site Tumblr.
Online History
Jennifer Lawrence created her personal website[3] in April 2007, followed by the launch of her first Facebook fan page[4] in 2008, which has accrued more than 724,000 fans as of March 2013. The first single topic Tumblr blog dedicated to the actress Love Jennifer Lawrence[5](shown below) was launched in April 2011, which remains active with a monthly average output of 118 posts as of March 2013. Later in 2011, a GIF-only blog dedicated to Lawrence[6] launched, posting about 35 posts per month as of March 2013.
Between February and March 2012, dozens of other fan blogs were launched on Tumblr, including F Yeah Jennifer Lawrence[7], Lawrence Nation[8], Fashion of Jennifer Lawrence[9] and Jennifer Lawrence Daily[10], which coincided with the U.S. release of the film The Hunger Games. Also in March 2012, a subreddit[11] devoted to the actress was created, gaining more than 12,000 subscribers over the span of a year. Additional discussion threads and media about the actress can be found on Buzzfeed[37], Complex[38], Imgur[39], Reddit[26], Tumblr[27], Pinterest[28] as well as on Twitter[29], where she was tweeted about more than 1 million times between February and March 2013.[20]
Reputation
Jennifer Lawrence is known for her quirky and honest interview responses, often expressing her love for food (shown below) and casually hanging out at home. In a March 2012 interview with Glamour[13], Lawrence noted that she hates people who claim they like to exercise, saying "I want to punch people who say that in the face." In the same interview, Lawrence said she hated when actors complain, as they get to do what they love and then rest for months at a time without having to worry about money. The same month, she told Moviefone[15] she was concerned that viewers would make fun of the "weird" way she runs. She shared more relatable sentiments in a December 2012 interview with Marie Claire South Africa,[14] in which she raved about watching reality television and eating junk food.
2013 Academy Awards Fall
At the 2013 Academy Awards held on February 24th, 2013, Jennifer Lawrence won the Best Actress award for her performance in the 2012 romantic comedy "Silver Linings Playbook." As she was walking up the stairs to the stage to accept the award, she tripped on her floor-length Dior Haute Couture dress, falling down. The moment was immediately shared on Tumblr[18] as well as celebrity gossip blogs Just Jared[16] and Perez Hilton.[17] Backstage, Lawrence cited the length of her dress as the reason for her fall. The evening of the awards, there were nearly 50,000 mentions of "Jennifer Lawrence fall" on Twitter.[25] Video and GIFs of the event spread across the web as the story was featured on CNN[19], Buzzfeed[20], the Huffington Post[21] and EW PopWatch[22], among others. Several sites also collected image macros created with a still image of her fall (shown below) including Mashable[23] and the International Business Times.[24]
Following her 2013 Oscars appearance, Jezebel[12] compiled a list of reasons why many fans consider Lawrence an accessible celebrity they could theoretically be best friends with, noting her continued references to food as well as her penchant for making strange faces and not being afraid to speak her mind candidly on camera.
2014 Golden Globes Dress
On January 12th, 2014, Jennifer Lawrence made her appearance at the Golden Globes' red carpet ceremony in a white sleeveless Dior dress accented by two black stripes at the waist and hips.[40] Almost immediately, fans of the actress on Tumblr pointed out a resemblance between Lawrence's dress and the sail-and-rope dress fashioned and worn by Ariel from the 1989 Disney film The Little Mermaid, which led the MTV to tweet a side-by-side comparison of the two dresses (shown below).
Later that evening, MTV Teen Wolf actor Colton Hayes uploaded an Instagram[41] of himself wrapped in a bed sheet and mimicking Lawrence's aggressive face that was photographed earlier during the ceremony, inspiring many others to imitate the pose in a makeshift dress fashioned out of sheets. On the following day, the phenomenon was dubbed "Lawrencing" by Buzzfeed and numerous other news media outlets.[42]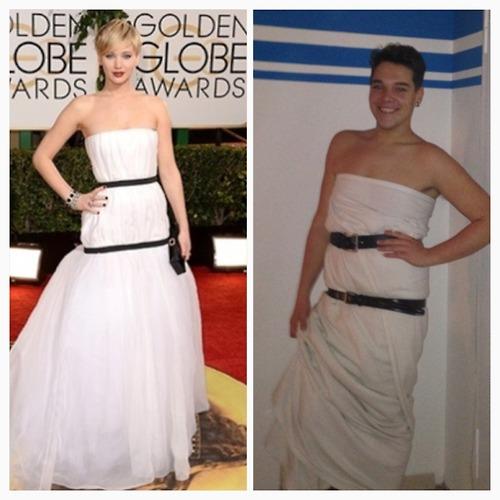 Personal Life
Jennifer Lawrence was born on August 15th, 1990 in Louisville Kentucky. At 14 years old, she convinced her mother to move to Manhattan with her to find a talent agent.[31] Her first gig was on the TBS sitcom The Bill Engvall Show[32] (shown below, left), where she played the title character's teenage daughter. In 2008, she landed her first leading film role in The Poker House[33], winning an Outstanding Performance Award at the Los Angeles Film Festival. Two years later, she earned the lead role in the Sundance award-winning independent drama film Winter's Bone[34] (shown below, center), leading to a Best Actress award nomination at the 2011 Academy Awards. In March 2011, she was offered the lead role of Katniss Everdeen (shown below, right) in the film adaptation of The Hunger Games. Though Lawrence initially hesitated over the role due to concerns about the size of the film[35], it went on to make $152.5 million in three days, making it the highest-grossing action film with a female lead.[36]
Search Interest
External References
Facebook Comments