PROTIP: Press 'i' to view the image gallery, 'v' to view the video gallery, or 'r' to view a random entry.
This submission is currently being researched & evaluated!
You can help confirm this entry by contributing facts, media, and other evidence of notability and mutation.
About
Vinesauce is a video game streaming website which features hosts commentating on a wide variety of games, including corrupted versions of games on the NES/SNES/N64 etc. played on an emulator. Most of their videos on YouTube consist of snippets taken from their main Twitch livestreams[11].
History
The original Vinesauce YouTube page[1] was created on February 20th, 2010 by a video streamer identifying himself as "Vinny." The name "Vinesauce" originally comes from an inside joke his friends came up with when remarking that the vines in the game Mario Party appeared to be "coming out of an ass."[2] The YouTube channel initially featured recordings of video game playthroughs and amateur comedy videos.
On May 11th, 2010, Vinny launched the Vinesauce website and was joined by several additional streamers, including KY, Joel, Fred, MentalJen, Limes, Darren, Studyguy, Rev, Hootey, Imakuni and FearGingers.[4] On April 13th, 2013, a page for "Vinesauce" was created on TV Tropes.[13] On April 17th, the Vinesauce Tumblr[12] blog was launched. On January 25th, 2014, a Facebook[10] page titled "Vinesauce" was created, gained over 2,100 likes in the first four months.
Features
The Vinesauce website contains feeds for each Vinesauce streamer, archives of past video feeds and a user discussion forum.
Highlights
Mario 64 Corruptions
The Vinesauce YouTube channel uploaded a video featuring game footage of a corrupted version of the 1996 Nintendo 64 game Super Mario 64 in November 2013 (shown below). The video gathered upwards of 1.33 million views and 2,600 comments in the first year.
Supra Mayro Kratt
Mayro is a poorly drawn version of the famous video game character Mario, who stars in his own surrealistic series of fan games. Vinny commentated a fan game called Super Mayro Kratt[8] on August 27, 2012.
Sanic
Sanic, much like Mayro, is a poorly drawn version of the video game character Sonic The Hedgehog.. Vinesauce has used the character in fan games in videos, including The Legend of Sanic: Ocarina of Fast (shown below).
Bonzi Buddy
Bonzi Buddy is an infamous adware program designed for Windows XP. It received a boost in popularity in February of 2014 after streamer Joel featured it prominently in his "Windows XP Destruction" video.
Vinebooru
The Vinebooru is a booru created for the purpose of allowing fans to submit artwork. It is often related to a stream or an event during a stream or can simply be art related to Vinesauce in general.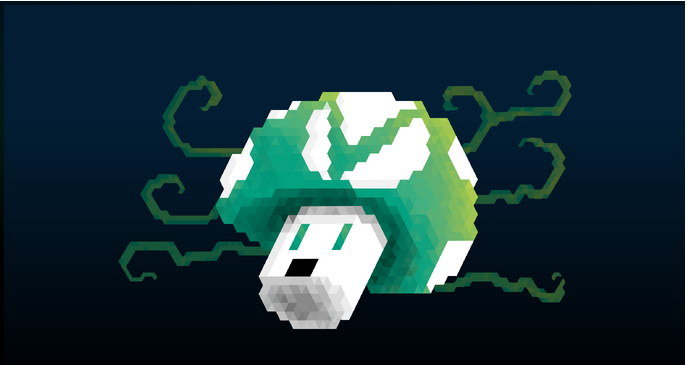 (Vinesauce Logo)
(Ralph Bluetawn)
Traffic
As of May 2014, the Vinesauce YouTube channel has accumulated over 19 million video views and the Vinesauce Twitch channel has more than 9 million views.[11]
Search Interest
External References
Facebook Comments