PROTIP: Press 'i' to view the image gallery, 'v' to view the video gallery, or 'r' to view a random entry.
This submission is currently being researched & evaluated!
You can help confirm this entry by contributing facts, media, and other evidence of notability and mutation.
About
Halo is a first-person shooter video game franchise centered around a galactic war between humans and an alien alliance known as the Covenant. The player typically assumes the role a super soldier who is accompanied by an artificial intelligence (AI) that assists him in defending the galaxy from destruction. The games have largely been considered a critical and commercial success and one of the Xbox's most successful franchises.
History
Halo: Combat Evolved[1] was released by Bungie Inc. on November 15th, 2001, introducing the protagonist Master Chief[2] who attempts to discover the secrets of the ring-shaped artificial world "Halo." On November 9th, 2004, the sequel Halo 2[4] was released, in which the player assumes the role of both Master Chief and an alien known as the Arbiter. On September 25th, 2007, Halo 3[5] was released, introducing new vehicles, weapons and a map-editing tool. On February 26th, 2009, the spin-off real-time strategy game Halo Wars was released, which was set 21 years prior to the events in the original Halo game. The game Halo 3: ODST was released on September 22nd, 2009, allowing players to command a squad of soldiers known as "Orbital Drop Shock Troopers." The prequel game Halo: Reach was released on September 14th, 2010, featuring an elite squad of soldiers known as the Noble Team. At E3 2011, Halo 4 and Halo CE: Anniversary[8], an HD remake of the original title, were announced. On the March 31st, 2012, Bungie officially handed the Halo franchise over to 343 Industries, which created Halo CE: Anniversary as well as the upcoming "Reclaimer Trilogy." Bungie has announced their next title Destiny[21] which has been said to be similar to Halo.
Halo 4
Halo 4 is the first game in the "Reclaimer Trilogy" of the series and was released on November 6th, 2012. The plot is rumored to expand on the stories of both Master Chief and his AI companion Cortana.[9] In preparation for the game, Microsoft commissioned Halo 4: Forward Unto Dawn,[15] a live-action series designed to draw in new players to the Halo universe by explaining important details of the story. Halo 5 and Halo 6 have been announced by the production team at 343 Industries, but release dates have yet to be specified.
Online Presence
Halo content is often posted on the microblogging site Tumblr,[17] the /v/[10] (video games) board on 4chan and the /r/gaming[11] subreddit. The franchise has inspired the creation of many machinimas, including those produced by Rooster Teeth Productions. There are many websites dedicated to the game, including Planet Halo,[12] Halo Waypoint[18] and the Halo wiki.[13]
Red vs. Blue
Red vs. Blue is a machinima series created and owned by Rooster Teeth Productions. The Red vs. Blue plot is separate from that of the main Halo franchise and is said by Rooster Teeth CEO Burnie Burns to take place in "that moment when you throw the controller at the wall." The machinimas center around two factions of soldiers known as "Red Team" and "Blue Team," who are constantly warring against each other. Their incompetence usually prevents them from successfully hurting one another, and the two teams often accidentally join sides to combat a common enemy.
Arby 'n' the Chief
Arby 'n' the Chief[14] is a machinima and live-action series produced by Jon CJG, which chronicles the lives of Master Chief and the Arbiter. The series depicts each character as the polar opposite of their in game counterparts, with Master Chief as an immature, selfish and cowardly vagabond. The duo spend most of their time playing Halo and preventing hackers from destroying the game's mulitplayer mode.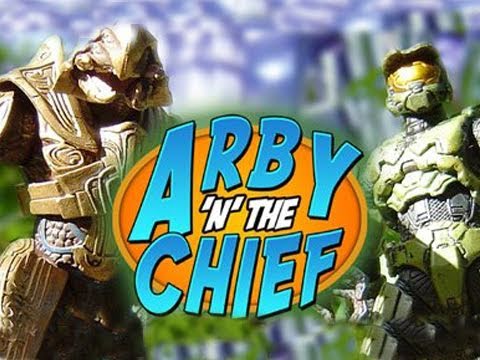 Reception
Many of the games within the Halo franchise has been both a commercial and critical success. Within six months of release, Halo: Combat Evolved sold one million units and received numerous "Game of the Year" awards. Within the first 24 hours, Halo 2 sold $125 million, becoming the fastest selling media product in United States history. In March of 2007, IGN[19] listed Halo 2 as the number two Xbox game of all time. The record was broken with the release of Halo 3, which sold $170 million on premiere day. In December of 2007, Halo 3 won Time Magazine's[20] "Game of the Year" award. As of November 5th, 2012, Metacritic reports a Xbox scores of 97 for Halo: Combat Evolved, 95 for Halo 2, 94 for Halo 3, 82 for Halo Wars, 83 for Halo: ODST, 91 for Halo: Reach and 87 for Halo 4.
Related Memes
Tea-Bagging
"Tea-bagging" is a slang term used in online games to describe the action of crouching repeatedly over another players corpse, appearing as if the avatar is touching the corpse with their genitals. It is often used as an attempt to troll and humiliate the user who has just been killed. Some speculate that the technique originated in the game Halo: Combat Evolved.
Pretty Cool Guy
Pretty Cool Guy is a phrase that inspired the snowclone template "I think X is a pretty cool Y. Eh Z and doesn't afraid of anything." The first know instance occurred on 4chan's /v/ (video games) board in December of 2007, when an anonymous user referred to the character Master Chief as "Halo" (shown below).
I think Halo is a pretty cool guy. Eh kills aleins and doesnt afraid of anything.
Camping
Camping is a term used to describe the act of sitting in an unfair location and repeatedly killing enemies during multiplayer games. While the origin of the term is uncertain, it has is a common technique Halo online matches. Camping is usually viewed in a negative light and is frequently used as a trolling technique to purposefully irritate other players. A coordinated form of camping, known as "Bum Bait"[16], originated in the game Halo: Reach, which requires three players to properly execute. The trick involves a player known as the "bait," who typically lures the "bum" into an enclosed area where a killer is waiting.
Search Interest
Search interest in "Halo" peaked in 2004, 2007, 2010, and is currently increasing. These correspond with the releases of Halo 2, Halo 3, Halo: Reach, and Halo 4, respectively.
References
Facebook Comments