Huge Like XBox (Hueg Like Xbox)
About
Huge Like XBox, or intentionally misspelled as "Hueg Like XBox," is a phrase that is used to poke fun at the large and bulky appearance of Microsoft's video game console XBox. The joke is typically played out as visual similes in which the console is enlarged out of proportion and photoshopped into base images depicting massive objects.
Origin
On March 10th, 2000, Microsoft unveiled its first home video game console Xbox at the Game Developers Conference. While the technology of the console was widely perceived as impressive, the system quickly gained notoriety in online gaming communities for its large, bulky appearance in contrast to the relatively slim Sony PlayStation 2 and compact Nintendo GameCube. In the months leading up to its official release in November 2001, Penny Arcade published at least two comic strips mocking the awkward size of the console and controllers.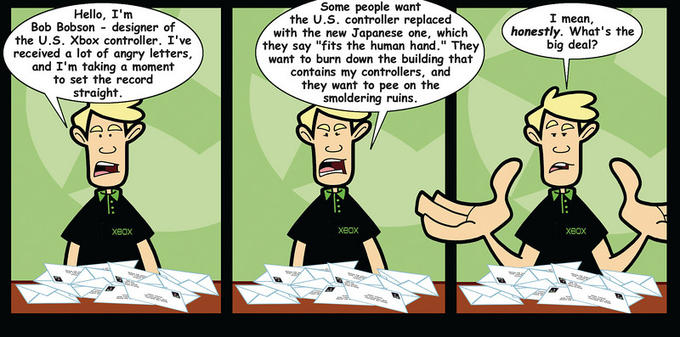 Spread
In the following years, the joke continued to flourish on video game-related forums and message boards such as Ars Technica[7] and 4chan[1][12], where it evolved into a photoshop meme that entails placing an exploitable image of Xbox or Xbox controllers over any oversized object in the base image.






Soon enough, XBox became synonymous with hugeness in general, as encapsulated in the grammatically incorrect phrase "Xbox is hueg." Between 2004 and 2005, at least two articles defining the phrase "lol xbox is huge" were submitted to Urban Dictionary.[13]


On September 21st, 2005, Control + Alt + Del published a comic strip making fun of the console and the large controllers.

On July 30th, 2007, the meme was referenced in 4chan City: Craptastrophe, a flash animation tribute to the imageboard site wherein founder m00t and Desu fight atop a towering Xbox console system.
Search Interest
External References