The clueless starfish character Patrick from Spongebob Squarepants should not be allowed to answer phones at the Krusty Krab restaurant.

[The GoT main theme is playing in your head right now]

Enter the world of time-lapsed painting videos on YouTube.

Often used by Sonic fan artists on DeviantART "original character do not steal" is a phrase used to mock artists whose "original characters" are near perfect copies of the original characters.

The interruptor phrase is a popular way of presenting actors (and pizza) Tumblr users believe are perfect.

The elusive Waldo has been frustrating children for over twenty-five years, and on YouTube he's become a red and white striped spy in several parody trailers.

"What I Know About.." fake Power Point presentations are a way for Tumblr users to explain what little they've learned about a fandom or TV show just from the photos and GIFs that end up on their dashboards.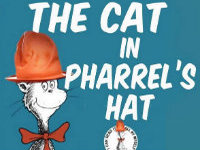 The hashtag game that originated on the comedy show @mightnight is just the latest Twitter trend to encourage users to make their childhood literary favorites a little darker.