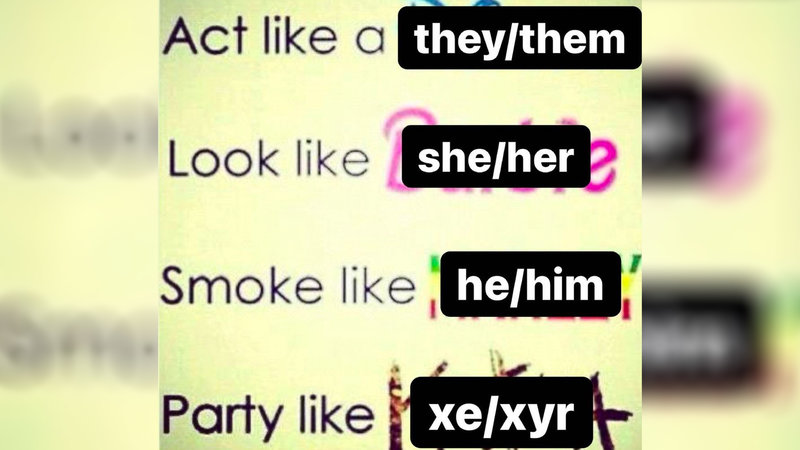 Act Like a They/Them, Look Like a She/Her, Smoke Like a He/Him, Party Like a Xe/Xyr
This submission is currently being researched & evaluated!
You can help confirm this entry by contributing facts, media, and other evidence of notability and mutation.
About
Act Like a They/Them, Look Like a She/Her, Smoke Like a He/Him, Party Like a Xe/Xyr is a long-form catchphrase that's often added to four-panel meme templates, labeling each image macro with one of the preferred pronouns and the party signifiers that accompany it. The phrase was first used in memes on Twitter, Instagram and Tumblr as an exploitable template that later inspired the song "Jeepers Creepers" by SEBii. SEBii's "Jeepers Creepers" then trended on TikTok in late 2022, inspiring memetic usage in TikTok photo slideshows.
Origin
Before the phrasal template was associated with preferred pronouns, it originally read, "Act like a Princess, Look like Barbie, Smoke like Marley, Party Like Ke$ha," which was in reference to Nicki Minaj. It is unknown who the image's original creator is, however, it was likely created on the now defunct Polyvore[1][2] blog chay-cookie-minajswagg-anons when the image had a purple, leopard print border. Currently, the earliest known posting of the image on social media was uploaded on July 28th, 2013, by the Instagram[3] page munchmunch2012.

The aforementioned text post became an exploitable template years later. For instance, one of the first known exploitations replaced the last section with "Feel like The Russian Sleep Experiment" (shown below, left). The earliest known posting of the meme was on November 23rd, 2019, by iFunnyer[4] SmacDatIsh. On December 1st, 2019, Instagram[5] user postoffice.v1 posted the meme, gaining roughly 4,800 likes in three years.
More exploitation came in the following years. For instance, on April 27th, 2021, Tumblr[6] user ectorotica posted a version that replaced the nouns with preferred pronouns, gaining roughly 9,000 notes in a year and a half. In the post's caption, ectorotica claimed that they stole the meme from their friend Luke's Instagram page who's currently unknown but purportedly the original creator. A higher-quality version of the meme was shared by the Facebook[7] page The Raging Alcoholic on May 1st, 2021 (shown below, right).


Spread
The aforementioned "preferred pronouns" iteration was shared across platforms going into the remainder of 2021, most notably on September 13th, 2021, when Twitter[8] user vioIentporno shared a moldier version of it, gaining roughly 24,700 likes in one year.
The image macro became increasingly over-exploited, moldy and low-quality thereafter as more meme creators reedited it and recaptioned the text. For instance, on September 21st, 2021, Instagram[9] user thisisafleshprison posted an iteration that added long-form text, gaining roughly 4,700 likes in 14 months (shown below, left). On October 5th, 2021, Instagram[10] user unfriendlymemepage posted an iteration that replaced every noun with a picture of Seong Gi-hun's ID Photo from Squid Game, gaining roughly 29,900 likes in 13 months (shown below, right).


The preferred pronouns iteration was also repurposed into four-panel templates. For instance, on December 3rd, 2021, Instagram[11] user sprudlers posted a version that used images of Bob Dylan, gaining over 1,000 likes in 10 months (shown below, left). On April 25th, 2022, Tumblr[12] user shack-wheel-oneal posted a Seinfeld version (since deleted) (shown below, right).


SEBii's "Jeepers Creepers"
On September 14th, 2021, Twitter[13] user sevensunreality quote retweeted vioIentporno's tweet,[8] saying that hyperpop musician SEBii should replace the lyrics of his song "BONErr"[15] with the meme's text. Later on the same day, SEBii posted a video to TikTok[14] that did just that, gaining roughly 970,400 plays and 134,700 likes in 14 months (shown below, left). Various LGBTQ+ creators on the app then used the sound, such as TikToker[16] flyerliars on September 17th, gaining roughly 365,700 plays and 48,600 likes in 14 months (shown below, right).
Continuing into 2022, the sound received increased usage, especially in late 2022 as TikTokers started using TikTok's Photo Mode. For instance, on October 24th, 2022, TikToker[17] bronygeorgecostanza posted a slideshow that attributed all of the phrases to different characters from It's Always Sunny In Philadelphia, gaining roughly 211,200 plays and 28,800 likes in 10 days (screenshots shown below, left). On October 25th, TikToker[18] kingsizeclaire posted a slideshow that showed various fast-food chains and their imagined pronouns, gaining roughly 339,500 plays and 55,500 likes in nine days (screenshots shown below, right).


Various Examples



Search Interest
Unavailable.
External References
Recent Videos
There are no videos currently available.