This submission is currently being researched & evaluated!
You can help confirm this entry by contributing facts, media, and other evidence of notability and mutation.
Editor's Note: This entry contains minor spoilers for Squid Game; read at your own caution.
---
About
Squid Game, also known as Round Six, is a South Korean drama television series directed by Hwang Dong-hyuk released on Netflix in September 2021. The series follows a group of people who are taking part in a mysterious survival game consisting of a series of children games with deadly twists.
History
On September 1st, 2021, an official trailer for the survival drama series Squid Game, written and directed by Hwang Dong-hyuk, premiered on YouTube.[1] The trailer received over 9.4 million views in three weeks (shown below).
On September 17th, 2021, the nine-episode series premiered worldwide on Netflix.[2]
Reception
Season one of the show was well-received by critics and audiences, becoming a global hit in September 2021. As of September 28th, the show maintained an 8.3 user rating on IMDb[3] with over 32,000 reviews. On Rotten Tomatoes,[4] the series held a 100 percent critic rating with seven positive reviews, and an 87 percent audience score with 575 user ratings.
On September 22nd, Squid Game achieved the number one rank on the Top 10 shows in the U.S. list on Netflix, becoming the first Korean series to achieve this.[5] On September 28th, Netflix co-CEO Ted Sarandos stated[6] that Squid Game was on track to become Netflix's biggest show ever.
On October 12th, the series officially became Netflix' biggest series launch, viewed by over 111 million viewers in four weeks.[15]
Plagiarism Controversy
On September 18th, 2021, South Korean media outlet Insight,[7] reported that Squid Squad was accused of plagiarizing the 2014 Japanese film As the Gods Will in which a high school student finds himself forced to participate in a series of deadly children's games.
On September 19th, Squid Squad director Hwang Dong responded[8] that he conceived the script in 2008, years prior to the release of As the Gods Will, completing it in 2009.
Online Reactions
The series became the subject of memes and discussions on social media, including Facebook, Twitter, Reddit and TikTok shortly after release. For example, on September 24th, 2021, Facebook[9] page Salty 2.0 posted a still image of people in masks with Grand Theft Auto San Andreas cheat code edited in. The post received more than 2,300 reactions and 2,900 shares in three days (shown below, left). On September 25th, 2021, Redditor PeterPorky posted a humorous image of a man checking the conversion rate for Korean Won while watching the show. The post gained over 1,700 upvotes in the /r/squidgame[10] subreddit in two days (shown below, right).


On September 26th, 2021, TikToker[11] @ruthbellpan posted a theory-crafting video about Squid Game season two. The video received over 10 million views in one day (shown below; spoiler alert).
In late September 2021, the show trended on Twitter in 40 countries.[12] In the United States, over 578,500 tweets about the show were posted as of September 28th, 2021. On TikTok,[13] videos tagged #squidgame accumulated over 13.7 billion views as of September 28th.
On September 27th, Netflix acknowledged the global success of the shown in a tweet.[14]
Notable Memes
Red Light, Green Light / Squid Game Doll
Red Light, Green Light refers to a series of memes inspired by the deadly version of the titular children's game from the 2021 South Korean survival drama series Squid Game in which a creepy-looking doll shoots participants who fail to stand still. Following the viral popularity of the show in September 2021, videos in which users imitated playing the game gained spread, particularly on TikTok. In Roblox, user-created games inspired by the TV show's game also went viral.
Dalgona Candy Challenge
Dalgona Candy Challenge or Squid Game Candy Challenge refers to a TikTok challenge participants of which attempt to carefully extract a shape out of traditional Korean dalgona, also known as ppopgi and honeycomb toffee. The challenge copies a scene from the 2021 South Korean survival drama series Squid Game in which competitors in a deadly game have to carefully chisel out shapes out of dalgonas within ten minutes.
Seong Gi-hun's ID Photo
Seong Gi-hun's ID Photo refers to images of Squid Game character Seong Gi-Hun taking his player ID photo. Following viral popularity of the series, the images, in one of which Seong Gi-Hun looks at the camera without any particular emotions and the other in which he puts on a wide smile, achieved notable presence on social media, used as reaction images and source material for memes.



Oh-Il Nam Standing and Sitting
Oh-Il Nam Standing and Sitting refers to the character Oh Il-Nam in the hit Netflix series Squid Game. Over the course of the show, the character is seen going from a happy, cheerful disposition to sitting in one spot looking very despondent. The use of one of the pictures separately, or both together as a contrast, have become commonplace following the series widespread success.



Squid Game Mods and Real Life Games
Squid Game Mods / Real Life Games refers to fan labor projects copying the mechanics of the 2021 hit South Korean series Squid Game, including mods for games such as Roblox and Grand Theft Auto V and real-life games inspired by the series.
Various Examples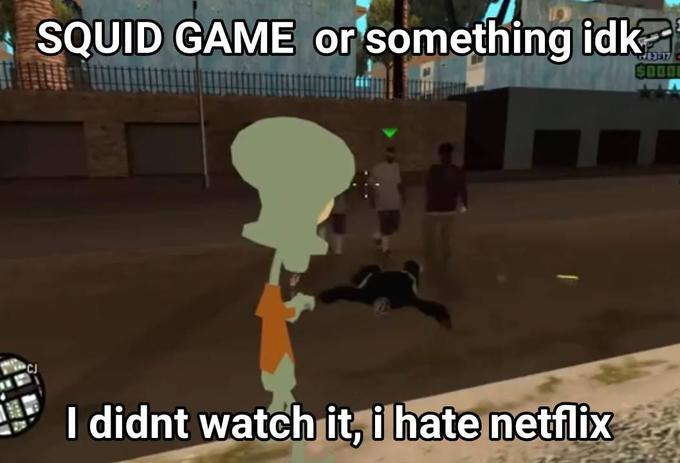 !
Search Interest
External References