Attack on Titan Photo Fad

About
The Attack on Titan Photo Fad (Japanese: 進撃の巨人ごっこ, Shingeki no Koyjin Gokko; lit. "The Attack on Titan Game" or simply "Giants Play") refers to a photo fad of forced perspective images inspired by the Japanese TV anime series Attack on Titan.
In the spring of 2013, many young Japanese Twitter users had participated onto this as a following photo fad of Hadokening.
Origin
The trigger of this fad was posted by Twitter user おーきぽょ (@2525_1919)[1] on April 27th, 2013[2], which depicted a young male jumping in the air, appearing as if he was about to jump on to the back of the person in the foreground. This tweet had earned over 4,800 retweets and 2,000 favs in its first month. Besides, the name of this photo fad "Shingeki no Koyjin Gokko" was coined by this tweet.
進撃の巨人ごっこしたよ twitter.com/2525_1919/stat…

— おーきぽょ (@2525_1919) April 27, 2013
Spread
On May 9th, more of these pictures began to surface on the microblogging site, resulting in it becoming a trending topic.[3] Some of those images also utilized an official smartphone app of Attack on Titan which decorates user photos by the original illustrations.



On May 10th, compilations of these staged photographs where posted on Korean site Inven[4] and Japanese online news site ITmedia.[5] The photos made their way to the English-speaking web that afternoon, where they were shared in a NeoGAF[6] thread about the show. Approximately 90 minutes later, a photo collection was featured on Japanese culture fansite Crunchyroll.[7] This online phenomena was also reported by Kotaku on May 13th[8] and IGN's video news on May 16th.[9]
Besides, this internet fad was reported in a morning TV news show by the Japanese mainstream media on May 27th.

Notable Examples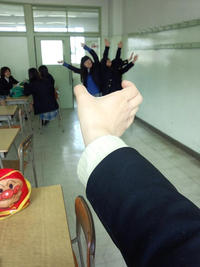 Search Interest
External References