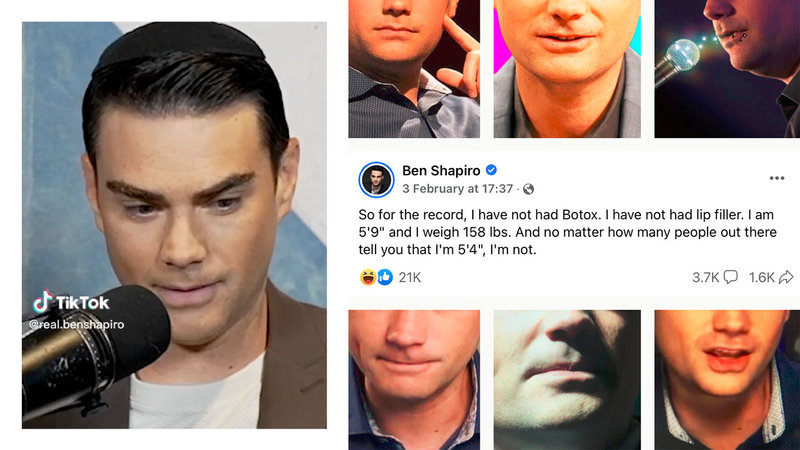 Ben Shapiro's Migrating Lip Filler Theory
This submission is currently being researched & evaluated!
You can help confirm this entry by contributing facts, media, and other evidence of notability and mutation.
About
Ben Shapiro's Migrating Lip Filler Theory refers to a theory suggesting that conservative political commentator and podcaster Ben Shapiro has purportedly had his lips enhanced. The theory also speculates that the lip filler is more noticeable due to its tendency to migrate out of the lip area, supposedly indicated by the various videos of Shapiro on his show and interview appearances. The lip filler theory began circulating on TikTok in late 2022 before discussions about it moved to Twitter. Shapiro acknowledged and denied the accusations on his Facebook page and The Ben Shapiro Show in February 2023.
Origin
Various Twitter users noted that Ben Shapiro appeared as though he had gotten lip filler on his bottom lip at the start of 2022, although the idea was not widely acknowledged on the platform at the time.[1][2][3] The earliest known video acknowledging the supposed newfound large size of Shapiro's lips was posted on January 28th, 2022, by TikToker[11] @dallinf in which he said that Shapiro's lower lip "looked like an ass" (shown below).
On December 27th, 2022, Ben Shapiro posted a video to his official TikTok[4] talking about marriage and dating. The video was stitched by various TikTok creators who noted that he looked distinctly different in this video than the rest. The video gathered over 6 million plays and 600,000 likes in over a month (seen below, left). The earliest overt reference to the Ben Shapiro lip filler theory was then posited by TikToker[5] @jasminekazooie on December 30th, 2022, in which she stitched the aforementioned video, noting that he looked like he had lip-plumper in and that he should tell his aesthetician to do his upper lip to balance things out better. The video gathered over 1.4 million plays and 200,000 likes in a month (seen below, right).
Spread
On December 31st, 2022, TikToker[6] @arden_rose posted a video stitching the aforementioned video posted by Ben Shapiro, saying that despite his hardline stance on international politics and immigration laws, he "sure did let that lip filler migrate." The post gathered over 3.4 million plays and 500,000 likes in a month (seen below, right). On January 1st, 2023, TikToker[7] @__splinters posted a video stitching Shapiro's video as well, saying that there is an entire Instagram page dedicated to Shapiro's bottom lip, and adding an image of his lips purportedly "pre-filler." The video gathered over 180,000 plays and 3,000 likes in a month (seen below, right).
The Instagram[8] page @ben_shapiros_bottom_lip has been active since April 7th, 2019, and has over 2,000 followers as of February 2023 (seen below).

On February 3rd, 2023, Ben Shapiro took to his official Facebook[9] page and his talk show the Ben Shapiro Show to vehemently deny the rumors that he got lip filler done. He also denied getting Botox done and that he is "actually 5'4"." The Facebook status received over 21,000 likes in four days (seen below).

Twitter[10] user @JasonSCampbell then posted a clip from the segment to his Twitter on February 3rd, gathering over 2,000 likes in four days (seen below).
Ben Shapiro: "I do not have lip filler. I've never had lip filler. I have no intention of having lip filler" pic.twitter.com/utqY7YsLWn

— Jason Campbell (@JasonSCampbell) February 3, 2023
Various Examples
Search Interest
Unavailable.
External References