Let's Say, Hypothetically
About
Let's Say, Hypothetically refers to a series of parody snowclone memes which imagine conservative pundit Ben Shapiro talking about the various subjects by presenting a certain hypothetical situation. The memes usually start with the phrase "let's say, hypothetically" and include phrases often used by Shapiro in his arguments such as "for the sake of the argument," "in fact" etc.
Origin
On April 26th, 2017, YouTube[1] channel Conservative Central posted a video titled "Ben Shapiro DESTROYS Climate Change AGAIN!!!" in which conservative pundit Ben Shapiro argues about the climate change by presenting a hypothetical situation in which the water level rises by ten feet (video no longer available). On May 31st, 2019, YouTuber[2] hbomberguy posted a video "Climate Denial: A Measured Response" that used the clip, adding a humorous reaction to it. The video received over 2 million views in one year.
So let's say, for the sake of argument, that all water levels around the world rise by, let's say, five feet over the next hundred years. Say, ten feet by the next hundred years. It puts all the low-lying areas on the coast underwater. Let's say, all of that happens. You think that people aren't just going to sell their homes and move?
On the same day, YouTube[3] user Sara Funflower posted the clip and the reaction as a separate video, with the upload gaining over 479,300 views in two years.
On August 31st, 2019, Twitter[4] user @clithaver made a two-part post parodying Shapiro's manneurisms, with the first tweet receiving over 9,000 retweets and comments and 39,600 likes in one year (shown below).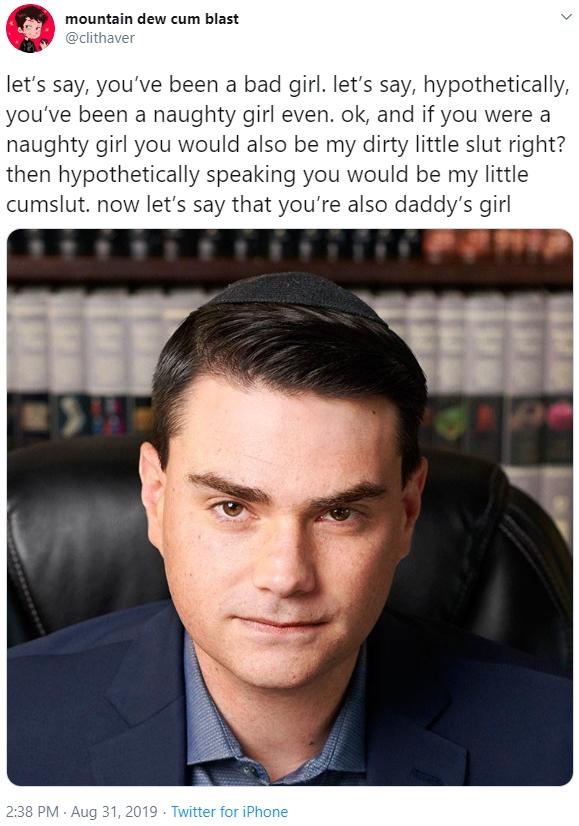 Spread
Also on August 31st, @clithaver[5] posted a dub of his meme, with the video gaining over 329,000 views, 6,000 retweets and 17,700 likes in one year (shown below).
okay twitter i tried my best pic.twitter.com/X5w694MxYR

— mountain dew cum blast (@clithaver) September 1, 2019
The dubbed version of the meme received viral spread online in the following days, including reuploads by iFunny[6] user ISIS_Chan and YouTube[7] user bruh sound effect 2.
During the second half of 2019, the format saw limited spread online, with several viral posts on Twitter and Reddit. For example, on October 9th, 2019, Twitter [8]user @yourfaveweezer posted a Weezer joke based on the format that received over 2,100 retweets and comments and 8,800 likes in nine months. An October 10th, iFunny[9] repost of the tweet received 1,500 smiles in the same period. On November 28th, 2019, Twitter[10] user @OmegaBlack1631 made a My Chemical Romance joke that received over 2,200 retweets and comments and 9,300 likes in eight months (shown below, right).


On January 13th, 2020, Tumblr[11] user tf2vr posted a joke which referenced the Kitty Cat Dance. The post received over 151,800 likes and reblogs on Tumblr and was widely circulated online in the following months.
lets say, hypothetically, im a cat. a kitty cat. and for the sake of debate, lets say i dance dance dance.
The meme format saw moderate spread online in the following months until notably increasing strarting in mid-June 2020.
Various Examples






Search Interest
External References