This submission is currently being researched & evaluated!
You can help confirm this entry by contributing facts, media, and other evidence of notability and mutation.
About
Big Head, Little Body refers to a series of reaction image macros, using a bronze statue of a man with a gigantic head being dragged on the ground by the attached smaller body to express one's own inflated sense of self importance or ego.
Origin
On April 27th, 2009, the website Chavannes[1] published a photograph of the Thomas Lerooy bronze sculpture "Not enough brains to survive." The photograph (shown below) featured the caption, "A rather big headed person in the Egmont Garden, a sculpture by Thomas Lerooy. Lots of trees and art in this park."

Four years later, July 17th, 2013, the website crazyhyena.com[2] published the image with the caption "your head after a party." Within five years, the post (shown below) received more than 4,700 views.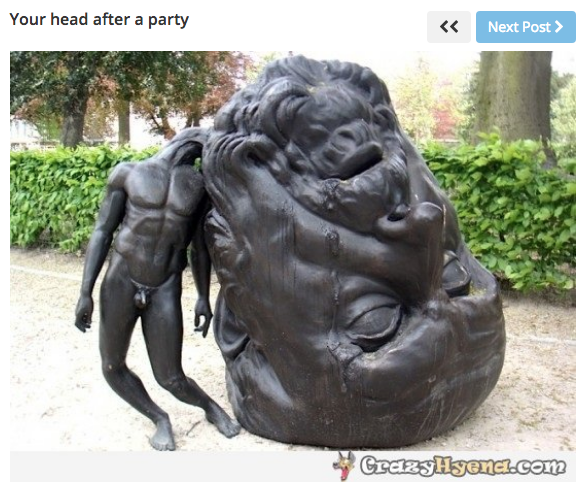 Spread
The following year, on June 15th, 2014, the photograph of the sculpture was posted on the /r/WTF subreddit by Redditor[3] werdism. Within four years, the post received more than 430 points (89% upvoted).
On January 6th, 2018, Redditor[4] Mitchie posted the image in the /r/milliondollarextreme subreddit, referring to the statue as a "painting of Mark Zuckerberg, receiving more than 140 points (99% upvoted).
In the thread, Redditor[5] Ioermungandr photoshopped the photograph into a one-panel comic of someone asking the sculpture where it works out (shown below, left). The sculpture responds, "At the library."
Later that month, on January 24th, Redditor[7] liavz123
posted the image on the /r/dankmemes with the caption "Me after watching 2 episodes of Rick and Morty in a row." The post (shown below, center) received more than 4,700 points (95% upvoted) and 80 comments in six month.
Later that year, on July 14th, Twitter [6] user @WowItzRudy_ captioned the image "Her: ima tell you something but don't let it to go to your head Me: nah what is it Her: I like your haircut Me:" The post (shown below, right) received more than 14,000 retweets and 41,000 likes in three days.
On July 17th, Vice [8] published an article on the emergence of the meme.



Various Examples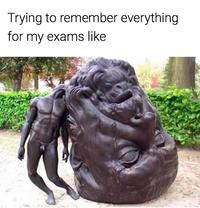 Search Interest
External References
Recent Videos
There are no videos currently available.