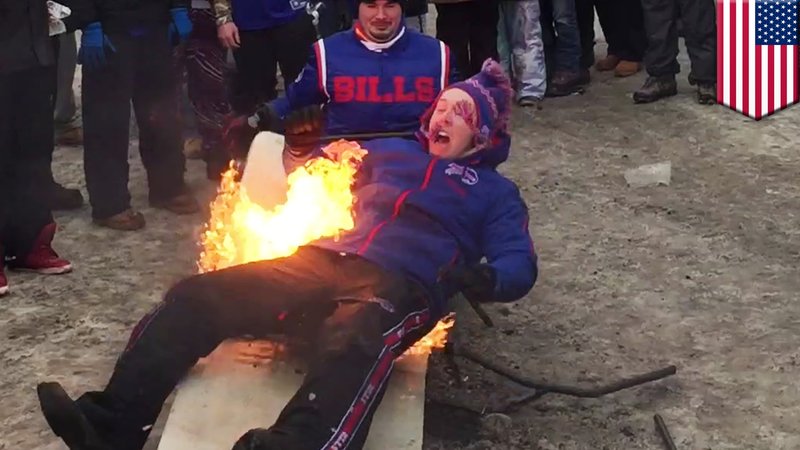 This submission is currently being researched & evaluated!
You can help confirm this entry by contributing facts, media, and other evidence of notability and mutation.
About
#BillsMafia is a hashtag used to encapsulate the fandom of the National Football League's Buffalo Bills. The hashtag gained infamy when it became synonymous with Bills fans who performed amateur stunts, such as crashing through tables, during tailgate parties for Bills games.
Origin
According to Billsmafia.com,[1] the hashtag started following a group of Bills fans on Twitter mocking ESPN NFL reporter Adam Schefter for reporting on old tweets. After Schefter blocked the fans on Twitter, user @mrdeadlier recommended following the Twitter users @bre_88, @Billsfan99, @SAINTRHYAN, and @leslieanne94 on "Follow Friday," a practice on Twitter in which Twitter users recommend following other accounts, under the hashtag #BillsMafia since "we were 'bad guys' in the eyes of Adam Schefter." A video recorded in 2011 by former News 8 sports reporter Cory Hepola which explains the origins of #BillsMafia was uploaded to YouTube in 2017.
Spread
After keeping up the hashtag up every Friday for a few weeks, the hashtag grew popular when it was pointed out by former Bills player Nick Barnett. Then, several other Bills players supported the hashtag, and, according to BillsMafia.com, added a banner over their profile pictures which read "#BillsMafia."[2] Soon, #BillsMafia began to stand for a subsection of Bills fans. On Facebook,[3] the Bills Mafia page has over 18,000 likes. The subculture was covered in 2012 by Bleacher Report[4] and Huffington Post.[5]
The subculture gained notoriety when Bills fans began performing Professional Wrestling stunts at tailgate parties. One of the first videos of this type was posted October 1st, 2012, showing a Bills fans giving a New England Patriots fan a Stone Cold Stunner, the finisher of wrestler Stone Cold Steve Austin (shown below).
Often, Bills fans would attempt to smash tables with various wrestling moves. This trend started gaining attention in 2015. For example, Deadspin[6] covered a Bills fan performing a moonsault on November 9th, 2017 (shown below).
Deadspin</a> <a href="https://twitter.com/espn?ref_src=twsrc%5Etfw">espn WORLDSTAR</a> <a href="https://twitter.com/buffalobills?ref_src=twsrc%5Etfw">buffalobills TheBuffaloNews</a> BUFFALO BILLS FANS ARE THE DRUNKEST FANS <a href="https://t.co/A0nPwW1nxh">pic.twitter.com/A0nPwW1nxh</a></p>&mdash; A$AP JUMBO (jumbojeffk) November 8, 2015
Deadspin also made a compilation video of stunts Bills fans pulled at tailgate parties that year (shown below).
Notably, on January 3rd, 2016, a Bills fan jumped through a table and caught on fire. This video was posted by Viralhog and gained over 32,000 views (shown below, left). On July 23rd, 2017 Barstool Sports uploaded a documentary on Bills Mafia to YouTube which gained over 104,000 views. On December 10th, 2017, an inquiry about #BillsMafia was posted to /r/outoftheloop.[7]
Various Examples
Search Interest
External References
Recent Videos
There are no videos currently available.
Recent Images
There are no images currently available.