Chinese Names for NBA Players
This submission is currently being researched & evaluated!
You can help confirm this entry by contributing facts, media, and other evidence of notability and mutation.
About
Chinese Names for NBA Players refers to nicknames for athletes in the National Basketball Association given by Chinese fans. When translated to English, the names tend to amuse western audiences. After sporadically appearing online for several years, a May 2018 thread compiling the Chinese nicknames for basketball players went viral.
Origin
One of the earliest known posts compiling Chinese nicknames for NBA players was posted by NBA.com on March 29th, 2007.[1] This included examples like "German Racecar" for Dallas Mavericks player Dirk Nowitzki, "Little Emperor" for LeBron James, "Stone Buddha" for Tim Duncan, and many more (portion of the list shown below).

Spread
A popular thread about Chinese names for NBA players appeared on Reddit on March 23rd, 2015.[2] This included new names like "Letter Dude" for Milwaukee Bucks player Giannis Antetokounpo, "O'Fat" for Shaquille O'Neal, and "20,000" for Wilt Chamberlain, referring to a rumor that Chamberlain had slept with 20,000 women. In January of 2016, a Reddit thread in /r/Warriors[3] was created devoted to how the nickname Stephen Curry was "Sky Fucker." On October 31st, 2017, ESPN posted a video of Antetokounpo being told his nickname was "Letter bro" (shown below).
@Nick_Kapur Thread
On May 7th, 2018, Twitter user @Nick_Kapur[4] started a long thread compiling some of the more humorous nicknames. The first tweet gained over 13,000 retweets and 28,000 likes. After the thread spread, the it was covered by SB Nation,[5] The Guardian,[6] and Deadspin.[7]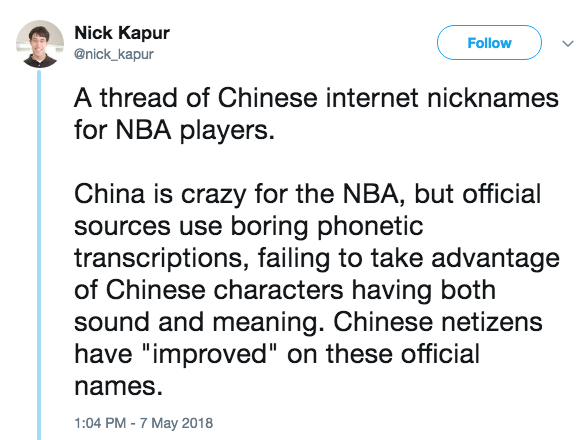 Search Interest
External References
Recent Videos
There are no videos currently available.