About
Space Jam is a 1996 children's live-action / animated comedy film starring the legendary retired NBA athlete Michael Jordan and iconic characters from the classic cartoon series Looney Tunes.
Premise
In the real world, basketball star Michael Jordan has given up basketball for baseball, but finds he isn't a talented baseball player. In the world of Looney Toons, the Toons are in danger of being taken over by a group of criminal aliens. Because the aliens seem small and unathletic, the Toons challenge them to a game of basketball for their freedom, but the aliens steal the talent of famous basketball players to become large and athletic. The Toons then kidnap Jordan and convince him to play on their team. Basketball season in the real world comes to a halt because players fear their talent will disappear as well. The game begins, and after an initial slump the Toons hold their own. Jordan strikes a deal that if the Toons win, the aliens will give back their stolen talent, and even if they lose they will kidnap him instead of the Toons. The Toons begin to lose badly, and lose players to injuries, so that an alternate must be called in (Bill Murray). In the end the Toons win, Jordan returns home and decides to return to baseball.
History
Space Jam was released on November 15th, 1996. The film stars Michael Jordan, Larry Bird, and Bill Murray and features famous Looney Toon characters such as Bugs Bunny and Daffy Duck.
Sequel
On November 18th, 2013, "Space Jam 2" began to trend on Twitter after a rumor[13] surfaced in the social media that a sequel to the 1996 film is in production for release in 2014, starring LeBron James in the leading role. That same day, a fan-made poster for the supposed film also began circulating online, giving further credence to the widespread rumor. However, the rumor was soon dismissed as a hoax, with some tracing the source of its origin to a Q&A session with LeBron James on Twitter, during which he was quoted as saying, "I love that movie. Wish I could do Space Jam 2!"

On May 2nd, 2016, Hollywood Reporter[14] published an exclusive story revealing that Justin Lin, the American filmmaker best known for his role as the director in The Fast and the Furious film franchise, is working on a script for Space Jam 2, for which he will also serve as the director and executive producer, along with co-writers Andrew Dodge and Alfredo Botello. The article also revealed that LeBron James has been cast for the lead role in the film, confirming the years-long rumor that intensified after his company SpringHill Entertainment signed a deal with Warner Bros. in July 2015. The report of the sequel production was subsequently picked up by several entertainment news outlets and met with varying reactions, with Deadspin[15] projecting a pessimistic outlook in an article titled "Space Jam Was Bad, The LeBron Remake Could Be Worse," while the keyword "Space Jam 2" landed the #9 spot on Google Trends' Hot Searches for that day.
Announcement
On September 19th, 2018, LeBron James' company SpringHill Entertainment announced that Space Jam 2 was coming via a tweet that showed a locker room (shown below). The lockers showcased Bugs Bunny, LeBron James, director Terence Nance, and producer Ryan Coogler, who also produced Black Panther.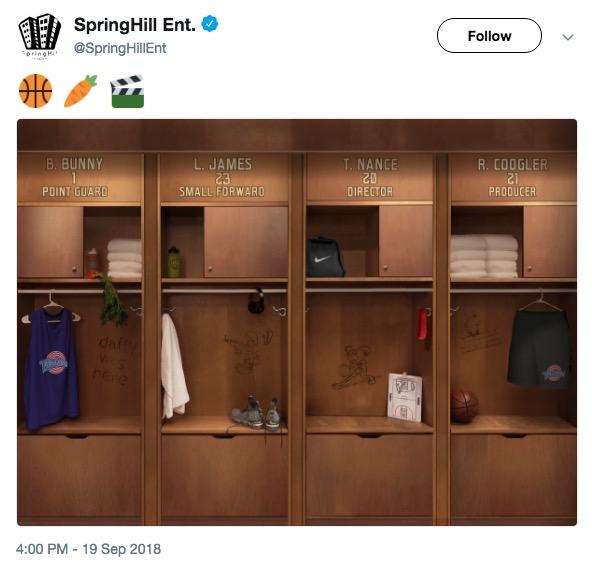 The Hollywood Reporter[20] reported that day that production would begin in the beginning of 2019. Of Coogler, James said, "I loved his vision" for Black Panther. He also said that when he was a kid growing up in Akron, Ohio, there were no black superheroes. "So for Ryan to be able to bring that to kids, it's amazing."
20th Anniversary
On October 17th, 2016, Fathom Events announced a two-day limited release of Space Jam in over 450 theaters in the United States in honor of the film's 20th anniversary. On November 15th, the day of its 20th anniversary, several news sites published retrospective articles about the film, including The Washington Post,[17] Time[18] and The Huffington Post.[19]
Reception
The film was poorly received by the critics, earning a rating of 35% on Rotten Tomatoes[2] and a score of 6.1 on IMDB.[3] Despite its lukewarm reviews, the film opened at #1 in the United States with 27 million tickets[8] sold during the premiere weekend and went on to become a box office success, grossing over $90.4 million in the United States and $230 million internationally.
Soundtrack
In contrast to the reception of the film, the original soundtrack for Space Jam was met with both critical acclaims and commercial success, going double platinum in less than two months after release and peaking at #2 on the Billboard 200. Among the most notable tracks include R. Kelly's R&B hit single "I Believe I Can Fly," which the singer wrote and produced exclusively for the movie, and Quad City DJ's main theme with the same name as the film, which went on to inspire a musical remix series that combines the Space Jam soundtrack with other popular songs. R. Kelly's song went on to win a Grammy Award in the Best Song Written Specifically for Motion Picture category, as well as an MTV Movie Award in the Best Movie Song category.
Online Presence
Since launching in June 2012, the Facebook page[6] for "Space Jam" has garnered more than 69,000 likes. On May 6th, 2013, the CollegeHumor YouTube channel posted an animated video titled "Kim Jong Un and Dennis Rodman Recreate Space Jam" (shown below, left). Over the next four years, the video accumulated more than 2.3 million views and 2,100 comments. On February 14th, 2015, the NBA YouTube channel uploaded footage of professional basketball player performing a "Space Jam dunk," gaining upwards of 10.7 million views and 3,100 comments over the next two years (shown below, right).
Fandom
Fueled by an online resurgence of '90s nostalgia that began in the mid-2000s, Space Jam has been since revisited by pop and internet culture blogs, including Mental Floss' re-discovery of Space Jam's website, which has remained online since the early 90s (shown below), on November 14th, 2011, and BuzzFeed's "35 Facts That Prove 'Space Jam' Is Criminally Underrated"[1] posted on August 22nd, 2013. Mental Floss mentioned the website once again in its list of "abandoned yet functional sites" published on November 22nd, 2013.[4][5]

As of October 2014, there are over 6,000 pieces of fan art have been submitted to DeviantArt. [7]


"30 for 30″ Documentary
On November 12th, 2013, SketchY, a comedy series created by Yahoo!, released a fake documentary on Space Jam parodying ESPN's 30 for 30 series. [9]The sketch featured sports reporters and commentators, as well as former NBA players like Kurt Rambis and Greg Anthony, speaking as if the action of Space Jam had actually happened. The video was reported on by The Wrap[10], Deadspin[11], and CBS sports.[12]
Related Memes
Slam Remixes
Slam Remixes (a.k.a "X vs. Quad City DJs") refer to a series of mash-up songs that combine a popular tune with the Space Jam theme song, especially the chorus portion ("C'mon and Slam!"). These remixes are commonly accompanied by a headshot of former professional basketball player Charles Barkley[23] superimposed over the face of the original singer behind the added track.
Notable Examples




Search Interest
External References