Damn... I Kinda Don't Care / Black Kid Scratching Head
This submission is currently being researched & evaluated!
You can help confirm this entry by contributing facts, media, and other evidence of notability and mutation.
About
Damn… I Kinda Don't Care or Black Kid Scratching Head refers to a reaction image and exploitable image macro showing a confused Black boy scratching his head over a variation of the phrasal template caption, "Damn… I kinda X," "X" being a phrase like "don't care" or "want to go home" that matches the boy's uncomfortable expression. The image was first used as a meme in July 2015 and saw a boost in popularity throughout 2019.
Origin
On February 14th, 2011, JBryson uploaded a stock image to iStock[1] etitled "African American Boy Scratching Head Thinking Confused," showing a young Black boy scratching his head with a confused look on his face (shown below).

Around July 20th, 2015, Twitter user @CommonBlackGirl tweeted the image, writing, "#GrowingUpShy Not knowing how to a compliment, so you're just like…" The tweet has been deleted, but was reuploaded by Tumblr[2] user blackspartacus that day, garnering over 1,300 notes in seven years (shown below). This is the first known use of the image as a meme.

Spread
On May 8th, 2019, rapper $not tweeted,[3] "damn…. i'm kinda 𝐧𝐨𝐭 𝐝𝐨𝐢𝐧𝐠 𝐬𝐡𝐢𝐭," garnering over 300 likes in three years. That day, Twitter[4] user @JolanKamD commented under the post with a meme using the image of the confused Black boy under the same caption (shown below).

On August 5th, Twitter[5] user @Beto10166085 posted a reaction image using the same image, captioned, "Damn…. I kinda don't care," under a post by the Pittsburgh Pirates' Twitter account, soon becoming one of the most popular variations of the meme (shown below). The image was used on several other tweets throughout the year as a reaction image, gaining over 290 likes on a September 27th tweet[6] and 600 likes on an October 1st tweet.[7] On November 23rd, the image was posted to /r/reactionpics,[8] garnering over 140 upvotes in three years.

On November 27th, Instagram[9] user ladpod posted a meme about the #TeamTrees campaign using the image, garnering over 6,700 likes in three years (shown below, left). On November 30th, Instagram[10] user sageaflocka posted a new version of the meme, chaing the caption to "damn, I kinda think therefore I am," garnering over 6,200 likes in three years (shown below, right). On December 9th, Instagram[11] user sydneywatson__ posted another meme using the format, garnering over 3,100 likes in a similar span of time.


The meme remained popular over the following years, inspiring numerous viral examples. On October 22nd, 2021, Facebook[12] page Anxiety posted a version of the meme about wanting to go home, garnering over 6,600 shares and 4,800 reactions in a year (shown below). The meme was reposted by Twitter[13] user @97Vercetti in January 2022, garnering over 99,000 likes and 22,000 retweets in nine months. It was reposted by the same Twitter[14] user on August 15th, garnering over 200,000 likes and 39,000 retweets in two months.

Various Examples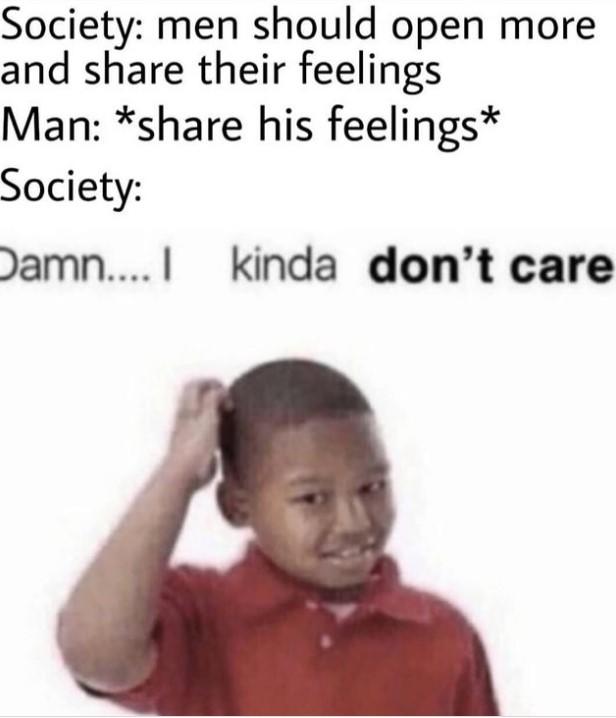 Search Interest
External References
Recent Videos
There are no videos currently available.