Destroy Dick December / DDD
This entry contains content that may be considered sensitive to some viewers.
About
Destroy Dick December, or DDD for short, is a proposed challenge in which a male masturbates once on December 1st, twice on December 2nd, and so on until they masturbate 31 times on December 31st. The concept began going viral in November of 2017, and as of November 15th, 2017, it has not been attempted.
Origin
On November 10th, 2017, Instagram user @rapper2k posted the first known mention of the challenge in a post that gained over 7,500 likes.[1]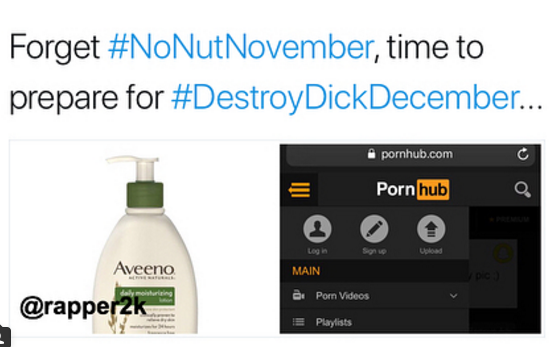 Spread
On November 12th, Instagram user losst8[2] posted a screenshot of the rules of the challenge, outlining that one would masturbate once on December 1st, twice on December 2nd, and so forth (shown below).

On November 13th, 2017, /r/teenagers poster Redditor Finchonfire[3] posted an image of a text conversation outlining the challenge. The post gained over 16,900 upvotes (shown below).The image was posted the following day to /r/dankmemes,[4] where it gained nearly 14,000 points. A thread devoted to the challenge appeared on Gamefaqs[5] on November 14th as well. A screenshot outlining the rules appeared on Funnyjunk[6] and gained over 400 likes (shown below). The Daily Dot[7] covered the challenge on November 15th.

Various Examples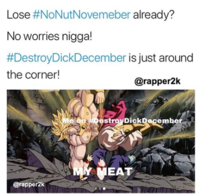 Search Interest
External References