No Fap September / No Fap Months
This entry contains content that may be considered sensitive to some viewers.
About
No Fap September, and other "no fap" months, are challenges in which the participants must abstain from masturbation (known as "fapping") for an entire month. While participants may not pleasure themselves during the course of the month, they can engage in sexual intercourse with another person. The challenge bears many similarities to the 7-day No Fap Challenge, in which male Redditors attempt to cease ejaculation for seven days in order to raise testosterone levels.
Origin
No Fap September is an annual event that is rumored to have begun in the /b/ (random) board on 4chan in August of 2009, but an archived thread has yet to be found.
Precursors
Academic Research
In March 2003, three researchers at Zhejiang University, Jiang M., Xin J., Zou Q. and Shen JW., published a paper titled A Research on the Relationship Between Ejaculation and Serum Testosterone Level in Men. The research project consisted of 28 volunteers who were tested. The results of the paper suggested that "on the 7th day of abstinence, however, a clear peak of serum testosterone appeared, reaching 145.7% of the baseline"[31].
No Fap Ironman Competition
On October 20th, 2006, the North American Subaru Impreza Owners Club Forums[2] member Asinine submitted a post titled "The Official No Porn, No Fap Ironman Competition – Round One, Fight!", which invited other members to abstain from masturbation for as long as possible. Contestants would be awarded one point for every six hours that porn and masturbation were avoided and persons who abstained from any type of sexual activity were awarded two points every six hours. Within two years, the post received over 422 responses.
Spread
On August 28th, 2009, Cheat Engine Forums[5] member Jonas submitted a post titled "No fap september", which included a calendar image with the captions "No Fap September" and "Must not fap." On August 29th, YouTuber AlmightyDevin uploaded a video titled "No Fap September – Official Video", which included the calendar image accompanied by instructions on how to participate in the event.
On August 31st, Club RSX Forum[4] member awp_map submitted a post titled "No Fap September", which urged other members to join him in the challenge. The same day, Mustang World Forums[7] member Ducky posted a thread titled "No FAP September", announcing that sex would be allowed during the challenge. On September 1st, Urban Dictionary[1] user stewfubuddy submitted a definition for "no fap september", which described potential costs and benefits of participating in the challenge. On July 5th, 2010, YouTuber AngryAussie uploaded a video titled "Must Not Fap! The remix", which included a spoken word remix urging viewers to avoid masturbating.
On September 1st, Cheat Engine Forums[6] member Nirojan posted a thread titled "It's no fap September", in which he remarked that he had already lost the challenge. On the following day, Body Building Forums[8] member Squeeks posted a thread titled "No Fap September", who revealed that after two days he was "humping everything I lay on." On June 20th, 2011, the /r/nofap[3] subreddit was created, which serves as a community for those who wish to abstain from masturbation. On October 18th, Body Building Forums[22] member Preparation submitted a thread titled "The No Fap Thread to End All No Fap Threads", which lauded the benefits of abstaining from masturbation, citing the website Your Brain on Porn.[23] On May 16th, 2012, the TED YouTube channel posted a talk by Southern Oregon University professor Gary Wilson titled "The Great Porn Experiment", which warned about the dangers of frequent use of porn by male Internet users and referenced the /r/nofap subreddit (shown below). On May 19th, Redditor Mind_Virus submitted the video to the /r/technology[21] subreddit, where it received over 1,730 up votes and 400 comments within three months.
No Nut November
On November 3rd, 2011, Urban Dictionary[38] user bicboi6969696969 submitted an entry for "No Nut November", defining it as a challenge in which "an individual must not masturbate for the month of November." In November 2017, references to a "No Nut November" challenge began circulating in various circlejerk and meme communities online. On November 1st, Twitter user @I_H8THOTS[34] tweeted "Not even a day into No Nut November and I've already beat my meat like it owes me money" (shown below).

The tweet was subsequently submitted to /r/BlackPeopleTwitter,[35] where it gathered upwards of 33,100 points (88% upvoted) and 1,200 comments over the next week. That day, YouTuber
THREEIO uploaded a video titled "Welcome to No Nut November!" (shown below).
On November 3rd, an anonymous 4chan user submitted a thread challenging the /pol/ (politically incorrect) board to No Nut November.[36] That day, Twitter user @BillRatchet[37] tweeted a joke about his experience urinating after abstaining from masturbating for two days (shown below).

On November 4th, Redditor krys2015 submitted a post asking "What is with no nut November?" to /r/OutOfTheLoop.[33] On November 7th, Twitter user @CuteEmergency[32] posted an image macro announcing that "No Nut November" participants are allowed three "strikes" before failing the challenge (shown below). Within 24 hours, the tweet gathered upwards of 1,900 likes and 670 retweets.

Notable Examples
Following the inception of No Fap September, many began implementing the challenge in other months with events like No Fap February[17][18][19], No Fap October[9][10][11][12] and No Fap November[13][14][15][16], thus bringing about derivative events based around the same concept: no masturbation. Online discussions pertaining to the topic of No Fap challenges can be found on a wide range of communities, from gaming and car enthusiast forums like G-Shack, IGN and FacePunch to word reference sites like Urban Dictionary and Yahoo Answers. In addition to monthly challenges, the hypothetical concept of No Fap Decade has been also discussed on various communities like IGN Forum[20], 4chan's /b/ board[24] and Bungie.net Forum[25] among others.



Motivational Videos
On YouTube, users have uploaded motivational videos for the challenge using clips from various animated television shows such as Dragon Ball (shown below, left) and He-Man (shown below, right).
#Rory100 Challenge
On April 5th, 2014, Rory Patrick of Portland, Oregon announced on Twitter that he would abstain from masturbating or sexual activities for 100 days (shown below). On July 14th, Patrick completed the challenge and celebrated his achievement via Twitter (shown below).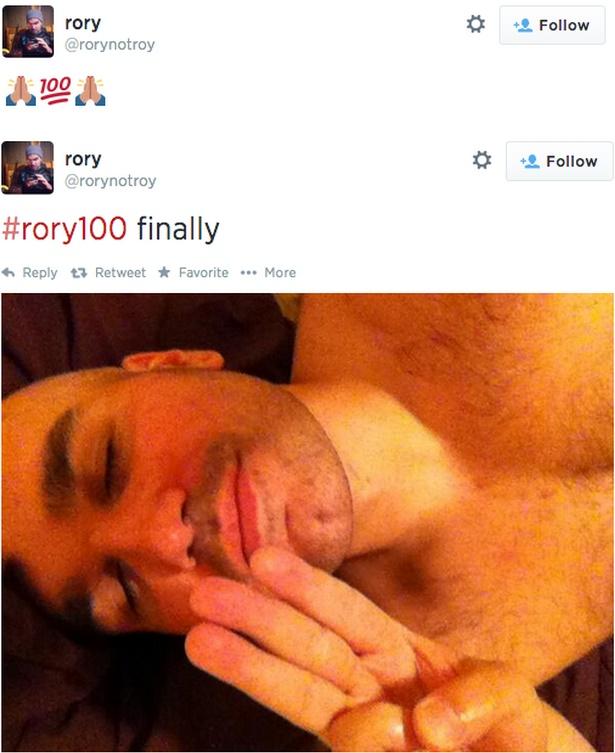 During the challenge, as Patrick continued to share updates on his progress, his friends and followers on Twitter soon began expressing support for his self-imposed challenge with the hashtag #Rory100.[28]






In the week following Patrick's completion, VICE[27] ran a feature interview with Rory Patrick, who explained that he decided to abstain from masturbation for self-motivational reasons.
I'd just noticed how jerking off had altered the trajectory of my day-to-day life. For instance, sometimes I'd planned to go to the gym or go on a run, and then I'd say to myself, "OK, you're going to run, so let's have a nice moment to yourself before that." After masturbating, though, I'd find myself curled up in my bed watching television with a bag of chips instead of actually running. Coming was also my primary coping strategy for stress or pain, and that just didn't seem healthy at all.
By July 23rd, Patrick's 100-day "no fap challenge" had been picked up by BuzzFeed[30] and The Daily Dot.[26]
Search Interest
External References