This submission is currently being researched & evaluated!
You can help confirm this entry by contributing facts, media, and other evidence of notability and mutation.
About
Baseball Sex Metaphors refer to a method of explaining different types of sexual contact by comparing them to various baseball positions. The most well-known of these is the "base" system, which compares escalating levels of sexual contact to different bases on a baseball field, with "home" usually standing for sexual intercourse. The base system is often joked about in pop culture and online by people replacing the action that constitutes a specific "base" with something else.
Origin
According to books by Marty Jazer and Suzanne Romaine, the origin of sex-as-baseball metaphors can be traced to America post-World War II.[1] Generally, the bases are defined as follows:
First base: kissing, french kissing.
Second base: physical contact with breasts, over-the-pants stimulation of the genitals.
Third base: physical contact with genitals, oral sex.
Home: Sexual intercourse.
Other baseball/sex metaphors include "pitcher" and "catcher" for the giver and receiver of anal sex in gay sex between two men, "switch hitter" for bisexuals, and "playing for the other team" indicating a person is gay or a lesbian.
Spread
On January 17th, 2004, a definition for third base was posted to Urban Dictionary by user rarmeister describing it as making physical contact with another's genitals.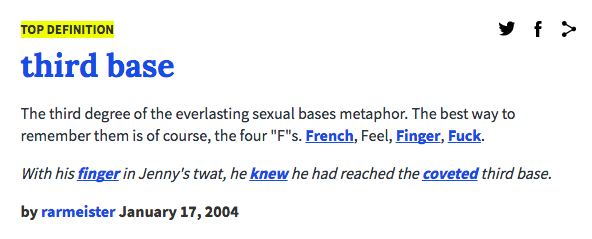 The terms have been referenced in several media posts since the mid-2000s. In 2008, College Humor[3] ran a humorous piece defining "lesser-known" sex-baseball metaphors. In 2013, Cosmopolitan ran a piece of an "updated" baseball metaphor list, with each base representing far more graphic and detailed actions than the commonly-known list.[2] In 2015, Buzzfeed[4] ran an illustration detailing what all the baseball terms meant in terms of sex (shown below).


There are numerous examples of the baseball/sex metaphor in pop culture. One of the most popular is the song "Paradise by the Dashboard Light" by Meatloaf, which describes a couple making out as a baseball announcer describes a player rounding the bases in a game (shown below, left). Another popular example comes from a joke about the bases from a trailer for the Netflix series Bad Samaritans, where a young girl humorously describes first base as "anal" (shown below, right). Screencaps of the scene were posted to Tumblr by user hooddoggy[5] and gained over 625,000 notes.
Third Base Is…
In the 2010s, a snowclone emerged on Twitter in which people offered humorous guesses as to what third base meant. An early example appeared on December 23rd, 2013, in which user @ColoradoUgly[6] defined third base as "one hand under the snuggie." The tweet gained 29 retweets and 83 likes (shown below).

The snowclone grew more popular in the following years, as people offered more absurd definitions of third base. On January 17th, 2018, Twitter user @electrasam[7] gave the definition, "third base is when you tell them about your one direction stan years," gaining over 30,000 retweets and 85,000 likes (shown below, left).


Various Examples






First Base: Sex
In July of 2018, baseball sex metaphors again began trending on Twitter as people wrote parodies of the traditional definitions, making first base "sex" and the other bases increasing levels of emotional intimacy. One of the earliest known tweets to spread the meme was posted by user @suuuuuunshine on July 16th, 2018. While the tweet has since been deleted, it was cited by Mashable.[7]

The snowclone continued spreading on Twitter over the following week, spawning several popular examples. User @princesslysi posted an example which gained over 7,500 retweets and 26,000 likes (shown below, left). User @xhastalamuerte gained over 5,400 retweets and 25,000 likes for her example posted July 17th (shown below, right). The popularity of the jokes led to coverage from Mashable[7] and Independent.ie.[8]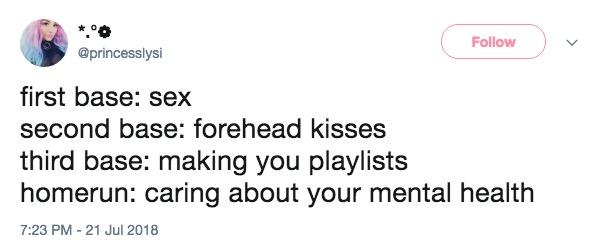 Various Examples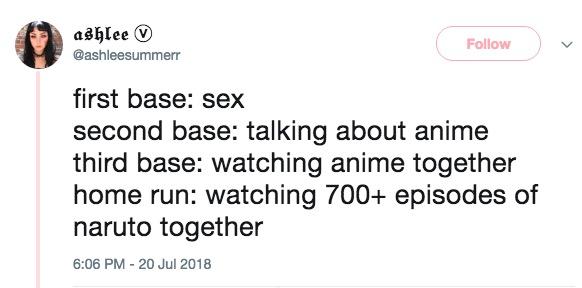 Search Interest
External References
Recent Videos
There are no videos currently available.