E3 Sony 2006 / Giant Enemy Crab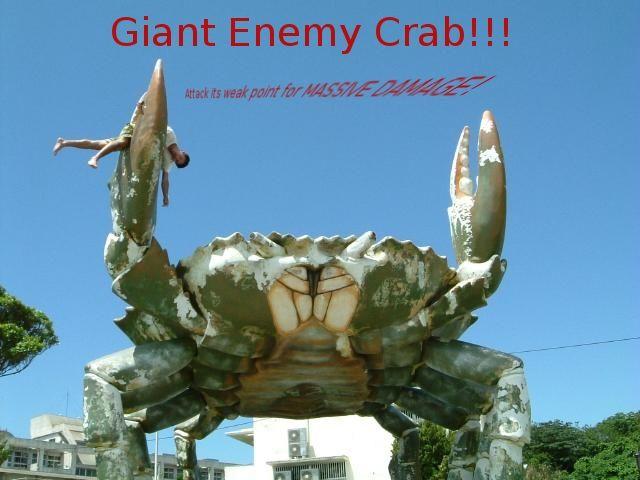 About
Giant Enemy Crab refers to an enemy character in the PlayStation 3 videogame Genji: Days of the Blade first introduced through Sony's press conference at E3 Expo in May 2006. During the presentation, Sony spokesperson was quoted as saying that the game plot was based on the actual history of Japan, just as a giant enemy crab character appeared onscreen in the demo footage.
Origin
Sony's press conference was held at the Sony Pictures Studio in Culver City on May 8th, 2006. Some of the main highlights included the announcement of long-awaited PlayStation3 console (its retail suggested price at $599), the six-axis controller and numerous upcoming titles for PS3 and PSP. Among the video games introduced was Genji: Days of the Blade[1], an action game based on historical facts of Japan.
The presentation was hosted by Sony's CEO Kazuo Hirai and one of the lead producers Bill Ritch, who at point claimed that Genji 2's epic battle scenes were based on "famous battles which actually took place in ancient Japan." Almost instantly following Ritch's description of background, the gameplay footage began playing onscreen which depicted a mid-level boss known as a "giant enemy crab."
Some of the other notable quotes from the presentation included "$599," the exorbitant retail price quoted for PS3 console, as well as gameplay descriptions like "you attack its weak point for massive damage" and "real-time… weapon change," which were ridiculed for their utter lack of notability (these features have been available since the classic 1980s games like Metroid).
On YouTube
One of the first remixes was uploaded by YouTuber Macaw45 on May 14th, 2006, featuring a number of catchphrases incluing "ridge racer" and "$599." The video has been since featured on several videogame blogs like Kotaku[10], Destructoid[11], and GamesRadar.[12]
Spread
In the days following Sony's conference in June 2006, Sony's E3 press conference was criticized and ridiculed by fans on gaming-related communities for the unimpressive presentation and historically inaccurate description of the Genji sequel title.

The discussions relating to the "Giant Enemy Crab" and "Ridge Racers" also began across various forums, such as Team XBox Forum[2], EuroGamer[3] and GameSpot[4], as well as videogame review blogs like IGN[5], GameSpy[6] and Kotaku.[7]
The game review blog IGN also listed a number of Genji 2 quotes from the press conference in their E3 wrap-up article[8] and a flash-based game inspired by the "Giant Enemy Crab" was posted on Newgrounds.[9]
Notable Examples



Notable Remixes
Search Interest
External References