About
Egoraptor Do It Again is a reaction image macro featuring YouTuber and Game Grumps member Egoraptor and the caption "do it again."
Origin
The screenshot of Egoraptor from the meme is taken from a May 14th, 2018 upload by the YouTube channel GameGrumps entitled "Board Game Bonanza – 10 Minute Power Hour." Within a year and a half, the video received more than 1.6 million views.
Spread
The following week, on May 25th, Redditor [1] Aluminiumsman shared a screenshot from the image with the caption "do it again." They titled the post "Me: *saves the game* My brain." The post received more than 11,000 points (91% upvoted) and 175 comments in a little over one year (shown below, left).
Several month later on December 23rd, Tumblr [2] user zenvanillacoke shared a similar variation of the joke, receiving more than 126,000 notes (shown below, center).
Over the next year, the meme would see a huge influx of caption variations. One of the most popular was posted by iFunny [3] user Twatstica, who captioned the meme "Caveman: *Hits stick against rock* Crazy asshole who's about to invent music." The post, which was uploaded on August 23rd, 2019, received more than 82,000 points in less than two weeks.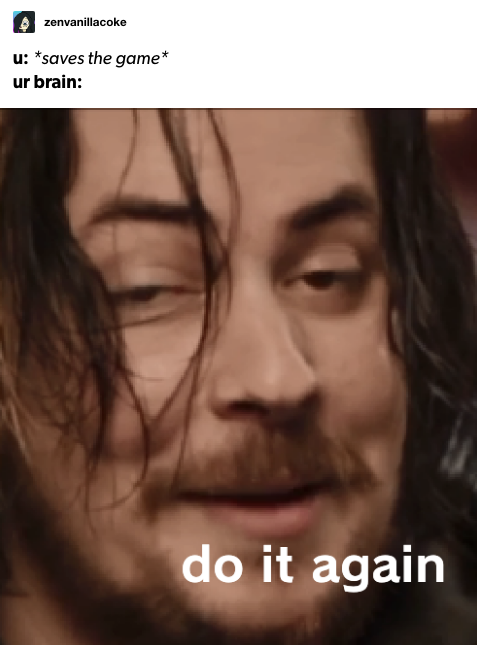 The meme saw an even greater increase in usage following a September 5th post on the /r/dankmemes [4] subreddit. The post, which featured the caption "Presses lock button on car keys and car beeps," was posted by shootfast_eatass and received more than 24,000 points (97% upvoted) and 60 comments in less than 24 hours (shown below).

Various Examples






Template

Search Interest
External References
Recent Videos
There are no videos currently available.