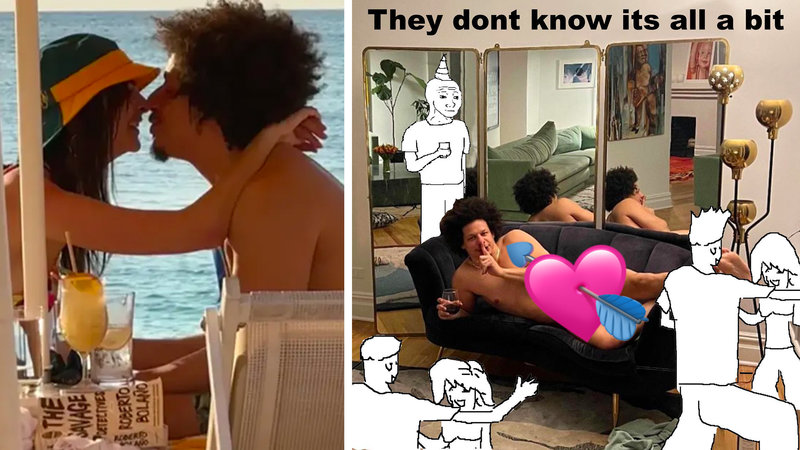 Eric André and Emily Ratajkowski Dating
This submission is currently being researched & evaluated!
You can help confirm this entry by contributing facts, media, and other evidence of notability and mutation.
About
Eric André and Emily Ratajkowski Dating refers to a relationship between comedian Eric André and model Emily Ratajkowski (also known as EmRata) in February 2023. Many users on social media thought the couple was an odd pairing, leading to viral discourse and memes, such as the phrase "She Let Me Hit Because I'm Goofy." Their relationship also directly followed EmRata's short stint with Pete Davidson who became known for "dating up" in the years prior. André and Ratajkowski also posted a 2023 Valentine's Day photo to André's Instagram page in which they were both naked with him on a couch and her reflected in the mirror. The photo became the subject of memes and photoshops and ultimately confirmed that the two were dating.
History
On January 29th, 2023, Us Weekly[1] writer Yana Grebenyuk published an article with the headline, "Emily Ratajkowski Spotted Out With Eric André Following Her Split From Pete Davidson." The piece relayed information about Ratajkowski and André on a date in which they were photographed walking out of a building by paparazzi outlet The Image Direct (shown below, left). On January 10th, the Twitter[2] account @DailyLoud posted the photo, earning roughly 78,800 likes in one month. The tweet inspired a slew of initial reactions to the couple, like one reply posted by Twitter[3] user @Xer0x_NFT on January 10th that read, "Face of a man whose punching above his weight," and earned roughly 17,000 likes in one month (shown below, right).


On January 25th, 2023, Andre and Ratajkowski were photographed by Page Six[4] on vacation together in the Cayman Islands. The two were reportedly photographed rubbing noses and making kissy faces by the beach (shown below, left). The photo was amplified by Twitter[5] user fiImgal on January 26th, 2023, who tweeted the two primary photos of the couple with the caption, "i cannot believe this is real," earning roughly 154,100 likes in three weeks (shown below, right).


Eric André and Emily Ratajkowski Naked Valentine's Day Photo
On February 14th, 2023, Eric André posted to his Instagram[6] account a carousel post with two photos of him laying down naked on a couch with an emoji covering his crotch while Ratajkowki can be seen in the background mirror taking the photo while nude herself. Over the course of two days, the post received roughly 603,000 likes (shown below).


On the same day, Twitter[7] user @kiranmayeet tweeted a screenshot of the post, captioning it, "Oh so they were being serious…." and earning roughly 54,700 likes in two days (shown below, left). The tweet received viral replies and quote retweets, like one posted by Twitter[8] user @aliengrl33 on February 14th that read, "she let me hit bc i'm goofy: exhibit A," and gained roughy 8,800 likes in two days (shown below, right).


The photo was then photoshopped by meme creators elsewhere, such as Instagram[9] user @thenewmythology.jpg on February 15th, 2023, who added in the template for I Wish I Was At Home, gaining roughly 1,200 likes in less than a day (shown below).

Various Examples






Search Interest
External References
Recent Videos
There are no videos currently available.