Facebook Privacy Controversies
This submission is currently being researched & evaluated!
You can help confirm this entry by contributing facts, media, and other evidence of notability and mutation.
Overview
Facebook Privacy Controversies refers to a series of public controversies regarding the social media company Facebook's handling of users' personal data.
Background
Facebook was founded on February 4th, 2004. The company has since amassed more than 2.2 billion users, making it the largest social network in the world. Since its formation, critics, users and lawmakers have questions and attempted to regulate Facebook's control over user data.
Developments
On September 27th, 2011, Redditor realbigfatty posted a thread titled "How to annoy Facebook"[1] to the /r/funny subreddit. The post contained a link to an image outlining how to make a data request to Facebook to send all the personal data they have collected about you as part of the "European Data Protection Directive."

The same day, Redditor endroop[2] posted a screenshot of an email from Facebook saying they would not be able to fulfill his data request due to the volume of requests they were receiving. Shortly after, an article was published to the technology blog ZDnet[15] that claimed the Reddit thread managed to "overwhelm Facebook with data requests."
The image then goes on to explain that because of Britain's 1988 Data Protection Act (DPA), Facebook has to send you your data on a CD within 40 days. It's worth noting that this is a mistake, the DPA in question is Ireland's. The CD contains a PDF that is typically more than 1,000 pages long and more than 100MB in size.
On September 28th, Redditor davesterist[16] posted a screenshot of an email he received from Facebook explaining that they would not be fulfilling his request because he lives in the United States where there are no laws that require Facebook to send personal data.
Cambridge Analytica
On March 17th, 2018, in a series of interviews with The New York Times, the Observer and the Guardian, former employee and whistleblower Christopher Wylie said that using money from Republican and Trump donor Robert Mercer and former White House advisor Steve Bannon, the data mining firm Cambridge Analytica harvested private information from more than 50 million Facebook users without their permission.[3][4]
On March 16th, 2018, Facebook announced that they would be suspending Strategic Communication Laboratories (SCL), who owns Cambridge Analytica from the platform. They wrote in a statement:[5]
Kogan requested and gained access to information from people after they chose to download his app. His app, "thisisyourdigitallife," offered a personality prediction, and billed itself on Facebook as "a research app used by psychologists." Approximately 270,000 people downloaded the app. In so doing, they gave their consent for Kogan to access information such as the city they set on their profile, or content they had liked, as well as more limited information about friends who had their privacy settings set to allow it.

Although Kogan gained access to this information in a legitimate way and through the proper channels that governed all developers on Facebook at that time, he did not subsequently abide by our rules. By passing information on to a third party, including SCL/Cambridge Analytica and Christopher Wylie of Eunoia Technologies, he violated our platform policies. When we learned of this violation in 2015, we removed his app from Facebook and demanded certifications from Kogan and all parties he had given data to that the information had been destroyed.
On March 20th, another whistleblower, Sandy Parakilas, who was paid to investigate these types of data breaches said that Facebook had no control over the data given to outside developers. He said, "Once the data left Facebook servers there was not any control, and there was no insight into what was going on."[6] He continues to say that it is likely that a majority of Facebook users have had their data harvested.
That day, the hashtag "#DeleteFacebook" began trending on Twitter. Throughout the day, various media outlets, including Time,[7] the Verge,[8] TechCrunch,[9] CNN[10] and more, ran pieces on how and/or why to delete personal Facebook accounts. Users posted screenshots and articles of themselves deleting their accounts (shown below).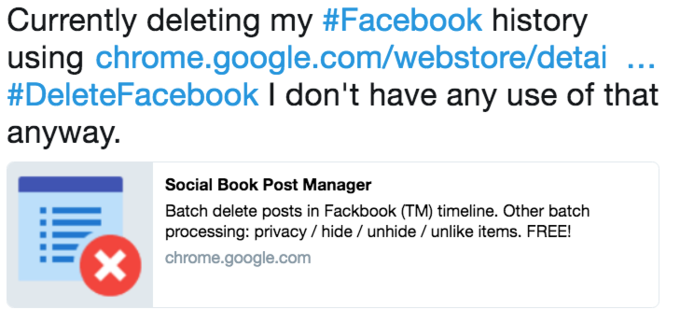 "Netflix and Spotify" Controversy
On December 18th, 2018, the New York Times[11] reported that Facebook had allowed various technology companies access to user data, such as private messages, without the users' consent. These arrangements were outlined in hundreds of Facebook documents and confirmed by interview with more than 50 employees with knowledge of the relationships. According to the Time's reporting:
Facebook allowed Microsoft's Bing search engine to see the names of virtually all Facebook users' friends without consent, the records show, and gave Netflix and Spotify the ability to read Facebook users' private messages[…]The social network permitted Amazon to obtain users' names and contact information through their friends, and it let Yahoo view streams of friends' posts as recently as this summer, despite public statements that it had stopped that type of sharing years earlier.
Later that evening, after the story broke, "Netflix and Spotify" began trending on Twitter as people criticized Facebook's use of the personal data of the some 2.2 billion Facebook members. One of the reporters on the story wrote on Twitter,[12] "These deals are different in significant respects from the access afforded app makers like the one working for Cambridge Analytica. But in a broad sense they are not. Companies you may never have had a relationship with could see your stuff" (shown below, left).
New York Times Washington correspondent Binyamin Appelbaum tweeted,[13] "The list of companies with which Facebook shared your private information includes China's Huawei and Russia's Yandex -- which is to say, companies regarded as partners of Chinese and Russian intelligence" (shown below, right).


Some of the companies in the report commented on the controversy. Netflix[14] said, "At no time did we access people's private messages on Facebook, or ask for the ability to do so." Amazon said, "We use information only in accordance with our privacy policy."
Facebook also gave a statement on the story. They said, "Facebook's partners don't get to ignore people's privacy settings, and it's wrong to suggest that they do."
Related Memes
Facebook Privacy Notices
Facebook Privacy Notices are hoaxical status updates with false instructions on how to protect one's personal information, media and other user-submitted content hosted on Facebook from being appropriated by the company without user consent.
Search Interest
External References
Recent Videos
There are no videos currently available.
Recent Images
There are no images currently available.