Glue Library Goatse Screamer Incident (Garry's Mod)
This submission is currently being researched & evaluated!
You can help confirm this entry by contributing facts, media, and other evidence of notability and mutation.
About
Glue Library Goatse Screamer Incident refers to an incident where a popular addon creator for Garry's Mod, known for his Glue Library addon, edited his addons to show a screamer version of goatse when players using the addons launched the game. The popularity of the addons resulted in numerous players seeing the screamer and inspired other addon creators to troll players by making similar edits to their content. The addons were deleted from the Steam workshop in the following days. It is thought that the creator did this after some sort of ban based on a message he left in the LUA code of the addons, although the exact motivation is unknown.
History
On June 2nd, 2022, YouTuber[1] Concon posted a video claiming that some Garry's Mod addons were "hacked" to show an image of goatse over a screamer, gaining over 18,900 views in five days (shown below, left). The next day, YouTuber Username5322 uploaded a censored video showing themselves activating the screamer, gaining over 40,000 views in four days (shown below, right).
On June 3rd, Twitter[2] user @thafnine posted about the incident, writing, "a popular addon creator lost his goddamn mind and has altered all of his addons to add a jumpscare of goatse when you open the game," gaining over 54,000 likes and 7,900 retweets in four days. He also shared a screenshot of the Glue Library addon's LUA source code, showing a message cursing out Steam, Gabe Newell and Garry's Mod itself, although not specifying why he was angry or added the goatse screamer (shown below). The mods were deleted from the Steam Workshop following the incident. The "Trollface Playermodel" mod was also edited to play an audio clip of SpongeBob's voice saying slurs.[4]

On June 4th, Redditor Linux55_ made a post to /r/Gmod[7] sharing images from the "TROLLGE NPC PACK" mod,[8] which was edited to show Neco-Arc flipping the user off when launched (shown below).


Reactions
On the day of the incident and in the days following, users of the /r/Gmod[5][6] subreddit began posting memes referencing the incident. On June 3rd, Redditor YoItsFrisk posted a meme referencing the Trollface Playermodel edit, gaining over 300 upvotes in four days (shown below, left). On the same day, Redditor GordonLmfao posted a Breaking Bad meme warning users about the incident, gaining over 2,300 upvotes in the same span of time (shown below, right).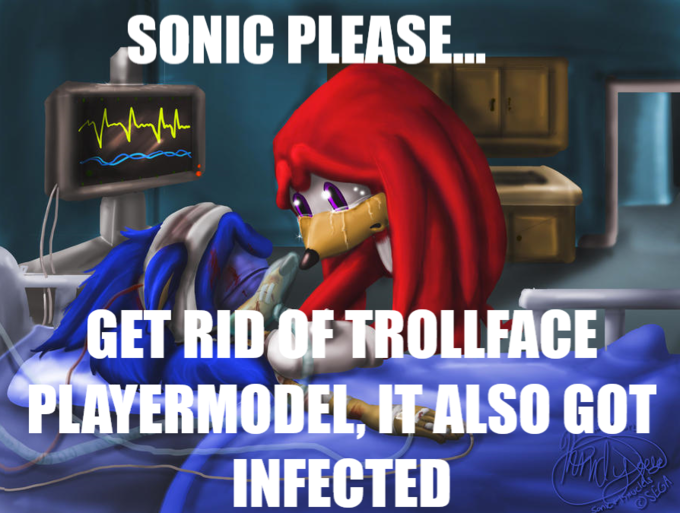 On June 5th, YouTuber[3] SomeOrdinaryGamers posted a video going over the incident and reacting to it, gaining over 400,000 views in two days (shown below).
Search Interest
External References