Kevin Spacey Sexual Assault Allegations
Overview
Kevin Spacey Sexual Assault Allegations refers to the controversy surrounding Academy Award-winning actor Kevin Spacey's alleged illicit advances toward actor Anthony Rapp when he was only 14-years-old. Following the allegations, Spacey apologized but was criticized for using his apology statement as a platform to come out as a homosexual.
Background
While Spacey's relationship with young men has been reported in the gossip website Gawker [1][2] since as early as 2014, the story became a national news story following actor Anthony Rapp's interview with BuzzFeed [3] in October 2017. In the interview, Rapp alleges that Spacey made sexual advances toward a then 14-year-old Rapp. The articles says:
"In 1986, Spacey befriended Rapp while they both performed on Broadway shows, invited Rapp over to his apartment for a party, and, at the end of the night, picked Rapp up, placed him on his bed, and climbed on top of him, making a sexual advance. According to public records, Spacey was 26. Rapp was 14."
Developments
Spacey's Response
After the story broke, Spacey responded to the allegations on Twitter. [4] The tweet (shown below) received more than 29,000 retweets and 77,000 likes in less than two days.

"I have a lot of respect and admiration for Anthony Rapp as an actor. I'm beyond horrified to hear this story. I honestly do not remember the encounter, it would have been over 30 years ago. But if I did behave as he describes, I owe him the sincerest apology for what would have been deeply inappropriate drunken behavior, and I am sorry for the feelings he describes having carried with him all these years.

"This story has encourage me to address other things about my life. I know that there are stories out there about me and that have been fueled by the fact that I have been so protective of my privacy. As those closest to me know, in my life I have had relationships with both men and women. I have loved and had romantic encounters with men throughout my life, and I choose now to live as a gay man. I want to deal with this honestly and openly and that starts with examining my own behavior.

- Kevin Spacey"
Shortly after Spacey's comments went public, Rapp made another series of statements on Twitter.[5] Over three tweets, he wrote, "I came forward with my story, standing on the shoulders of the many courageous women and men who have been speaking out to shine a light and hopefully make a difference, as they have done for me. Everything I wanted to say about my experience is in that article, and I have no further comment about it at this time." The three tweets (shown below) received more than 10,000 retweets and 83,000 likes in two days.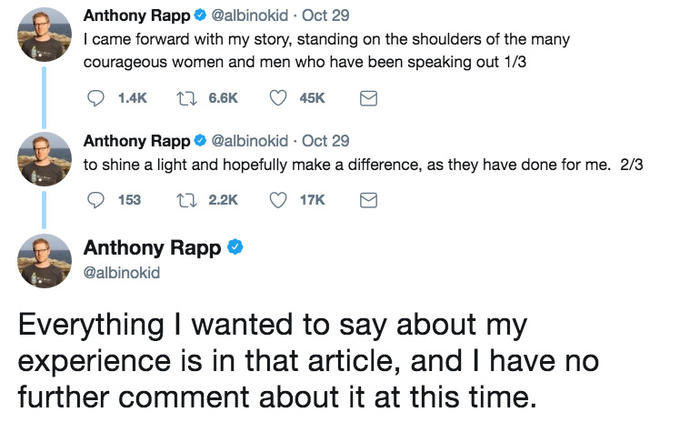 Spacey's admission of being a homosexual in the letter spurred more controversy as some accused Spacey of distracting from he allegations by coming out. Shortly after Spacey's statement went public, celebrities such as Wanda Sykes, Billy Eichner, Rose McGowan and more tweeted their disapproval of Spacey's statement (shown below, respectively).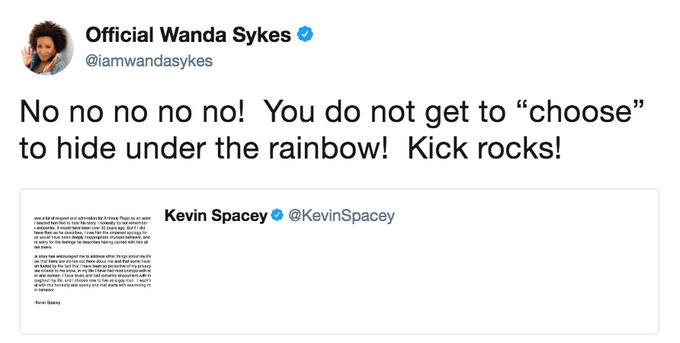 House of Cards Cancellation
The morning after the allegations were made public, the creator of the TV show House of Cards Beau Willimon made a statement on Twitter.[15] He wrote, "Anothy Rapp's story is deeply troubling. During the time I worked with Kevin Spacey on 'House of Cards' I neither witnessed nor was aware of any inappropriate behavior on set or off That said, I take reports of such behavior seriously, and this is no exception. I feel for Mr. Rapp and I support his courage." The tweet (shown below) received more than 800 retweets and 4,300 likes in less than 24 hours.

Later that day, Netflix and Media Rights Capital, the production companies behind House of Cards released a joint statement. The statement read, "Media Rights Capital and Netflix are deeply troubled by last night's news concerning Kevin Spacey. In response to last night's revelations, executives from both of our companies arrived in Baltimore this afternoon to meet with our cast and crew to ensure that they continue to feel safe and supported. As previously scheduled, Kevin Spacey is not working on set at this time." It was later announced that the series would be canceled after the sixth season in 2018.[16]
Following the statement, on October 31st, the two companies made a statement to Deadline[18] that they would be suspending production of the series indefinitely. They said:
"MRC and Netflix have decided to suspend production on House of Cards season six, until further notice, to give us time to review the current situation and to address any concerns of our cast and crew."
Additional Allegations
On November 1st, filmmaker Tony Montana reported that Spacey had "groped him in 2003." He told Radar Online,[24] "I went up to order a drink and Kevin came up to me and put his arm around me. He was telling me to come with him, to leave the bar. He put his hand on my crotch forcefully and grabbed my whole package."
On November 2nd, Vulture[25] reported that another male had come forward to report his sexual relationship he had at age 14 with Spacey. Spacey was 24. The anonymous accuser said, "I would call him that to his face. I would call him a pedophile and a sexual predator. When I turned 25, I looked at every 14-year-old boy I could see, to try to understand what those men had seen, because I still on some level thought I had been a tiny adult. That whole year I was 25, I tried to just see the ones who were like six-foot-two, and 200 pounds -- they all looked like children."
Later that day, Spacey's talent agency and publicist dropped the actor, according to Variety.[26]
The following day, a former House of Cards employee accused Spacey of sexual assault, while eight current or former employees said he made the production a "toxic" workplace.
According to Reuters, as of November 3rd, Spacey was taking time away to "seek evaluation and treatment."
Media Coverage
Virtually every news media outlet covered the story as well as the controversy regarding the apology, including CNN,[6] The New York Times,[7] The Los Angeles Times,[8] NBC,[9] The New Yorker[10] and more.
That week, Twitter[11][12][13][14] published at least four Moments pages on the assault allegations, response and fall out.
Online Reaction
Shortly after the news broke, jokes about the scandal appeared on the /r/dankmemes subreddit. On October 30th, 2017, Redditor[17] Je_pedo posted a parody of the Improvise. Adapt. Overcome. meme with a picture of Kevin Spacey pointing in the same fashion as the meme. The picture (shown below) was captioned "When you get busted for being a paedophile so you come out as gay to distract the crowds." The post (shown below) received more than 11,000 points (95% upvoted) and 175 comments in 24 hours.

More memes appeared over the next day on /r/dankmemes. Most of them focused on the preceived distraction that Spacey's coming out caused, mocking Spacey's apology letter (examples below).



Throughout the week, the Spacey memes were a common topic of conversation on the subreddit MemeEconomy. The story inspired at least five threads,[19][20][21][22][23] the most popular[19] of which (shown below) garnered more than 270 points (96% upvoted).

Replace Kevin Spacey With Kevin James Petition
On November 2nd, 2017, Robbie Pyma of Australia launched a Change.org[27] petition to replace Kevin Spacey on House of Cards with actor Kevin James, famous for the television shows The King of Queens and Kevin Can Wait , as well as the Paul Blart Mall Cop films. As of November 7th, 2017, the petition has over 31,000 of the desired 35,000 signatures. The petition was covered by Buzzfeed,[28] AV Club,[29] New York Daily News,[30] and more.

Anthony Rapp BuzzFeed Interview
On October 17th, 2018, one year after the allegations were made, Anthony Rapp spoke with BuzzFeed.[31] In the interview, he discussed his feelings on the #MeToo movement since his allegations were made public, his life since going public, and how he feels about Spacey today. He said:
"Somebody asked me a while ago, if he did want to talk to me, would I. And I think I would. I guess I'd have to really think about the circumstances and the environment and the safety factor. I mean, potentially. I wouldn't rule that out. I would need him to fully own what he did. Not just to me, but to so many people."
He also expressed sympathy for the shutting down of House of Cards, which was in production at the time the allegations were made. He said:
"I knew that House of Cards was in production. So, I was just curious, what's going to happen on the set? Like, how's that going to be? I did not think they were going to shut down[…]I felt bad for the hundreds of people who were working on the show. One of my fellow actors said when House of Cards shut down production, 'They wouldn't have done that if they didn't have good reason.' And it turned out, they had good reason."
Felony Charge
On October 13th, 2017, former Boston TV news anchor Heath Unruh tweeted,[32] "The #weinsteinscandal has emboldened me-- #truth time. I was a Kevin Spacey fan until he assaulted a loved one. Time the dominoes fell." The tweet received more than 3,300 retweets and 4,100 likes in one year (shown below).

The following month, said in a written statement that Spacey had assaulted her then-18-year-old son at a restaurant in Nantucket, Massachusetts.[33] She said (video below):
"My son was a starstruck, straight 18-year-old young man who had no idea that the famous actor was an alleged sexual predator or that he was about to become his next victim. When my son was drunk, Spacey made his move and sexually assaulted him.

"Spacey stuck his hand inside my son's pants and grabbed his genitals. My son's efforts to shift his body to remove Spacey's hand were only momentarily successful. My son panicked, he froze. He was intoxicated."
On December 24th, 2018, the Cape and Islands, Massachusetts district attorney announced that Kevin Spacey would be charged with a felony for sexual assault. He would be arraigned on an indecent assault and battery charge on January 7th, 2019.[34]
Let Me Be Frank Video
That day, Spacey posted a video to his YouTube page. In the video entitled "Let Me Be Frank," Spacey appears to be portraying his House of Cards character Frank Underwood. Throughout the clip, Spacey makes both references to his character's death from the series, as well as the allegations made against him. He says:
"Oh sure, they may have tried to separate us, but what we have is too strong, too powerful. After all, we shared everything, you and I. I told you my deepest, darkest secrets. I showed you exactly what people are capable of. I shocked you with my honestly, but mostly I challenged you and made you think. And you trusted me, even though you knew you shouldn't. So we're not done, no matter what anyone says. And besides, I know what you want. You want me back."
Within hours, the post received more than 19,000 views (shown below).
People online appeared very confused by the video, wondering what would compel the actor to post this video right after the announcement from the district attorney. Twitter[35] user @jbillinson tweeted, "Kevin Spacey trying to stage a comeback by denying sexual assault allegations in a Christmas themed House of Cards fan fiction video is certainly a late 2018 plot twist I didn't see coming." The post received more than 620 retweets and 1,500 likes in 24 hours (shown below, left).
@KrangTNelson tweeted,[36] "KEVIN SPACEY: and you're sure this will help
DIRECTOR WHO LOOKS A LOT LIKE THE DISTRICT ATTORNEY WITH A FAKE MUSTACHE: absolutely. for sure." The tweet received more than 385 retweets and 2,300 likes in 24 hours (shown below, right).
That day, Twitter[37] published a Moments page regarding the felony charge and the video.
Several media outlets covered the felony charge and video, including USA Today,[38] Variety,[39] Hollywood Reporter[40] and more.


Additionally, following the post, the name of director Bryan Singer also began trending. Singer, who has also faced sexual assault allegations from underage men, directed Spacey in The Usual Suspects, which earned Spacey an Academy Award (examples below).


Search Interest
External References