PewDiePie and Marzia Expecting a Child
This submission is currently being researched & evaluated!
You can help confirm this entry by contributing facts, media, and other evidence of notability and mutation.
Overview
PewDiePie and Marzia Expecting a Child refers to the announcement that YouTuber Felix PewDiePie" Kjellberg and his wife Marzia Kjellberg are expecting their first child. The video reveal, made in early February 2023, subsequently inspired memes and viral discussions on social media in the following days after the news was shared online.
Background
On February 5th, 2023, Felix "PewDiePie" Kjellberg uploaded a YouTube[1] video in which he announced that he and his wife Marzia were expecting their child. In the announcement, PewDiePie revealed that Marzia got pregnant in November 2022, but that the couple kept the news secret until then. The video garnered over 5.7 million views in one day (shown below).
I'm so excited! It's kind of strange to me: it's entering a new territory. But I feel really ready, and so does Marzia. […] I'm just so happy to start a family with a woman I love. And I know: whatever is ahead of us, together we can do it.
In the video, PewDiePie said that Marzia has been dealing with sickness during her pregnancy, but "she's been taking it like an absolute champ." Marzia and PewDiePie have also shared the pregnancy announcement on her Instagram[2] pages, with the post gaining over 1.8 million likes. The couple expects the child to be born in July 2023.
Online Reactions
The video became a viral subject of memes and discussions on Twitter and other social media in early February 2023. For example, on February 5th, Twitter[3] user @Merrydawg tweeted, "PEWDIEPIE IS PREGNANT?" with the tweet gaining over 4,000 retweets and 67,200 likes in less than 24 hours (shown below, left). Later that day, the website Dexerto tweeted[4] about the news, with the tweet gaining over 19,300 retweets and 261,200 likes in a similar timeframe (shown below, right).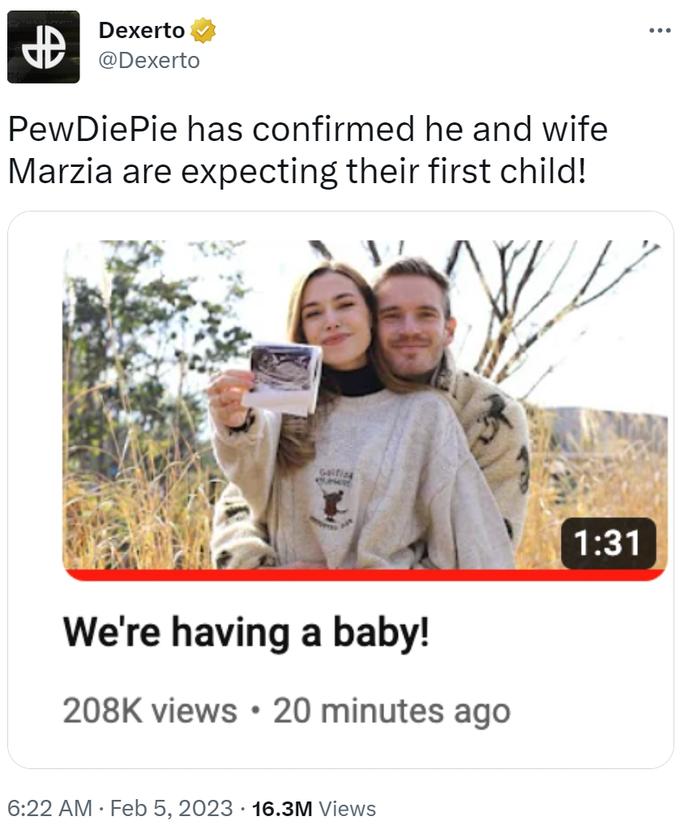 Also on February 5th, 2023, Twitter[5] user @body_counter_bc posted a meme referencing PewDiePie's PUBG Bridge Incident that gained over 436,000 views, 3,500 retweets and 49,000 likes in one day (shown below).
Pewdiepie's kid being airdropped the PUBG Bridge clip at full volume in class https://t.co/W60k2nGuK2 pic.twitter.com/peqUSDn9tC

— BodyCounter 🇦🇺 (@body_counter_bc) February 5, 2023
Also on February 5th, Twitter[6] user @A_Guster_Buster posted a screenshot of tweets in which users reacted negatively to the news, with one user wishing the couple to have a miscarriage, criticizing them. The tweet (shown below) gained over 280 retweets and 3,300 likes in one day (shown below).
"Pewdiepie is having a kid, I can't wait to see people's reacti- Oh"

People are so cruel to Pewds, the shit people say about him and his family is way worse than anything he's ever said. https://t.co/N5TA2a8Go4 pic.twitter.com/XFUhkzea6Z

— 🐶Guster Buster🐶 (@A_Guster_Buster) February 5, 2023
The news remained a viral topic of memes and discussions in the following days as word continued spreading.
Search Interest
External References