Zina Bash White Power Sign Controversy
This submission is currently being researched & evaluated!
You can help confirm this entry by contributing facts, media, and other evidence of notability and mutation.
Overview
Zina Bash White Power Sign Controversy refers to an online controversy surrounding a conspiracy theory accusing Supreme Court nominee Brett Kavanaugh's staff member Zina Bash of making a "white power" hand gesture during his confirmation hearing in early September 2018.
Background
Operation O-KKK
In February 2017, 4chan users launched Operation O-KKK to "flood Twitter and other social media websites" with posts claiming the OK hand symbol was a "symbol of white supremacy," along with a picture of an OK symbol identifying the three up-turned fingers as a symbol for "W" and the thumb-and-forefinger circle as a symbol for "P" (shown below).[1]

Brett Kavanaugh's Confirmation Hearing
On September 4th, 2018, footage of Bash seated behind Kavanaugh at the hearing began circulating on Twitter, with some accusing her of intentionally making a "white power" gesture with her hand (shown below). In particular, tweets by surgeon Eugene Gu and veteran Keith R. Dumas gathered upwards of 13,400 and 17,300 retweets respectively within 24 hours.[5][6] Additionally, activist Amy Siskind tweeted "Kavanaugh's assistant Zina Bash giving the white power sign right behind him during the hearing? This alone should be disqualify!"[2] The tweet was subsequently deleted.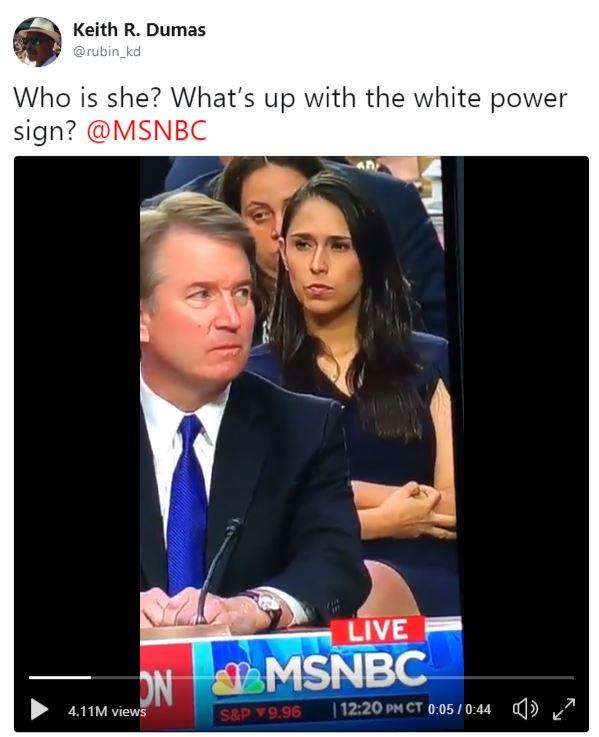 Developments
That day, many other Twitter users echoed the "white power" symbol accusations (shown below).


Meanwhile, journalist Glenn Greenwald condemned those spreading the conspiracy theory along with CNN host Brian Stelter (shown below).

That evening, a Moments page was created on Twitter[4] highlighting various reactions to the controversy.
John Bash's Response
That day, Bash's husband posted a series of tweets[3] condemning the "attacks" on his wife, noting that she is "Mexican on her mother's side and Jewish on her father's side" and that she is the grandchild of Holocaust survivors (shown below).

Search Interest
External References
Recent Videos
There are no videos currently available.