About
Fakemon refers to non-canonical Pokemon character sprites and artworks created by fans of the popular Japanese franchise. Since the Pokemon character sprites are relatively small in size, modification of canonical Pokemon can be easily done through graphic-editing programs such as MS Paint or Photoshop. The techniques can range from simple re-colourings, "splicing" new sprites by combining parts of older sprites, or creating new ones altogether from scratch.

Origin
In the mid to late 90's, a website called "Mewthree and Frogglet's Pokémon Factory" was launched to create an open forum for development and archival of fan-made Pokemon sprites. The site name was later simplified to "Pokémon Factory"[1]. According to the site description:
The system for making Fakemon on the website is unique. It starts with a creator proposing a fan-made Pokemon with hopes of eventually being archived on the site. In a thread, members of the community comment on it as the creator uses the feedback to change and further develop the Fakemon until it is presentable for review by Pokemon Factory staff.
Spread
According to Google Insights data, the term "Fakemon" began to gain search interest circa April 2004. From Pokemon Factory, the fan-made sprites spread across various Pokemon and gaming-related sites like Serebii Forum[2], LittleBigNetwork Forum[3] and War Of Ninja Forum[4], as well as internet humor blogs like FunnyJunk[5].
Because of the creative nature of Fakemon, contests for creating them pop up from time to time on art forums and on Pokemon fan forums. PokeGods are particularly popular.
While Fakemon characters can be based on the existing 18 elemental types (Normal, Fire, Fighting, Water, Flying, Grass, Poison, Electric, Ground, Psychic, Rock, Ice, Bug, Dragon, Ghost, Dark, Steel and Fairy), many Fakemon artists have taken it upon themselves to create their own Pokemon types and fit them within the canon. Some of the more popular Fakemon elemental types include Light, Glass, Cyber, Magma, Sound, and Paper.
On DeviantArt
It is interesting to note that DeviantArt community, having many "challenges" made by users themselves, has its own Fakemon art challenge in which the artist must complete 105 original Fakemon characters. There are also several DeviantArt groups dedicated to making and sharing Fakemon, such as New Type Fakemon[6], Fakemon United[7] and Project Hiatu[8].
On December 14th, 2009, DeviantArt user WaterTrainer posted a comprehensive index of Fakemon sprites[9], showcasing over 239 characters created by the community.
Eeveelutions

With Eevee being known as "The Evolution Pokemon," it has been popular for people to try to depict what Eevee would look like if it evolved into a type not already present in the series. Eevee evolution art did not really start until after Pokemon Gold and Silver were released, revealing two new evolutions for Eevee, Espeon and Umbreon. The prospect of these two new evolutions combined with the species name for Eevee being "The Evolution Pokemon", led several fans to hypothesize that Eevee would eventually have evolutions for every Pokemon type.
Tentaquil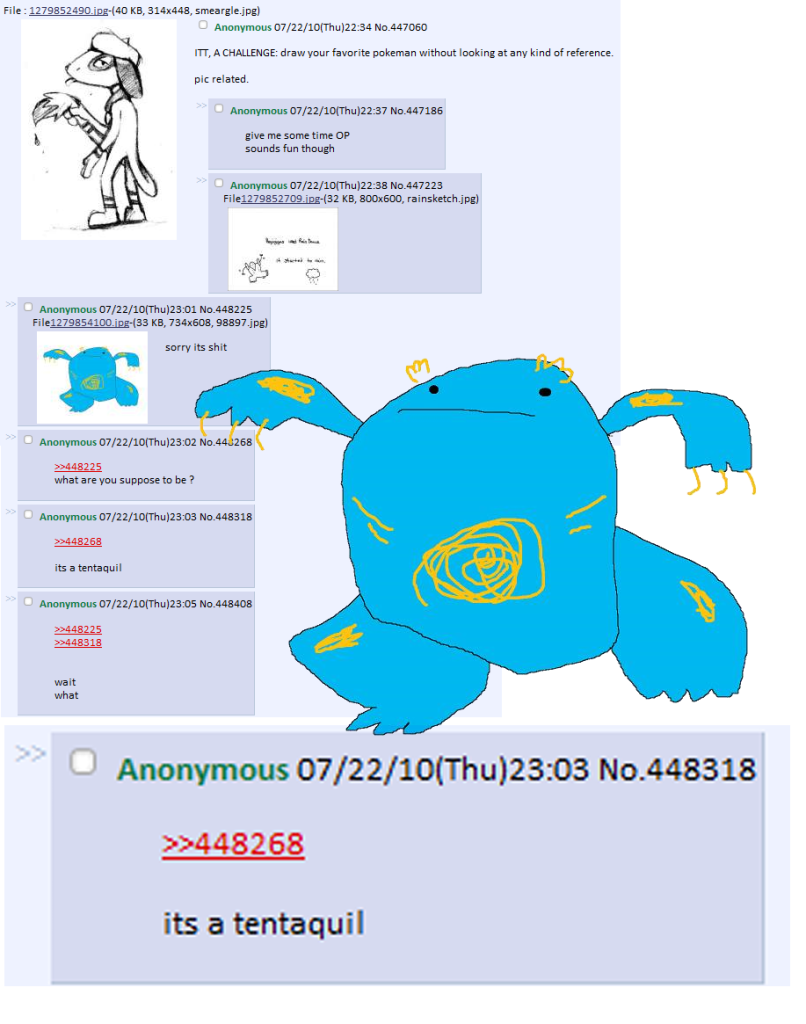 Tentaquil is among the most well-known Fakemon on the Internet. It originated from /vp/, 4chan's Pokemon board. The name is derived from the Pokemon Tentacool/Tentacruel and Cyndaquil. However, its design is more similar to that of Politoed. Its fame on /vp/ has led to it becoming /vp/'s unofficial mascot.
Full article: https://knowyourmeme.com/memes/tentaquil
Usage in Trolling
Naturally, Trolls will strike at anything they can. One example is tricking people into believing there are "secret" or "hidden" Pokemon, either in current or unreleased games. The most famous example is Mewthree.. People were led into hacking their games, performing impossible tasks, or deleting their saves in the quest for this fake Pokemon.

Fake Evolutions
Another example is the Deviant art user PurpleKecleon creating a fake Shaymin Forme.

Normally, Shaymin has two "Formes" (Land & Sky). As these two were already confirmed Pokemon, it was easy for Pokefans to be tricked into believing there was another Forme. Successful troll was successful.

+

=

Another popular and recent example are the Farfetch'd and Delibird evolutions that were "leaked" in February of 2010.

Serebii, a Pokemon fan website, has a large list of previous Pokemon tricks and trolls and fakes.
How to Create Your Own
It's very easy for fans to modify existing sprites or create new ones. For example, the Pokemon Elite sprite resource allows fans to easily acquire original sprites, there are numerous guides on spriting and dedicated forums on spriting. Several fans prefer to draw their own creations as well.
External References
[1] Pokémology – The Pokémon Factory
[2] Serebii Forum – Fan Sprites: Post your Fan Made Sprites Here
[3] LittleBigNetwork – Lion's Custom Pokemon Sprites!!
[4] Flickr – Search Results for Fakemon
[5] FunnyJunk – Custom Pokemon Sprites 2
[6] DeviantArt – New type Fakemon
[7] DeviantArt – Fakemon United
[8] DeviantArt – Project Hiatu
[9] DeviantArt – WT Fakemon
[10] Bulbapedia – Fakemon: MewThree
[11] DeviantArt – PurpleKecleon's User Profile