About
Feels Good Man is a catchphrase and exploitable from a comic strip authored by artist Matt Furie. The phrase is in reference to the emotions one of the characters in the strip feels when he goes to the bathroom standing up, with his pants all the way down.
Origin
"Feels Good Man" comes from a comic series titled Boy's Club by San Francisco based artist Matt Furie, and has been published by Buenaventura Press since 2006.[1] The comic stars four monsters, Pepe the frog, Brett, Andy, and Landwolf; mostly in situations where they are expelling bodily fluids and using popular 90's catchphrases like "Got Milk?" and "As if!"
Furie first posted his comics to his MySpace [3] blog in a long series of posts surrounding the Boy's Club characters. However, Furie's MySpace account is no longer accessible as it has been voluntarily deleted. Furie has stated in an interview with Know Your Meme that he remembers uploading the comics in late 2005.
In early 2008, a user on 4Chan's /b/ board decided to upload a scan of one page from the comic, involving Pepe pulling his pants all the way down to his ankles to urinate, leaving his buttocks exposed.

Furie recollects the story behind this specific comic:
My cousin, when we were kids we went to elementary school together and we would go into the public restroom and he would pull his pants all the way down to go pee and I thought it was hilarious. Then he did it in public but you know we were little kids. So then I just thought it would be funny… I don't even know what age the comic book characters are but they're anywhere between teenager and twenty-something I guess.
Spread
On February 4th, 2008, Something Awful[2] contributor Jon Hendren (a.k.a. @fart) posted the "Feels Good Man" comic to the site.
That year, users started to photoshop Pepe's face from the final frame of the comic to create an exploitable image macro. It is very common to see Feels Good Man in combination with Pokemon characters. The catchphrase itself has also taken a life of its own, used sometimes in message boards as a simple response to explain one's actions or behavior.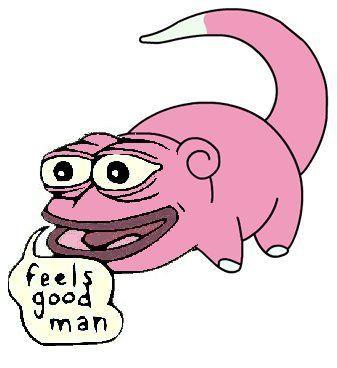 In 2009, an edited version featuring a distraught-looking Pepe with the caption "Feels bad man" began circulating as a reaction image on 4chan and the Body Building Forums.
As part of a Halloween event in 2009, Gaia Online used the catchphrase in their series of storyline manga.[4] Gaia character The Overseer, whom is in the form of a clam, takes possession over another character. The unfortunate victim just happens to be naked at the time. When The Overseer is asked about his persisting nudity and refusal to wear clothes he replies, "Feels good man" (shown below).

Interview
Furie stated that his favorite iteration of Feels Good Man are the ones featuring John Goodman (shown below). He said, "I have, a friend of mine sent me a page that had a bunch of them. There was like a dog hanging out the window and says 'feels good man,' and another had John Goodman and said 'eels good man.' That was my favorite one I think."

Boy's Club from now on will be exclusively in print, estimated at one new issue a year. It is unlikely that new strips will be released digitally but is not completely out of the question.
Documentary Film
Feels Good Man (2020 Film) is a documentary directed by Arthur Jones on the life cycle of Pepe the Frog and creator Matt Furie's attempt to reclaim his character after it became a political symbol for far-right groups. The film was widely praised upon release, winning the U.S. Documentary Special Jury Award for Emerging Filmmaker at the Sundance Film Festival.
Search Interest
External References