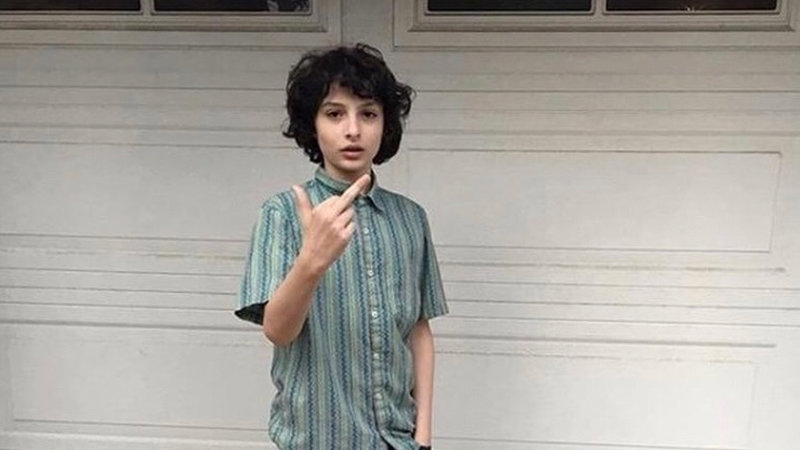 Finn Wolfhard Middle Finger Reaction
About
Finn Wolfhard Middle Finger Reaction refers to a photograph of Stranger Things actor Finn Wolfhard (Mike Wheeler) holding up his middle finger, which appeared online in late 2018. In the following months and years, the reaction image spread around the internet as a meme with people typically adding captions or making image macros.
Origin
The earliest known available example of the photograph was posted by We Heart It[1] user @hugswolfhard on August 4th, 2018 (shown below).

Spread
The following month, on September 14th, 2018, Instagram user @finn_the_perfect_boy shared the image on Instagram.[2]
On July 23rd, 2019, Twitter [3] user @LamronSwank tweeted the image with the caption, "Stick with eleven cuz fuck twelve" (shown below, left).
That day, Redditor [4]dubie9 posted the image with the caption "OMG Mike stop I will tell Mrs. Wheeler." The post received more than 130 points (100% upvoted in about one week (shown below, center).
On July 24th, Twitter[5] user @xsqoof tweeted the photo with the caption "I'm only dating 11 cause fuck 12." The post received more than 311,000 likes and 78,000 retweets in less than one week (shown below, right). The following day, Instagram[6] account @hoodclips shared the tweet, receiving more than 124,000 likes in four days.



Various Examples






Template


Search Interest
External References
Recent Videos
There are no videos currently available.