About
"Git Gud", an intentional misspelling of the phrase "get good," is an expression used to heckle inexperienced players or newbies in online video games, similar to the use of the phrase "lurk more" on forums.
Origin
According to a GameFAQs forums[1] discussion from September 2009, the term was coined on PlayStation 3's Metal Gear Online community as a corrupted way of telling a fellow player "get better."
Spread
On July 10th, 2008, Urban Dictionary user PaperCupp submitted a definition[2] of the word, explaining it as another way of saying "get better." In February 2012, the phrase started to gain significant momentum on 4chan's /v/ (Video Games) and other video game-related boards[3], particularly within the Dark Souls and Call of Duty communities. For instance, on September 1st, 2013, a parody image of a film Get Rich or Die Tryin' named Git Gud or Die Tryin' (pictured below) was posted on 4chan's /vg/ (Video Games – General) Dark Souls General[7]. The image was later posted on Reddit.[8]


"Git Gud" is also used on a variety of other gaming communites, like Team Fortress 2[4], Dust 514[5], League of Legends[6], and many more.
Notable Examples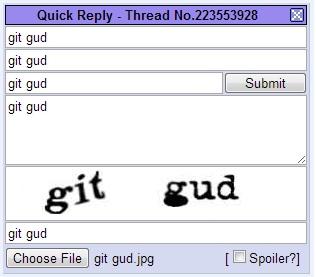 Search Interest
External References