Goodfellas' "Funny? Funny How?"
This submission is currently being researched & evaluated!
You can help confirm this entry by contributing facts, media, and other evidence of notability and mutation.
About
Funny? Funny How? refers to a series of misinterpretation memes in which Goodfellas character Tommy DeVito demands to be explained what is being meant by a certain word. Originating from a viral Based on What? meme, the format gained moderate popularity in 2020.
Origin
On September 19th, 1990, crime film Goodfellas premiered.[1] In one scene of the film, character Tommy DeVito, portrayed by Joe Pesci, angrily demands that character Henry Hill, who called him "funny," to explain what he means. The scene later deescalates when DeVito makes it clear that he was only pretending to be angry to tease Hill.
What do you mean I'm funny? […] What do you mean, you mean the way I talk? What? […] Funny how? What's funny about it? […] Oh, oh, Anthony. He's a big boy, he knows what he said. What did ya say? Funny how? […] You mean, let me understand this cause, ya know maybe it's me, I'm a little fucked up maybe, but I'm funny how, I mean funny like I'm a clown, I amuse you? I make you laugh, I'm here to fuckin' amuse you? What do you mean funny, funny how? How am I funny? […] No, no, I don't know, you said it. How do I know? You said I'm funny. How the fuck am I funny, what the fuck is so funny about me? Tell me, tell me what's funny!
On November 1st, 2019, Twitter[2] user @martpunished posted a meme in which DeVito demanded to explain what "based" means (shown below). The tweet received over 360 retweets and 1,600 likes, and is also one of the earliest examples of Based on What? / Slang Misinterpretation meme.

Spread
On January 31st, 2020, Twitter[3] user @mutantfrogs posted the earliest found derivative of the meme in which DeVito demanded to explain what "cringe" is. The format did not see further spread until, following the viral popularity of Slang Misinterpretation memes in February 2020, on February 21st, 2020, iFunny[4] user NyukNyuk recreated @martpunished's meme, with the post gaining over 1,700 smiles on the platform in eight months (shown below).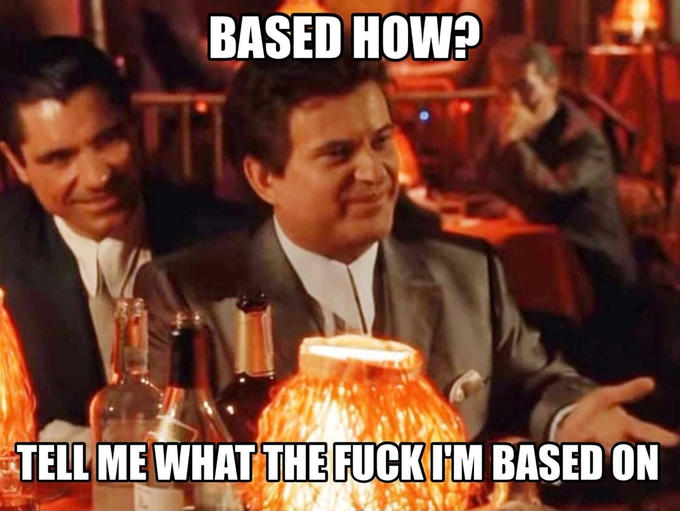 Following the circulation of NyukNyuk's post, the format slowly spread online starting in March 2020. For example, on March 25th, 2020, Redditor[5] s3rgg posted an ironic Big Chungus meme that received over 6,900 upvotes prior to being removed (shown below, left). On May 3rd, 2020, Twitter[6] user @ajdhenry posted a meme that received over 440 retweets and 1,900 likes (shown below, right).


In the following months, the format maintained its popularity online across a variety of platforms, including Twitter, Facebook, 4chan and iFunny.
Various Examples





Template

Search Interest
External References
Recent Videos
There are no videos currently available.