Based on What? / Slang Misinterpretation
About
Slang Misinterpretation refers to a genre of memes in which various slang expressions such as "based," "let's fucking go" and others are interpreted in their literal rather than slang sense, with various characters demanding further explanation. The trend gained popularity in early February 2020 following a viral Based on What? meme, with the images often being used to react to various slang expressions.
Origin
On April 30th, 2019, Twitter[19] user @bab_all_summer made a post reading, "based? based on what? i dont get it" (shown below, left). The post received five likes as of May 2nd, 2021, and is the earliest publicly available use of the joke online. Additionally, @bab_all_summer provided a screenshot of their 2018 Discord conversation in which the phrase is used (shown below, right).


On November 1st, 2019, Twitter[17] user @martpunished posted a Funny? Funny How? meme in which Goodfellas character Tommy DeVito, portrayed by Joe Pesci, demanded to explain what "based" means. The post received over 360 retweets and 1,600 likes in one year (shown below).

In early February 2020, the earliest viral meme containing the phrase, a still shot taken from an Instagram livestream[18] of American rapper Soulja Boy paired with the caption "Based? Based on What?", was posted by an unknown user. The earliest reposts were made by Amino[1] user marshokuma (February 4th), Twitter[2] user @BackToSquare1_ (February 6th) and iFunny[3] user Mojinn (February 6th). On February 8th, 2020, iFunny[4] user Viva made the earliest viral post of the image, gaining over 1,500 smiles in three months. A February 16th post by iFunny[5] user Herne_the_Hunter received over 2,200 smiles.

Spread
On February 15th, 2020, iFunny[6] user SavoirFaire posted the earliest known derivative of the meme, an image of YouTuber Jerma985 captioned in the same way (shown below, left). The post received over 2,300 smiles and prompted the further spread of the meme. For example, on February 19th, iFunny[7] user Alfredo_Potato_Memeing posted a meme based on an image of Lucky Star character Kagami Hiiragi, gaining over 230 smiles in three weeks (shown below, center). On February 21st, iFunny[8] user NyukNyuk recreated @matpunished's meme, with the post gaining over 1,700 smiles in the same period (shown below, right).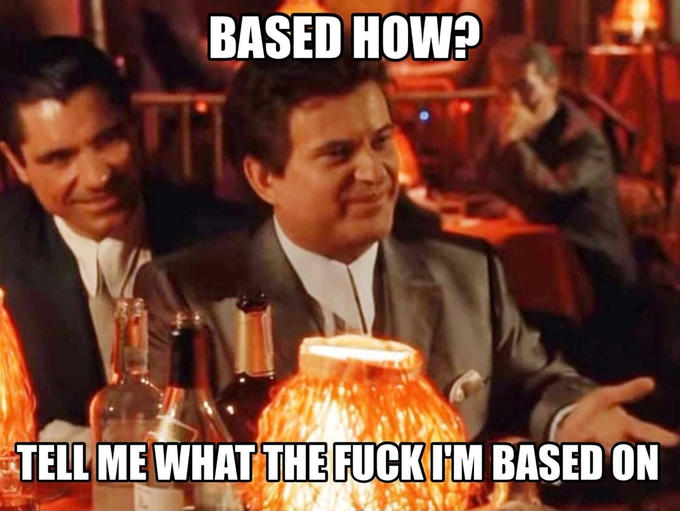 These and other similar images received viral spread on Twitter,[9] often used as a reply to users using the slang word "based."
On March 13th, iFunny[10] user CosmicRewind posted a meme based on a dialogue scene between the Breaking Bad characters Jesse Pinkman and Walter White, spawning Jesse, What the Fuck Are You Talking About format (shown below). The post gained over 6,900 smiles in two months and received viral spread online in the following weeks, spawning edits of its own. For example, a March 29th repost by Tumblr user bigstupiduglyogre received over 5,000 likes and reblogs in two months.

Let's Fucking Go / Go Where?
Prior to May 19th, 2019, an unknown user posted an image macro of Hunter x Hunter character Leorio failing to correctly interpret the slang expression "let's fucking go" (shown below). On May 19th, the earliest known repost of the meme was made by Twitter[11] user @prodigymade, with more viral reposts[12][13] being made in the following days.

On May 23rd, Twitter[14] user @sxcialite posted a Mob Psycho 100 meme in which character Shigeo Kageyama failed to properly interpret the phrase said by character Tome Kurata (shown below, left). Starting on May 23rd, the format in which one character within the fandom failed to correctly interpret the phrase said by another gained notable popularity on Twitter[15][16] (examples shown below, center and right).



Related Memes
Jesse, What the Fuck Are You Talking About
Jesse, What the Fuck Are You Talking About refers to a series of memes imaging conversations between Breaking Bad characters Walter White and Jesse Pinkman, with Jesse using modern internet slang and Walter not understanding it and asking what he is talking about.


Various Examples






Search Interest
External References