About
"Guts' Theme", officially known as "Guts", is a song from the soundtrack of the 1997 anime series Berserk. Online, the song has been often been referenced in memes and used in edits, particularly as a part of I Don't Wanna Be Horny Anymore videos.
Origin
On October 14th, 1997, episode two "The Band of the Hawk" of the 1997 anime adaptation of the Berserk manga series premiered.[1] In the episode, the main protagonist of the series Guts talks to the leader of the mercenary group Band of the Hawk Griffith, who invites him to join his group as a soldier. During the dialogue, the soundtrack composition "Guts" ("Gatsu") composed by Japanese composer Susumu Hirasawa, plays for the first time (scene shown below, left; music video shown below, right).
On January 25th, 2009, YouTube[2] user Ivory uploaded the song to YouTube, where it received over 5.9 million views in eleven years. An April 26th, 2012, upload by YouTube[3] user BanYuuKotsu received additional 2.1 million views in eight years, with a one-hour looped version uploaded[4] on August 18th that year gaining over 2.7 million views in the same period.
The composition shares strong similarites to Hirasawa's track "Echoes" from his 1995 album Sim City.[5][6]
Spread
Prior to its use in memes, the song has been a subject of covers. For example, on July 23rd, 2016, YouTube[7] user 8bitwonderland uploaded an 8-bit cover of the song (video no longer available; reupload shown below).
While the exact first use of the song in memes is unknown, it has been referenced and used in memes in Berserk-related meme communities online at least since March 2019. On March 13th, 2019, Redditor[8] KingFroze posted one of the earliest memes based on the song, gaining over 100 upvotes in six months. On July 24th, 2019, Facebook[9] page Mc Ride cries to a different song every day posted the earliest viral meme featuring "Guts' Theme," with the post gaining over 2,200 likes and 3,100 shares in one year (shown below).
On October 12th, iFunny and Instagram[10] user Femto posted a STFU I'm Listening to meme that received viral spread online with multiple reposts on Instagram[11] and YouTube (shown below).
In early March 2020, an unknown user combined the song with the viral "I Don't Wanna Be Horny Anymore" meme, with the edit gaining viral spread online. On March 3rd, Instagram[12] user zeldas.butt made the earliest found repost of the video, with the post accumulating over 63,000 views and 14,400 likes in five months (shown below).
The song subsequently gained strong association with "I Don't Wanna Be Horny Anymore," also used separately from it to express feelings of deep sadness and dejection, not unlike UNRAVEL and Plin Plin Plon. The song is particularly popular in Berserk meme communities and pages on Facebook and Instagram.
Related Memes
I Don't Wanna Be Horny Anymore, I Wanna Be Happy
I Don't Wanna Be Horny Anymore, I Wanna Be Happy is a viral catchphrase often used as a caption for memes in which various characters are depicted looking tired and somber as to emphasize the meaning of the phrase. Memes based on the catchphrase are often accompanied by "Guts' Theme" from the Berserk anime series.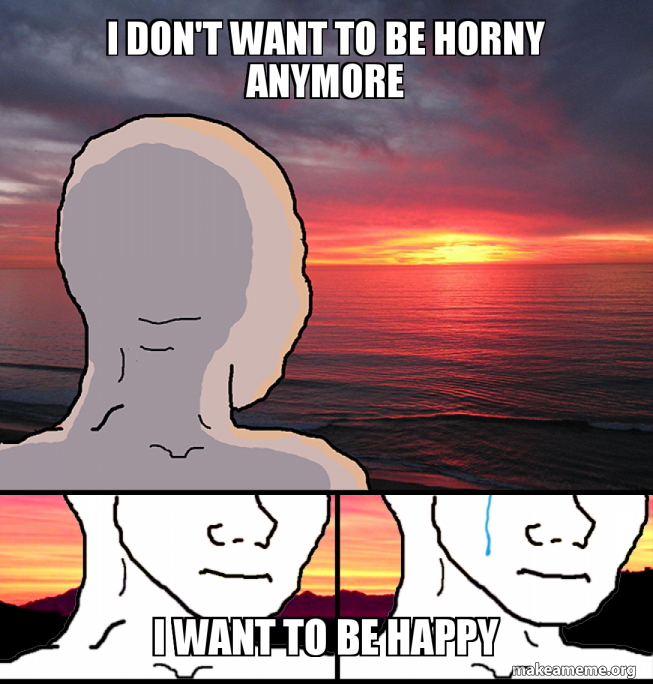 Various Examples
Search Interest
External References