This submission is currently being researched & evaluated!
You can help confirm this entry by contributing facts, media, and other evidence of notability and mutation.
About
Hard-Boiled Egg Girl is a slang term for an aesthetic trend that purportedly refers to girls who love pink pastels, whites, broderie anglaise and glazed nails. The aesthetic was first shared on TikTok in November 2022 and spread over the following weeks for its absurd name as people questioned what it meant, resulting in memes about the aesthetic. It's also particularly associated with Gen Z.
Origin
On November 22nd, 2022, TikToker[1] @selfcarewn posted a video slideshow responding to a comment asking, "hard-boiled egg girls?" in which images of hard-boiled eggs and images that relate to the aesthetic, such as long pink nails, a girl putting her face into a bowl of ice and pastel colors were shown (shown below). The video gained over 192,000 views in two weeks. Prior to this video, the TikToker posted similar videos sharing food-based aesthetics like the "vanilla girl," "chocolate girl" and "matcha girl," sharing the "baked bean girl" aesthetic after the hard-boiled egg girl.
Spread
That day on November 22nd, 2022, Twitter[2] user @modeltits posted screenshots from @selfcarewn's video, writing, "it has gone too far," garnering over 94,000 likes and 3,800 retweets in two weeks (shown below). Many of the commenters under the tweet shared their confusion over what a hard-boiled egg girl is.

In the following days, TikTokers[3][4] began duetting and stitching the video also sharing confusion over what the term means, some taking the opportunity to speak out against labeling girls (examples shown below, left and right).
On December 1st, 2022, Glamouruk made a post on Instagram[5] defining "hard-boiled egg girl," writing, "hard-boiled egg girls — which (although an unusual name to attribute to an aesthetic) represent the girls that love pink pastels and whites, glazed nails and broderie Anglaise – the list goes on." The post gained over 1,600 likes in five days (shown below). On December 5th, it was then shared by Instagram[6] user taylorlorenz3.0, who wrote, "Hard boiled egg girls are the new it aesthetic," garnering over 1,900 likes in a day.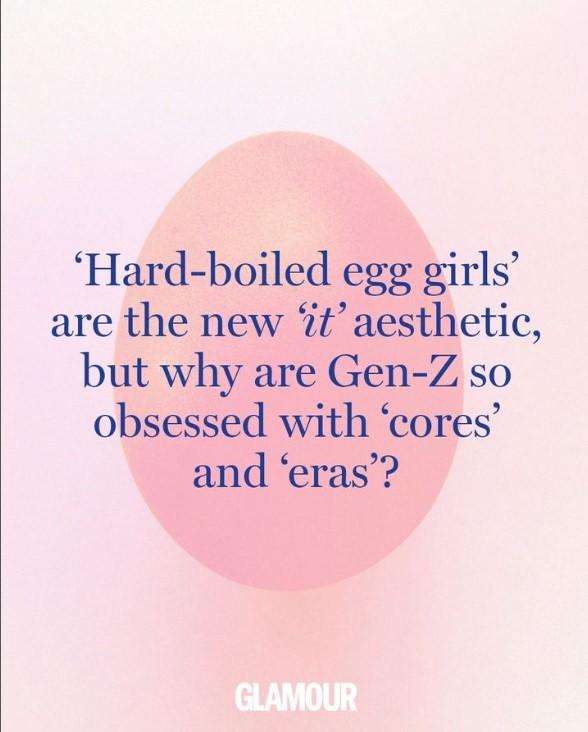 Various Examples


Search Interest
External References