This submission is currently being researched & evaluated!
You can help confirm this entry by contributing facts, media, and other evidence of notability and mutation.
About
Hiker David refers to a series of photo edits made of a Hiker trainer in Pokemon Sun and Moon. He is found during the third trial of the game on top of Wela Volcano Park on Akala Island. He is caught photobombing the player's trial, which has inspired numerous photo edits popular on the Pokemon subreddit in which he photobombs other pictures.
Origin
During the player's Trials, they find themselves on Wela Volcano about to do the Fire Trial from Captian Kiawe. In the trial, the player has to pay attention to three Alolan Marowak as they do traditional Alolan Dances and find the difference between their dances (shown below).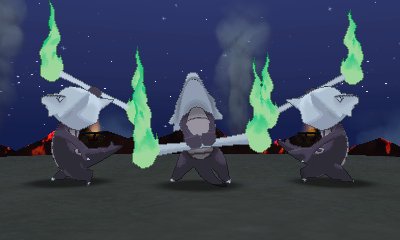 In the second dance, the Marowaks danced normally, but on the compared version of their dance Hiker David photobombs your trial. He then battles the player with a level 19 Magmar.

Spread
Hiker David was quickly cited as one of the many ways Pokemon Sun and Moon was funnier than previous generations. On November 29th, 2016, GameFAQs user MissCarriage[1] posted a thread to the site celebrating Hiker David. In the thread, user SpacePirateKhan suggested "we need a memetic swarm of Hiker David, stat!" On December 14th, Reddit user Indigoboys[2] posted a template image to /r/Pokemon of Hiker David (shown below).

After Indigoboys post, Hiker David edits began growing popular on /r/Pokemon as users photoshopped David into various other memes and made meta-jokes on the template.[3]
Various Examples





Search Interest
External References
Recent Videos
There are no videos currently available.