About
I'm Watching You is a rage comic character that is typically used to express suspicion or distrust.
Origin
On August 19th, 2011, YouTuber KRZkreations posted a video showing the creation of the face in MS Paint (shown below).
Spread
On the same day, DeviantArtist[1] chanoKAQH uploaded an illustration of the face (shown below) titled "te estoy vigilando" ("I'm watching you" in English).

On September 21st, the user batmobile upload a comic to the Spanish-language rage comics page CuantoCabrón,[2] in which a man expresses distrust with leaving his french fries with a friend (shown below, left).

On September 24th, FunnyJunk[3] user nunchuck posted an English language compilation of customized "I'm Watching You" face (shown below, right), which received over 128,400 views and 8,200 up votes in the first three years.

On February 11th, 2012, Redditor knutolee submitted a rage comic to the f7u12[4] subreddit, which expressed suspicion toward a happy birthday post on his girlfriend's Facebook wall (shown below, left). Prior to being archived, the post garnered upwards of 1,700 up votes and 40 comments. On June 4th, Redditor KaleleBoo posted a rage comic to f7u12[5] showing a character being vigilant while watching for the arrival of two different elevators (shown below, right), gathering upwards of 3,300 up votes and 30 comments before the post was archived.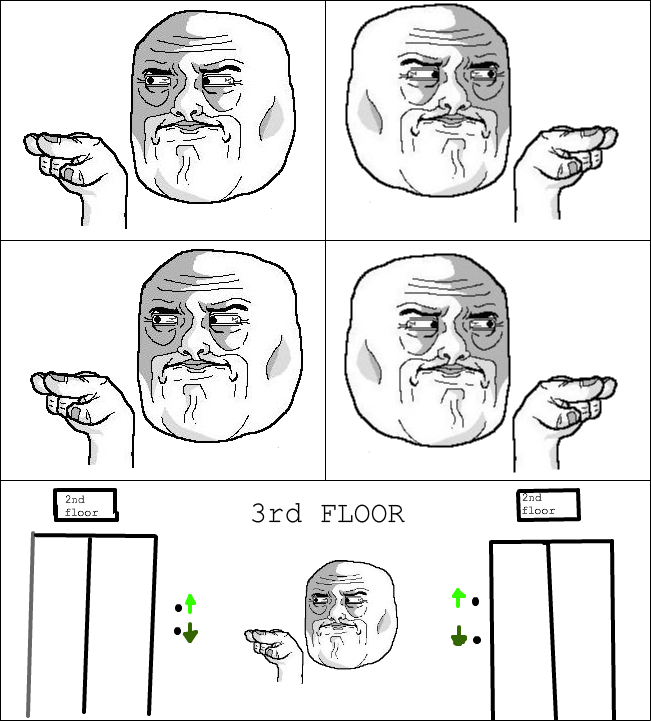 Search Interest
External References