Jeffrey Epstein's Suicide Conspiracy Theories
About
Jeffrey Epstein's Suicide Conspiracy Theories refer to a number of allegations made in response to the suicide of billionaire Jeffrey Epstein. These theories generally involve political figures having Epstein, who was in prison awaiting trial on charges of sex trafficking of minors, assassinated in order to suppress damaging information from being revealed in court. Many online questioned the circumstances surrounding Epstein's death, primarily due to the fact that Epstein had been placed under suicide watch in the past.
Origin
On August 10th, 2019, Jeffrey Epstein, who was arrested in early July 2019 on charges related to sex trafficking minors in New York and Florida, was found dead in his prison cell at the Metropolitan Correctional Center in New York City. The news was followed by a surge of conspiracy theories on various platforms and websites, such as 4chan, [1] Twitter [2] and Instagram. [3]
Spread
Clinton Body Count
Clinton Body Count refers to a conspiracy theory that Bill and Hillary Clinton ordered the assassinations of numerous political enemies and eyewitnesses to secure power and protect themselves from legal prosecution. After officials announced that accused sex trafficker and wealthy financier Jeffrey Epstein committed suicide by hanging himself in his jail cell in August 2019, the hashtag #ClintonBodyCount began trending on Twitter among those who speculated about the Clintons' involvement in his death.
Trump's Retweet
On August 10th, 2019, President Donald Trump retweeted[4] a conspiracy theory by Canadian comedian Terrence K. Williams, which alleged Clinton's involvement. The tweet reads Died of SUICIDE on 24/7 SUICIDE WATCH ? Yeah right! How does that happen #JefferyEpstein had information on Bill Clinton & now he's dead I see #TrumpBodyCount trending but we know who did this! RT if you're not Surprised." The tweet received more than 5 million views, 149,000 likes and 68,000 retweets in two days (shown below).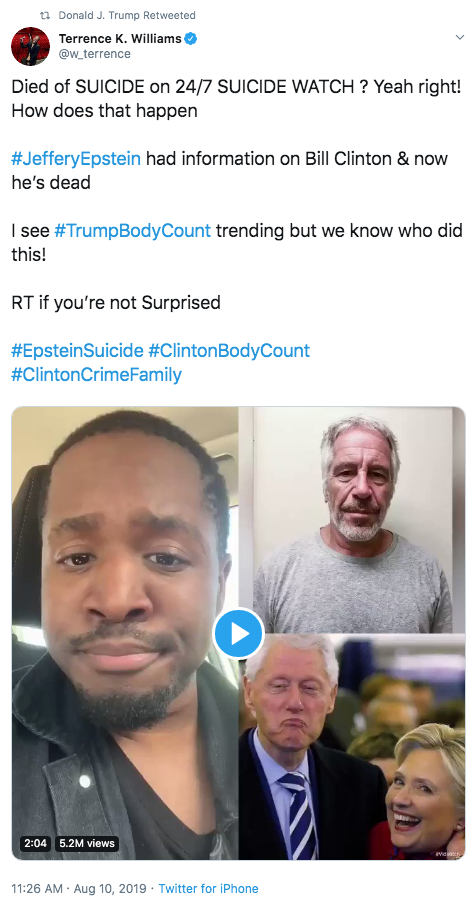 Numerous media outlets reported on Trump's spreading of conspiracy theory, including NBC,[5] CNN,[6] Washington Post[7] and more.
Trump Body Count
Trump Body Count is a conspiracy theory that United States President Donald Trump ordered the assassinations of numerous political enemies and eyewitnesses to secure power and protect themselves from legal prosecution. While the conspiracy theory was started as a type of rebuttal to the Clinton Body Count conspiracy theory, in August 2019, following the death of Jeffrey Epstein, the hashtag #TrumpBodyCount began trending on Twitter with some speculating about Trump's involvement in his death.
Epstein's Ear
Following Epstein's death, some online focused on photographs of Epstein's ear, which they claim had changed from previous photographs of the billionaire. Promoters of this conspiracy theory believe this to be proof that the body the state of New York and the media were reporting to be Epstein's was, in fact, not Epstein. Twitter[8] user @entylawyer tweeted two photographs of Epstein's ear and the caption "I know camera angles, age difference etc. I'm just asking if his ear looks the same to you in both photos. Also, why would you say cardiac arrest in the call to get an ambulance if it really was a hanging" (shown below, left).
Throughout the day, other people that supported and promoted the theory continued to post about the body's ear was wrong (examples below, center and right).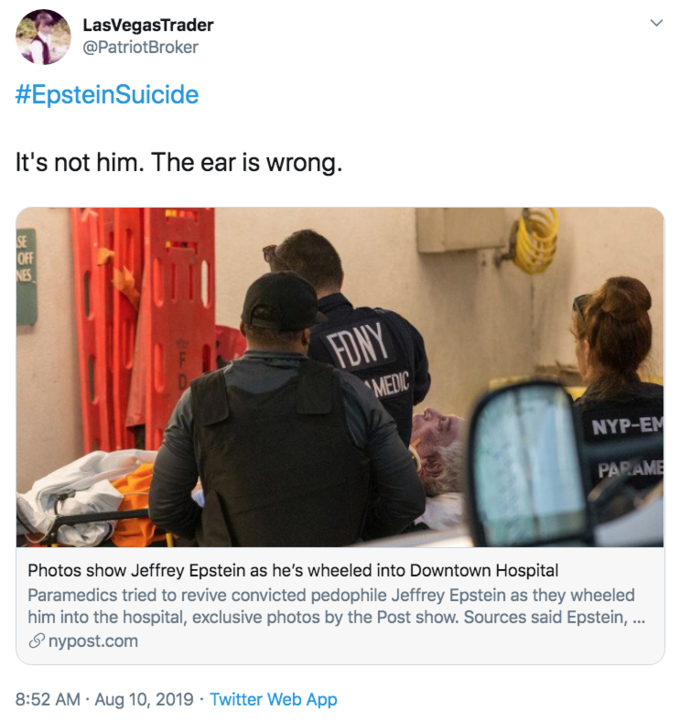 Jeffrey Epstein's Body Photos
On January 5th, 2020, CBS' 60 Minutes[11] broadcasted new photos of Jeffrey Epstein's dead body and his cell following the night of his death. The autopsy photos revealed that Epstein's hyoid bone was broken in three places. In an interview with CBS, former New York City Medical Examiner Dr. Michael Baden said that such fracture was not common in suicidal hangings and that such breakage is more typical for the victims of strangulation.



First Suicide Attempt Video Erased
On January 9th, 2020, federal prosecutors revealed in a court filing that the surveillance footage of the Jeffrey Epstein's first suicide attempt on July 23 had been destroyed.[9][10] According to the filing, the Metropolitan Correctional Center archived footage from outside the wrong cell, while the copy of the footage from the backup system "no longer exists since at least August 2019 as a result of technical errors."
After reviewing the video, it appeared to the Government that the footage contained on the preserved video was for the correct date and time, but captured a different tier than the one where Cell-1 was located because the preserved video did not show corrections officers responding to any of the cells seen in the video. After speaking with MCC legal counsel, the Government was informed that the MCC computer system listed a different, incorrect cell for Tartaglione ("Cell-2").[…]
The Government understands from speaking with MCC legal counsel that there was a backup system in place that housed all video for the Special Housing Unit, including the video requested by the defense counsel. The Government further understands from the Federal Bureau of Investigation that it has reviewed that backup system as a part f an unrelated investigation and determined that the requestion video no longer exits on the backup system and has not since at least August 2019 as a result of technical errors.
Related Memes
Following the spread of these conspiracy theories, many online shared a variety of memes that speculated as to Epstein's cause of death (examples below).



Epstein Didn't Kill Himself
Epstein Didn't Kill Himself is an image macro series in which various facts are listed and are abruptly followed by variations of the phrase "Epstein didn't kill himself," referencing the conspiracy theories regarding the death of Jeffrey Epstein.



Search Interest
External References