Lonely Computer Guy / Net Noob

About
Net Noob (also known as "Lonely Computer Guy") is an advice animal image macro series featuring a photo of a smiling man sitting at a laptop with clenched fists. The captions typically depict the character as a naive Internet user similar to Technologically Impaired Duck and Internet Surprise Grandma, who reacts with enthusiasm to famous videos, shock sites, ads and spam.
Origin
The original stock photo of the man sitting at the computer has been featured on several promotional webpages including Paperblog[7], Sodahead[8], My Ark Park[9] and WikiNoticia[10] (shown left). On July 30th, 2011, the first "Lonely Computer Guy" Quickmeme[15] submission was uploaded with the caption "That horse / is so amazing" (shown right), in reference to the Amazing Horse flash animation.


Spread
On August 2nd, 2011, an image macro titled "Net Noob" with the caption "He said my story was cool and called me bro" (shown left) was posted on the Cheezburger site Memebase.[14] On August 5th, a Quickmeme[5] page titled "Net Noob" was created with the first submission featuring the caption "Buys a new laptop / keeps all preloaded software" (shown right).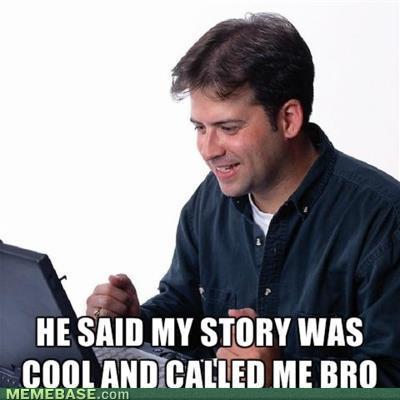 On August 12th, a thread titled "Net Noob (NEW MEME)" was posted to the Body Building Forums[18] by user Jyeatbvg, which included several notable example from the series. On August 18th, the Internet humor blog Smosh[16] published a compilation of examples in a post titled "The Best of the 'Net Noob' Meme." On August 23rd, YouTuber MemeW0rld uploaded a slideshow of image macros (shown below), which receiving at least 13,500 views within nine months prior to its removal. On January 1st, 2012, a Net Noob compilation was submitted to the Internet humor site FunnyJunk[17] by user dubzero. The meme has continued to spread on sites like Memebase[2], Tumblr[3], Ranker[4], Quickmeme[5] and Reddit.[11] As of May 7th, 2012, the "Net Noob" Quickmeme[5] page has over 340 submissions, the "Lonely Computer Guy" Quickmeme[13] page has over 1000 submissions, a Facebook[22] page for "Net Noob" has more than 1,250 likes and a "Lonely Computer Guy" and a Facebook[23] page for "Lonely Computer Guy" has garnered 300 likes.
Notable Examples









Template

Search Interest
External References