About
Master's Blessing is the name of an image macro meme and painting created by Spanish artist Diana Franco and posted to DeviantArt in 2018, which depicts a knight kneeling, offering a sword to some kind of evil spiritual entity and asking for a blessing. Two years after the painting was posted, it spread on Reddit and Twitter as a fantasy painting object-labeling meme in which creators added text to the kneeling character, the sword and the entity standing.
Origin
On September 6th, 2016, DeviantArt user MorkarDFC[1] posted their work entitled "Master's Blessing" (shown below).

Spread
The earliest example of the painting used in an object-labeling meme was posted in Memedroid on June 27th, 2018, referencing Steam (shown below, right). However, the picture did not begin spreading as a meme until November 2018. On November 9th, an object labeling variation posted to /r/wholesomememes by user mishft gained over 57,000 likes (shown below, right).


Over the following days, the picture spread in several Reddit threads with various object labeling edits. For example, in /r/MemeEconomy, Redditor brodietop posted an example of a cat delivering a dead mouse, gaining over 230 points (shown below, left). In /r/dankmemes, a blurry version meant to represent a person who needs glasses gained over 8,300 points (shown below, right).


Master's Blessing Creator
On March 19th, 2023, the original creator of the image behind the Master's Blessing meme joined a Twitter trend that asked artists on the platform to share "drawing you think you're iconic for." The Spanish artist Diana Franco[2] retweeted the Twitter thread on the @DFrankfield username, explaining that she is "the artist behind the illustration of this meme." The post garnered 361,000 likes and 57,900 retweets in one day (seen below).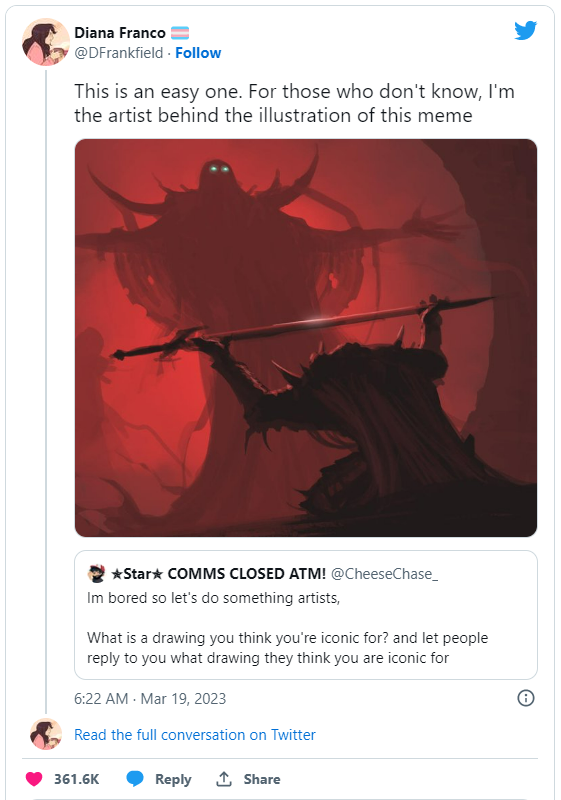 The reveal inspired a wave of wholesome memes thanking the Spanish artist for the creation of the image. For instance, Twitter user @KotiasCamorra[3] responded to her tweet with a version of the Master's Blessing meme putting Diana Franco as the spiritual entity and a text saying "gratitude for this art" overlayed in the sword being offered by "the internet."

In a statement given to Know Your Meme in March 2023, the creator behind the meme explained that the artwork was created in a private Facebook group called "Daily Spitpaint", where "everyday the moderator published four themes or prompts, and the challenge was to do an artwork within 30 minutes of one of the themes." Diana told KYM that the theme suggested by the moderator was "Master's Blessing", hence the name of the meme. She also said that the first time she realized her artwork became a meme was in November 2018.
Various Examples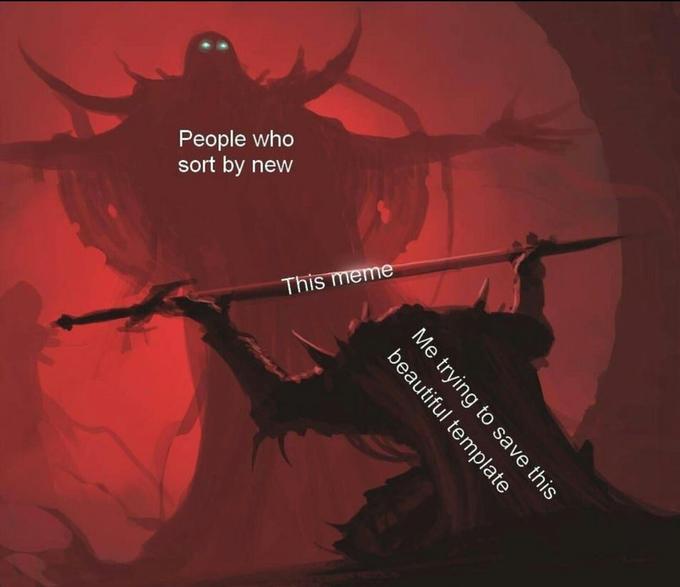 Search Interest
Unavailable.
External References
Recent Videos
There are no videos currently available.