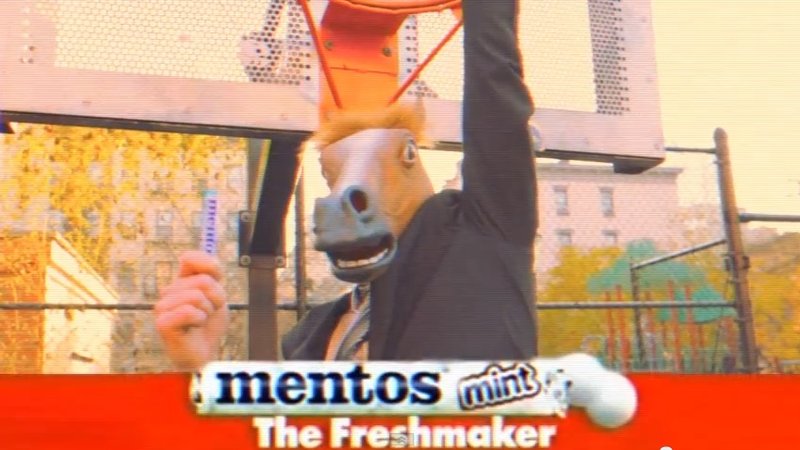 Mentos Commercial Parodies

About
Mentos Commercial Parodies are spoofs of the 1990s TV advert campaign for the scotch mint brand Mentos.[4] The original commercials illustrated a series of escapades involving youthful characters as they find their way out of complicated situations through quick thinking after eating a mint.
Origin
The Mentos campaign launched in the early 1990s with the slogan "The Freshmaker," depicting young people solving problems in a quirky manner.[3] The campaign was incredibly successful, helping sales rise from $20 million to $40 milion in three years.[5] Rock band Foo Fighters was the first to parody these commercials in their 1996 music video for the song "Big Me" (shown below), poking fun at the campaign's overwhelming optimism.[6]
Spread
The commercials were parodied online as early as November 17th, 2000, when Newgrounds member wisemanofearth uploaded a flash-animated parody of a Grand Theft Auto character carjacking an elderly woman. The animation was subsequently highlighted as a Daily Feature on the following day and voted the Weekly User's Choice. In 2003, another parody was posted to the gaming site Game Daemons.[8] Additional video parodies began appearing on YouTube in February 2006, with an upload from FullSwingActor and FND Films (shown below).
Between 2006 and 2008, additional parody videos appeared on Newgrounds[11], College Humor[12], Funny or Die[13], Break[14] and eBaum's World.[15] In March 2009, a selection of Mentos commercial parody videos were featured on Buzzfeed.[10] A second list of parody videos was featured on Crave Online[1] in May 2012.
Notable Examples
As of April 2014, there are more than 50,000 search results for "mentos parody" on YouTube.[9]
Search Interest
External References