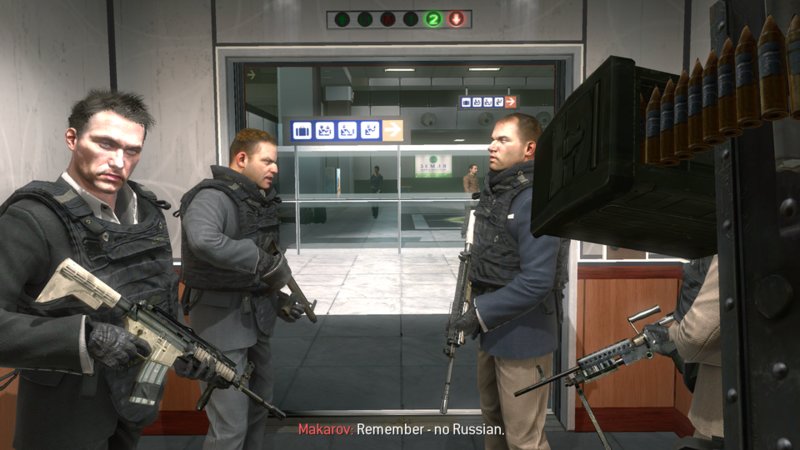 No Russian / "Remember - no Russian"
About
"No Russian" is an infamous level from the 2009 video game Call of Duty: Modern Warfare 2 in which the player partakes in a terrorist attack which involves shooting at and killing unarmed civilians at a Russian Airport. Before committing the massacre, character Vladimir Makarov utters the phrase to the player "Remember – no Russian," which has been used as a snowclone on the internet. The mission has drew controversy in the media for its portrayal of a terrorist attack which the player can choose to partake in.
Origin
On November 10th, 2009, the video game Call of Duty: Modern Warfare 2 was released for PC, Xbox 360, and Playstation 3. In the fourth mission titled "No Russian," the player takes part in a false flag terrorist attack which terrorist leader Vladimir Makarov hopes would start a war between Russia and the United States.[1]
At the start of the mission, Makarov says the iconic line "Remember, No Russian" before they start the attack in order to hide their ethnic origins and affiliation to the Russian ultranationalists and to ensure that the United States is blamed for the attack.
Spread
Upon the game's release, the "No Russian" mission immediately caused controversy over concerns for parents buying the game for their children and its depiction of a terrorist attack that the player has a choice in taking part in.[1][2] The mission was censored in countries like Germany in Japan.[1][3][6] Initial reports made a couple of days after the game's release claimed that Modern Warfare 2 was banned in Russia, though these reports were immediately proven false.[4][5] Writing in 2012, Laura Parker of Gamespot[7] wrote the mission was an important moment in video game history, saying it challenged the games industry to consider, "Should more games attempt to explore the extent of human suffering? Are themes of rape, real-world violence, sexism, racism, genocide, and torture acceptable subjects for a mainstream AAA game to touch on?"
The mission itself was parodied in image macros and exploitables where characters in the mission were altered to different characters. For example, on February 4th, 2019, Redditor Bestbanthafodder posted an exploitable to /r/fakehistoryporn[9] showing Donald Trump saying "Remember, no Russian" to his staffers (shown below, left). On October 24th, 2018, Redditor KooloEdits[10] posted a Spongebob Squarepants meme to /r/MW2 referencing the mission, gaining 2,000 points (shown below, right).


The mission was referenced in the lead up to Call of Duty: Modern Warfare, as YouTuber Drift0r, having seen parts of the upcoming game, said it made "No Russian" look like "A Pixar film."[8]
Various Examples






Search Interest
External References