This submission is currently being researched & evaluated!
You can help confirm this entry by contributing facts, media, and other evidence of notability and mutation.
About
Alan Rickman was a British actor best known for his role as Professor Snape in the Harry Potter film series and Hans Gruber in the action film Die Hard. His distinctive voice has made him a frequent subject for impersonations by other actors. On January 14th, 2016, Rickman died of cancer at age of 69.
Acting Career
Alan Rickman began pursuing his acting career in 1972 by attending the Royal Academy of Dramatic Art (RADA), where he studied modern and classical theatre and won several accolades before leaving in 1974. Rickman made his onscreen debut playing Tybalt in a 1978 TV movie adaptation of Romeo and Juliet.[1] He went on to act in several TV miniseries throughout the '80s before landing his first big-screen role as the now-iconic villain of Die Hard (1988), Hans Gruber. He won a Primetime Emmy and a Golden Globe for his titular role in the TV movie Rasputin (1996). He went on to co-star as Professor Snape in the eight films in the Harry Potter series beginning with Harry Potter and the Sorcerer's Stone in 2001 and ending with Harry Potter and the Deathly Hallows: Part 2 in 2011.
Online History
On May 6th, 2009, UK television channel T4 uploaded a video to its YouTube channel featuring actor Steve Coogan impersonating Rickman. As of February 2014, the video has over 290,000 views.
On May 20th, 2012, photographer David Michalek uploaded a short film titled "Epic Tea Time with Alan Rickman," which features the actor drinking tea in slow-motion, set to dramatic music from the film Inception. As of January 2016, the video has garnered more than 1.3 million views.
On October 11th, 2013, The Tonight Show Starring Jimmy Fallon uploaded a segment from its show to its YouTube channel featuring actor Benedict Cumberbatch and Jimmy Fallon doing impersonations of Rickman in what Fallon called a "Rickman-off." (shown below) As of February 2014, the video has over 890,000 views.
Online Presence
The domain name for the official website of the actor was registered on July 25th, 2009. As of February 2014, Rickman's Facebook page[2] has over 130,000 likes.
Related Memes
Hans Gruber
Hans Gruber is the main antagonist of the 1988 American action film Die Hard portrayed by Alan Rickman. In the film, Gruber is introduced as the leader of a German terrorist group who take over the fictitious high-rise building of Nakatomi Plaza in an an attempt to steal $640 million in bank bonds inside the building's vault, before he clashes with the protagonist character John McClane. Much owed to Rickman's excellent performance, the character has enjoyed an enduring popularity among the fans of the Die Hard franchise as well as fans of action films in general. On several occasions, Hans Gruber has been voted as one of the top movie villain characters of all time.
Severus Snape
Severus Snape, portrayed by Alan Rickman, is the potions master of Hogwarts school and one of the main antagonists throughout the Harry Potter series. However, in the last book, he is revealed to be a tragic hero. His constantly acerbic attitude and wit, as well as the revelations in the last book, have made him a fan favorite. Rickman's portrayal of the character in the film series only increased fan interest and Snape is frequently featured in fan art and fanfics.
Snape Kills Dumbledore
Previous to the sixth Harry Potter book's release, a scanned page from a preview copy of Harry Potter and the Half-Blood Prince began circulating online, spoiling the scene in which Severus Snape kills Albus Dumbledore, Harry's mentor/guide and the headmaster of Hogwarts. A LiveJournal community named _dumbledoredies[28] was created on July 15th, 2005, featuring neon colored GIFs with spoilers in a large font. It mass-friending users who had Harry Potter listed as an interest, causing commotion among the fans on the site.[29] The scan of the book also inspired several YTMND sites and fan reaction videos, which show fans in tears after reading the scene.

Airport Snape
Airport Snape, also known as Air Snape, is an advice animal image macro series based on a photograph of an airline ticket agent who bears resemblance to Rickman's character, Severus Snape, in the Harry Potter film series. The captions typically feature flight-related jokes containing various references to the fantasy franchise.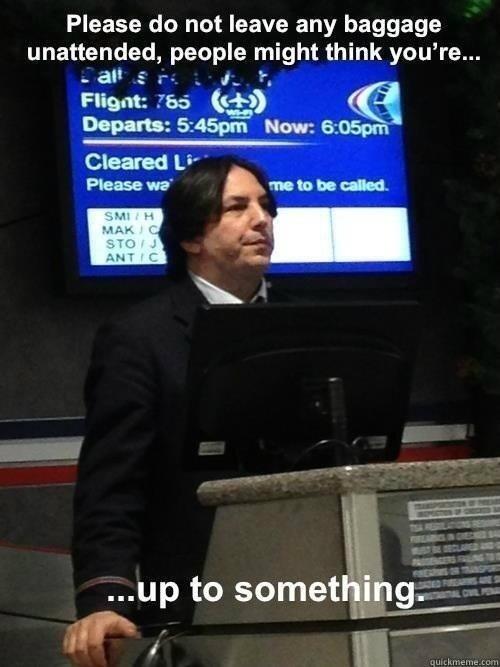 Personal Life
Alan Rickman was born on February 21st, 1946, in London, England. At age of 19, Rickman met 18-year-old Rima Horton, who became his lifelong girlfriend, and later on, his wife. He studied acting at the Royal Academy of Dramatic Art. Rickman died of cancer on January 14th, 2016.[9]
Notable Examples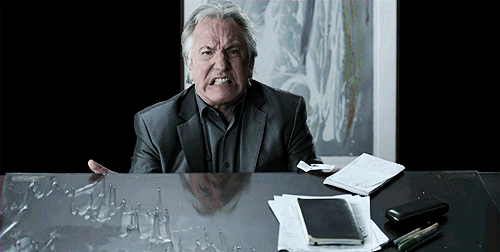 Search Interest
External References