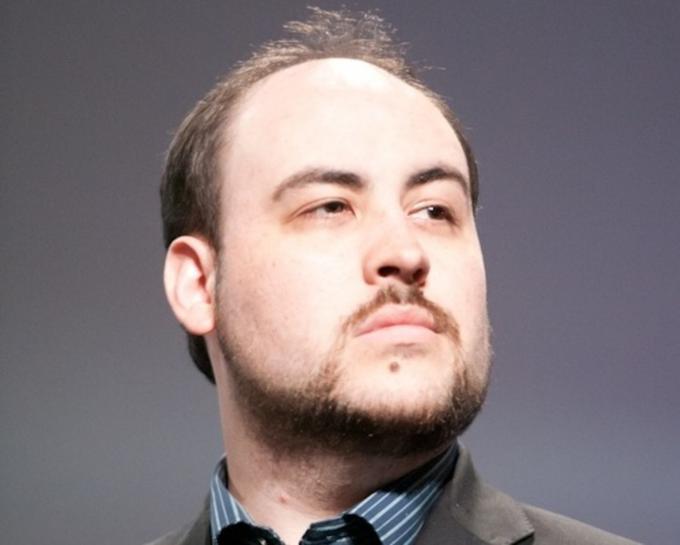 About
TotalBiscuit, The Cynical Brit was the online alias for British video game critic and commentator John Bain (July 8, 1984 – May 24, 2018), who was best known for posting video game-related content on YouTube and professionally casting Starcraft II and PlanetSide 2.
Online History
Starting in 2005, Bain hosted a World of Warcraft-themed radio show, which ran for five years. On July 27th, 2006, Bain launched the TotalHalibut YouTube channel, later changing the name to TotalBiscuit.[1] The first video uploaded to the channel featured World of Warcraft gameplay footage, which has since been made private. In 2010, Bain lost his job at a financial advisory company, leading him to focus on uploading gameplay videos to YouTube featuring the World of Warcraft: Cataclysm expansion (shown below). Bain was subsequently invited to join The Game Station YouTube network, which later became the Polaris network.
One of the more popular videos on his channel include a Magicka LP featuring the Yogscast which gained over 2 million views on the first episode (shown below, left), and a LP of Terraria featuring Jesse Cox / OMFGcata which gained nearly a million views on the first episode (shown below, right).
Series
On the channel many other series exist such as "The Content Patch", a gaming focused news show, "The Sale Box", a video series about Steam Sales and the best deals, "15 Minutes of Game", a series that takes brief looks at smaller indie games, and the "Co-Optional Podcast", a podcast featuring Dodger / presshearttocontinue and Jeese Cox as co hosts along with a random guest. TotalBiscuit makes an appearance in the game Airmech (shown below, left) as a premium pilot and voice acted the character Vinnie & Spike in Awesomenauts (shown below, right).


WTF is…
WTF is… is TotalBiscuit's most popular series of Youtube videos that is his first impressions and critique series of a video game that first began on Sept 14th, 2010 on a game titled R.U.S.E. (shown below, left). The most popular game WTF is.. is of League of Legends that was uploaded on December 2nd of 2010 gaining over 3 million views (shown below, right). The most popular non-video game related WTF is… was a video explaining the Stop Online Piracy Act gaining just over half a million views of the LoL video[7]. Spinoffs of the series have spawned such as "Why do I own…", "Steam sells…", and "Let's NOT Play…"
Starcraft
Ever since the TotalBiscuit focused on Youtube, he has been constantly getting involved in the Starcraft scene. In June of 2011, he announced his SHOUTcraft Invitational Tournament[8], a self-funded less-serious tournament with many differences compared to default Starcraft. The first tournament took place shortly after and in the following months three more events were organised, with larger prize pools and a differing format each time.
On 21st of February 2011, TotalBiscuit uploaded a video titled "I Suck at Starcraft 2 – Episode 1 – The Suckening" (shown below, left) of him playing through ranked Starcraft 2 games. Another show "Showcraft" was also started which was described as a Starcraft 2 Variety show, featuring segments of the game including casting, coaching, custom games and community interaction during a Twitch stream. However TotalBiscuit's other obligations forced the show into hiatus with only 20 episodes being released by the end of 2012. TotalBiscuit also owns the Axiom eSports team that specializes in Starcraft[9].
Controversies and Copyright Claims
Sometime around late 2012, TotalBiscuit had received various copyright claims and strikes on some videos on Shining Force from Sega of Japan. TotalBiscuit reported on the issue in a Content Patch (shown below, left) and issued a channel wide boycott[10] on all Sega video games and content ever since. On March 18th, 2013, TB had removed all the strikes from his channel[11]. In Feburary of 2014, TotalBiscuit reviewed the game "Guise of the Wolf" (shown below, right) and FUN had both his stream and review taken down. A Reddit post[12] was made on r/Games about the removal and received over 3,900 points with 95% upvoted. Gaming news sites such as the Escapist[13], Talk Amongst Yourselves[14], N4G[15], and many others. On Feburary 26th, 2014, TotalBiscuit made a tweet confirming that both videos were back and both strikes were gone[16].
Day One: Garry's Incident Controversy
The Day One: Garry's Incident was the largest controversy to have taken place that involved DMCA takedowns and took place on his channel. TB had released a WTF is… on the game in question and gave it a negative review (shown below, left). Shortly afterwards, Wild Games Studio made a copyright claim, giving the channel a strike and taking down the video. TB released a response video analyzing the situation which, as of June 2015, is his most viewed video with over 4 million views (shown below, right).
Personal Life
John met his wife Genna at Blizzcon 2005 and married soon after, and has a stepson named Orion. But because of visa and immigration problems, TB was unable to move to the United States and live with his family for nearly 2 years[17].
In April 2014, TotalBiscuit released a vlog titled "My Little Problem" (shown below, left) announcing to his audience that he had a precancerous mass in his colon, a month after this Bain then revealed that he had developed cancer and was to began chemotherapy and radiation treatment immediately. On May 12th, 2015, TB released another vlog titled "My Big Solution" (shown below, right) going over his treatments and that the mass had been removed.
Death
On May 24, 2018, it was revealed in two tweets by John's wife Genna that John had passed away at the age of 33 from his cancer (shown below).[20][21]


This led to an outpouring of support from the gaming community. Blizzard tweeted a statement in tribute to Bain (shown below, left), as did Twitch (shown below, right).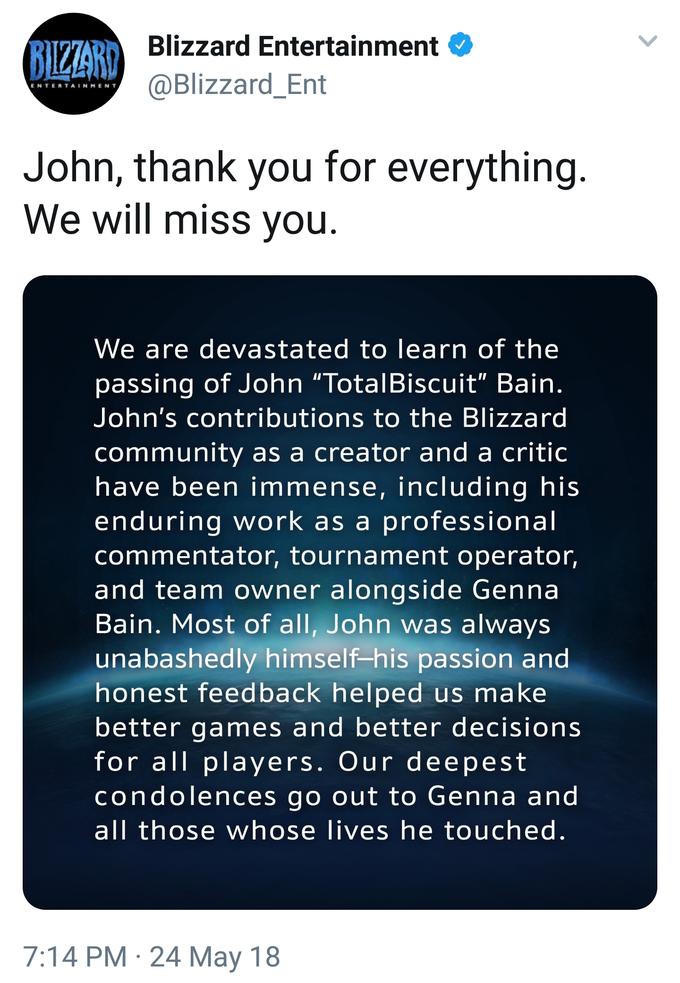 Other content creators in the industry offered their tributes on Twitter for Bain, including The Completionist and Jacksepticeye. These were covered by Twitter Moments.[22]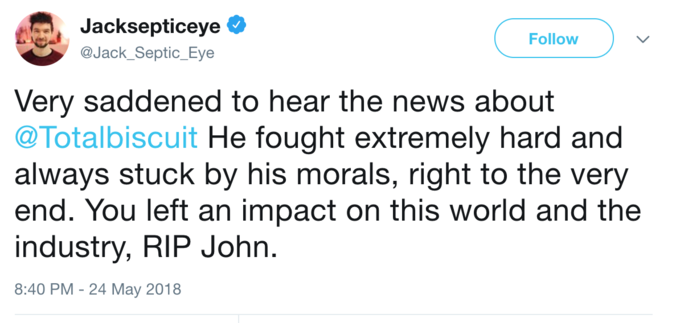 Search Interest
Editor's Note: Previous search results for John Bain may be referring to the football / soccer player
External References