About
Pics or It Didn't Happen (sometimes spelled Pix or It Didn't Happen) is a phrase often used on message boards or in comments to challenge an unbelievable or outlandish claim by inquiring photographic evidence.
Origin
One of the earliest instances of the expression was posted in a discussion thread titled ""So my sister has her hot friend over" on the forums for gaming site Tribal War[1] on June 20th, 2003. In the thread, the OP (original poster) boasted about how they were having a pillow fight, to which forum member Blitzkrieg responded: "Obligatory 'pix or it didn't happen.'" Though the thread lasted several hours, BlackMyst never produced photographic evidence.

Spread
Later in 2003, the phrase was used again on the Tribal War forums[2] in response to the OP's claim that he could flex his scrotum and move his gonads at will. Throughout 2004, the phrase was also used on Metafilter[3], the Something Awful forums[4], Asian politics forum Yellow World[5], recording enthusiast forum StudioTips[6], gaming community Neoseeker[7] and the Epic Games forum.[8]
The phrase was used on 4chan[10] as early as January 3rd, 2007, in a thread where the original poster told a story about how he did not take off his pants in time to make it to the bathroom. The following month, on February 15th, 2007, the phrase was named as Rule 24 on 4chan's first edition of the Rules of the Internet.[18]
The phrase has appeared as a title on the MIT Admissions blog[11], a category topic on Geekosystem[12] and a tag on higher education food blog The College Critic.[13] There are also a Twitter hashtag, #POIDH[14], two Tumblr tags[15][16] and more than 1200 results for the phrase on Reddit.[17]
Related: TITS or GTFO
The expression is also used to challenge someone who identifies oneself as a female within male-centric online communities such as 4chan. Due to the widespread myth of "No Girls on the Internet" and similar adages, making such claim can typically lead to an inquiry of documented evidence or time-stamped profile photos from skeptic readers, as encapsulated in another phrase. "TITS or GTFO."
Notable Images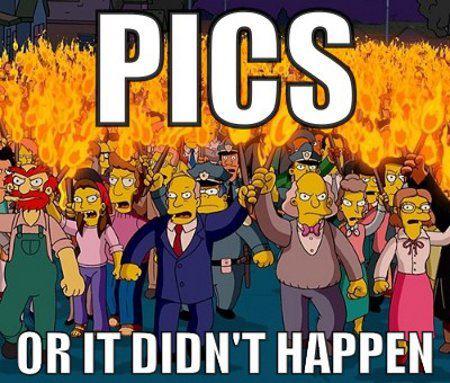 Search Interest
External References
Recent Videos
There are no videos currently available.