This entry contains content that may be considered sensitive to some viewers.

About
Pingas[2] (often mistaken for "Penish") is a famous misheard phrase from the animated TV show Adventures of Sonic the Hedgehog. Since its emergence as an internet meme in 2007, it is well-known as a prominent source in YouTube Poops.
Origin
On September 22nd, 1993, the Adventures of Sonic the Hedgehog episode "Boogey-Mania" premiered in the United States.[1] At one point in the episode, Dr. Robotnik catches his robotic minions Scratch and Grounder eavesdropping on his conversation ("Snooping as usual, I see!").
Spread
The Youtube Poop "Robotnik Has a Viagra Overdose," uploaded on May 27th, 2007 by Stegblob,[3] was the first to piece the phrase "pingas" together in the memetic format.
[NSFW!!]
However, when the video was first uploaded, the meme didn't take off. A year later, when McMaNGOS[4] uploaded the video "THIS VIDEO CONTAINS WIN", the popularity of PINGAS increased. This video is also the source of the meme called THIS VIDEO CONTAINS X; which involves a picture of Dr. Robotnik (with a face usually super-imposed onto the image) and a phrase or sound to create a song.
PINGAS was the first and most popular phrase to be used in YouTube Poops.[5] As a result, the phrase PINGAS has become widespread across many internet subcultures and forums.
Illustrations
While the meme began as sound-effect, it has also become a frequent subject of illustration. There are thousands of illustrations parodying PINGAS on the illustrators community deviantART.[6]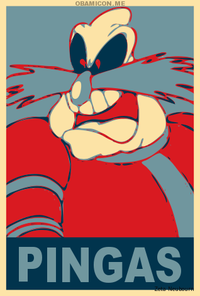 Notable Examples

Left: Never Gonna Give You Up | Right: This Is Sparta!

Left: You Are A Pirate! | Right: Darth Vader

Left: Through The Fire And Flames by Dragonforce | Right: Six Flags Commercial Parody
Search Interest
External References