Sonic Original Characters

About
Sonic Original Characters (Sonic OCs) are fan-made characters from the Sonic the Hedgehog universe. Whereas their large quantity has made them a notable popular part of the Sonic Fandom, elsewhere on the internet they are common targets of mockery due to the overall low quality of some characters and their association with the younger audiences.
Origin
In 1991, the character Sonic the Hedgehog[1] was introduced as the titular character for the franchise. As additional games were released in the series, various allies and enemies were added to the games, including Tails the fox and Knuckles the echidna. Fans then began creating their own anthropomorphic animal characters in the Sonic universe using similar art styles.

Spread
Over time, Sonic OCs have become a popular genre for fan-made characters. On DeviantArt, several groups dedicated to sharing Sonic OCs have been created, including Sonic OC Universe[3], FanCharactersOfSonic[4] and Sonic OC Riot[5]. On June 6th, 2008, the Sonic Fanon wiki was launched, gathering upwards of 9,600 pages over the next 10 years, many of
which feature information about Sonic OCs. The Sonic Character Designer[7] also offers people to quickly create their own character. Similar to various character designers on DeviantArt (shown below).[10] [11] Additionally, the Tumblr blog FYeahBadSonicArt[8] commonly features lower quality original characters and the blog Terrible Sonic the Hedgehog OCs[9] even focusses on them.


Usage in Online Forum Games
Sonic OCs have frequently been used in online forum games requiring participants to post their reactions to various fan-made characters discovered on the web. In one game, players must Google their name and the word "the Hedgehog" to discover relevant Sonic OCs.
Sonic Forces Trailer
On May 16th, 2017, the GameSpot YouTube channel uploaded an official trailer for the upcoming game Sonic Forces, showcasing how players will be able to create their own custom heroes to play in the game (shown below). That day, Redditors began discussing the custom heroes in the context of original characters in a thread posted to the /r/Games[12] subreddit.
Meanwhile, Twitter user @TheLazyShyGuy[13] posted a"photoshopped":/memes/sites/photoshop screecap of Sonic Forces trailer featuring Coldsteel the Hedgeheg (shown below). Within 24 hours, the tweet gained over 1,000 likes and 700 retweets. Also on May 16th, the gaming news site Polygon[14] published an article titled "Sonic fans celebrate original characters – and memes – becoming canon in Sonic Forces."

Notable Examples
As of May 2017, search queries for the keywords "sonic oc" yield upwards of 129,000 results on DeviantArt.[2]









Sonichu
Sonichu is a Sonic OC and webcomic series created by infamous vlogger Chris-chan, featuring an amalgamation of Sonic the Hedgehog and Pikachu from Pokémon.

Coldsteel the Hedgeheg
Coldsteel the Hedgeheg is a fan-made character from the Sonic the Hedgehog universe. The character is widely mocked online as a stereotype of an edgy teenager, which is full of grammar errors and 4th wall breaking descriptions.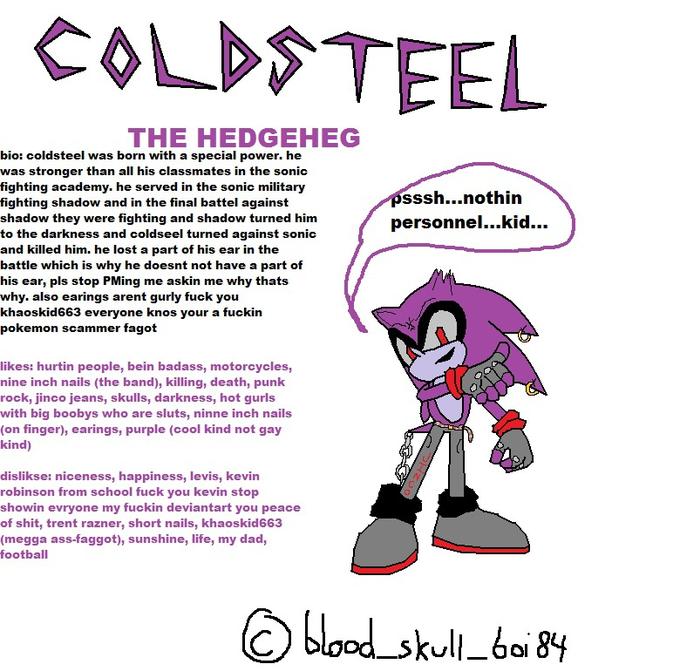 Search Interest
External References
Recent Images 1,032 total