This submission is currently being researched & evaluated!
You can help confirm this entry by contributing facts, media, and other evidence of notability and mutation.
About
Right Proper Lad refers to a catchphrase from a comical image-based recap of the fantasy television series Game of Thrones episode "The Queen's Justice." The line has since become a catchphrase among Game of Thrones fan communities.
Origin
On July 30th, 2017, the third episode of season seven of Game of Thrones aired on HBO.[1] In the episode, two characters, Jon Snow and Daenerys Targaryen, share a contentious meeting about who will rule the kingdom and how to deal with the ongoing issue of the walking, frozen dead (video below).
The following day, on July blogger and TV reviewer Chrys of ChrysReivews.com uploaded a series of image macros, humorously recapping the meeting between Jon and Daenerys, to her website.[2] In the review, there is a screencap of the scene that features the character Davos referring to Jon as a "Right proper lad," and Jon echoes, "Right proper" (shown below).

Spread
That day, Chrys posted the series to the /r/GameOfThrones subreddit, [3] where it received more than 17,100 points (94% upvoted) and 980 comments within 22 days. When posted to Imgur on August 8th, the post received more than 400,000 views and 7,100 points in less than a month.
On August 2nd, the following day, Redditor[4] AbelHagen posted a Game of Thrones webcomic by Abel of Wooden Plank Comics based on the scene. In the second panel of the comic (shown below), the character Davos refers to Jon as a "right proper lad." When posted to /r/GameOfThrones, the post received more than 7,800 points (96% upvoted) and 225 comics.

Since the initial post, "right proper lad" has become a catchphrase and copypasta on Reddit. Generally, people will refer to characters that they like as a "right proper lad" or "right proper [noun]" (examples below).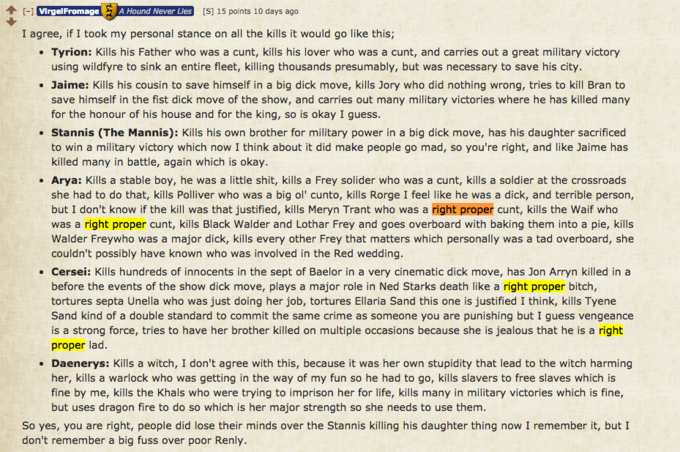 Search Interest
External References
Recent Videos
There are no videos currently available.